I recently visited Panna and Bandhavgarh in MP India with Pugdundee Safari. For this sky watch I present sunsets from jungles in Mp, India.
At Panna I stayed at Ken River Lodge and at Bandhavgarh the King's Lodge of Pugdundee Safari. The Ken River Lodge's dining deck is right by the Ken River. When I got back from the evening safari it was dusk. If I would have gone to the room to fetch my tripod I knew even the last light would have faded. Thankfully the deck had a wide ledge on which I placed my camera to capture the fading light over the Ken River. It was a beautiful sunset that day but when it was actually happening I was inside the Panna National Park.
Panna National Park as of now is not too commercialized. It is a beautiful park. As of now there are fewer vehicles so there is no zone system, you can go anywhere in the park. Whether you see the tigers or not is immaterial. If you like jungles I would say go to Panna National Park, before it becomes too commercialized.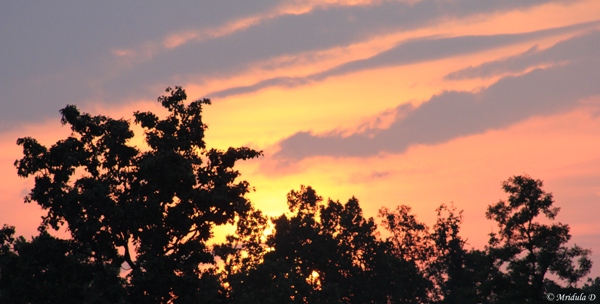 Sunset, Bandhavgarh National Park, MP, India
The second national park I visited was the Bandhavgarh National Park. I had two safaris there one in the evening and the other in the morning in the Magadhi Zone. Bandhavgarh is known for its tiger sightings! But not one came out for me! It is very popular with tourists.
I got to hear a lot of stories about the Supreme Court rulings for the National parks in India. The park guide on the evening safari was of the view that there were too many jeeps in Bandhavgarh and the courts decision to reduce the numbers was a good one even though it impacted his earning potential.
Everyone was unanimous that the parks could be more tourist friendly. As of now the closing times are 5.30 even though the sunlight remains for about 45 minutes more. People felt that the evening safari timings could be increased so that the tourists got a better experience.
What do you think? Could Indian National parks be made more tourist friendly?
This post is part of Sky Watch Friday. Do check it out. It is addictive.