I love it when I can catch a colorful sunset right in the middle of the city. This was clicked from my sister's home at Noida. Of course I am presenting the scene quite selectively here, I have not included the construction cranes and other such trappings of civilization.
The birds just crossed the frame while I was clicking and what a bonus it was! I was using my 75-300 mm lens at that time hence I got lucky with the birds!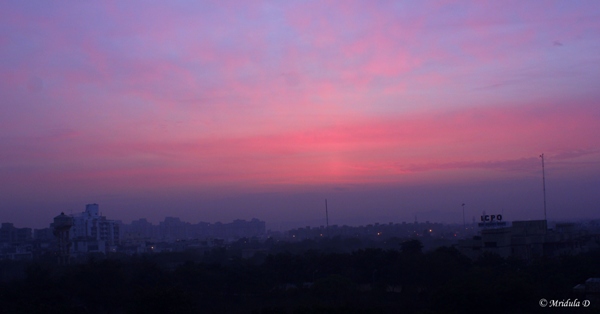 Dawn at Noida
And then the next day while I was waiting at the Metro station to start the long commute back to work I saw this pale dawn breaking! I am a big fan of sky watch Friday as before that I was also one of those people who can remain completely unaffected through the dramas that happen in the sky!
This post is part of Sky Watch Friday. You need to check it out.