I am not a morning person at all. I used to be at one point. But then I gave up on it completely. Weekends mean getting late up late and that is the biggest incentive for me, other than drinking many cups of tea. But after I started enjoying photography I read about the golden hours! The hours close to dawn and sunset provide a soft light that makes photographs more enticing. And that has been my undoing. I got up at an obscene hour at Royal Hills Golf Resort to click sunrise pictures!
My Stay at the Royal Hills Golf Resort
I was staying at the Royal Hills Golf Resort at Nakhon Nayok in Thailand (part of ASEAN Media Trip) for one night. It is a huge place with a big golf course. The view from my room that made me peaceful, it was an invitation to forget all the strife of my small world and get lost in nature. I tried clicking the scene from my room at dusk but there were a few trees coming in the view. I wanted to get up at dawn (it was in my notes to self too) the next day and see what I would find. So, for a change the picture you see above has been clicked at dawn. From my room I did not realize that the water body had pink water lilies in it. Now along with the sky I had to click the flowers too!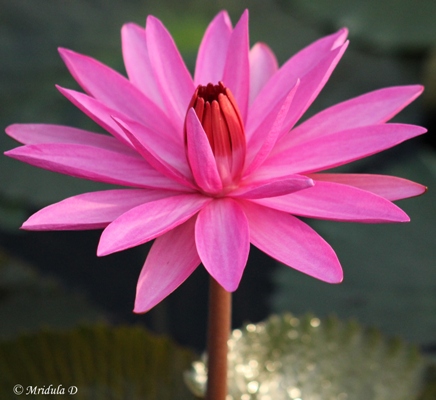 Pink Water Lily at Royal Hills Golf Resort
However the day was just getting brighter, I was back to clicking the scenery in front of me. It is difficult to say what gave me more pleasure, being out at dawn or spotting these beautiful flowers. I think this time it is a tie between the two.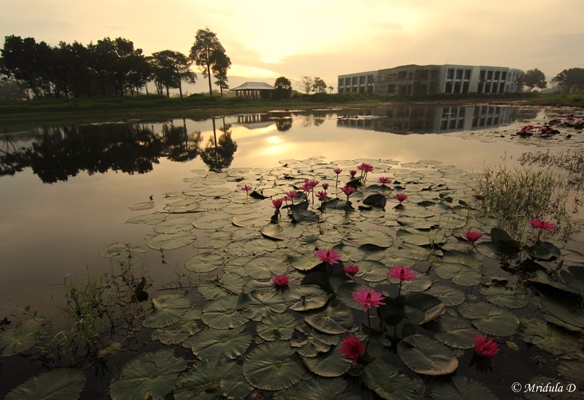 Early Morning Sky at Royal Hills Golf Resort, Nakhon Nayok, Thailand
To click this picture I waded in the water. I got the idea from the Chinese youngsters who were part of this trip. They came out a little later than me but to get their shots they waded in the water. After a while, I too decided why not! That way I could bring the water lilies prominently into the foreground.
It was a beautiful morning and this should be an incentive for me to get up early on my trips and capture more dawns!