After strolling through the Pub Street and the Night Market I managed to hit the bed by mid night. When the alarm went at 4.30 am the next day in spite of being disoriented I did not want to fling the cell phone against the wall. You see, I was going to watch the sunrise at Angkor Wat. I had only one night at Siem Reap, the weather was unsettled but I was anyway going to give it a try. I had kept an umbrella in my bag, just in case all I got was the rain. Sunrise or rain, I was going to give it a try!
I had arranged for a tuktuk with my guide Sophya which would wait for me at 5.00 am at our hotel. I was out by five sharp and there he was waiting for me. It was still dark when we started for Angkor Wat. The ride goes through dense tree cover. I had not expected so many tuktuks going in the same direction. It was a fabulous site to see so many head lights on dark streets. The dark and the moving headlights created a surreal scene.
It is a long walk to get to this pond outside the main Wat. Wat means temple both in Thailand and Cambodia. If you want to see all the pillars reflecting you need to take your position to the left of the pond.
Also a lot of people come to watch the dawn (see here in a video) so you need to get there early so that you get a good space to click the picture. I was late but people let me go because of my tripod. I set it and then crouched in the front row to click pictures. I am told the maximum crowd gathers around Chinese New Year and then at times you cannot get close to the pond.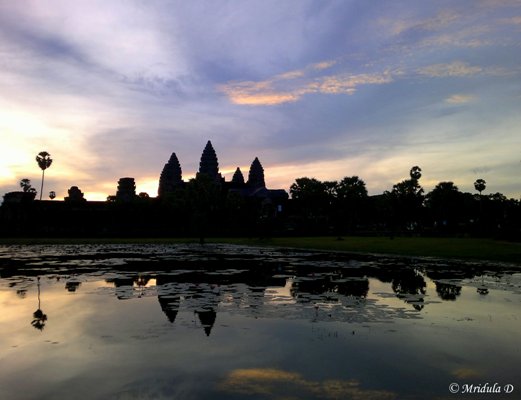 Angkor Wat at Sunrise (Picture from my Nokia X-7)
There are restaurants around the pond and they come to you to say you could have coffee or the breakfast at their stall. As it was the rainy season I did not get a clear sky and the sunrise colors associated with it. But at least it was not completely grey either. More so did not rain! I liked Siem reap so much that I want to go back to Cambodia. Let us see if and when it happens.
This post is part of Sky Watch Friday. Do check them out.