I hopped over to Ajman on a whim, from my trip to Sharjah. It was my free day, and after a lot of confusion (self-created) I eventually stumbled over to Ajman. The choice was a bit of convenience and a bit of serendipity. Sultan Saray was my lunch stop. I will get to it in a while.
I was standing at a Hop On Hop Off bus stop near the Central Souq in Sharjah. A friendly staff (from Philippines) came out and started chatting with me! She mentioned that they have an Ajman hop on hop off tour too. I was interested. I almost bought the ticket but stopped because they had one hour service on the route and I had a flight to catch in the evening.
So, I walked off and randomly went to the back of the souq. Passing by the mosque, I crossed through the under bridge and reached the Al Jubail Souq which has a fish market within it, with live auctions. And right in front of it was the Al Jubail Bus Stop! Now everything was pointing towards going to Ajman!
I boarded a bus and after a few adventures I reached the Ajman Beach. It was time for lunch and I started exploring restaurants. The first one I tried was a cafe and they didn't had much for vegetarians. I was also looking for beer (alcohol is banned in Sharjah, the only Emirates to do so) but did not find it at lunch.
The second restaurant I went to was Sultan Saray. They have an outdoor seating by the sea and I was sold on it. But my first concern was to see if they served anything vegetarian. The server convinced me that they have veg options. He pointed out to a veg casserole and drinks. He added there were some veg salads too. I asked for an avocado drink and told him I would make up my mind about the main course in a while. But in some confusion he already passed on the order of veg casserole and the avocado drink.
I had no problem with this, but I do have a problem with the way they dealt with it. When I called them they kept standing away. They were not willing to communicate with me. I had to raise my voice to sort it out. I basically told them in a loud voice that I was OK if they have already placed the order. As they were not willing to walk near me to listen to me, I had to option but to slightly raise my voice. I thought it was completely unnecessary.
Then came the drink, followed by the food. The drink was nice but it had syrup in it, which is common to the region. The veg casserole was good, it was basically grilled vegetables in oil. One nice waiter noticed that they had not served bread with it and brought it for me.
I had a peaceful meal. I enjoyed the view too. There were many people sitting for lunch out there. It was a beautiful day, not too cold and it was nice to sit by the sea. I would have spent more time but then I had to go back to Sharjah and I had a flight later in the evening.
So, I asked for the bill. I then took out my card to pay for it. The girl taking the bill asked me, making a face, if I can pay by cash? I made a face back to her and told her no, I would pay by card. That settled it. The bill cam to 72 Dirham.
While walking out I told the person who goofed up on the order that the food was good, because it really was. Then I went back to the internet and saw I was not alone. Many people gave them 1 star rating on their own FB page because of the service.
Will I go back to Sultan Saray? Yes, I will, for the great location and good food, but this time I would know what to expect of them when it came to service.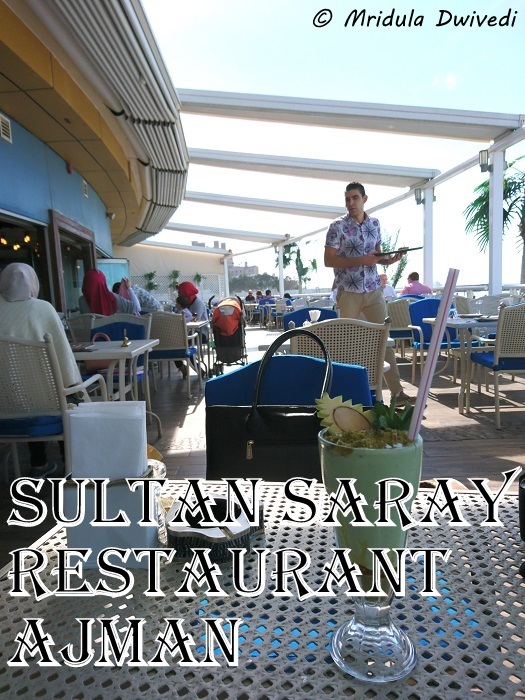 I am giving them the benefit of doubt for the service. But if I faced a similar experience again, I would surely give them a miss.