I am truly petrified of street photography. It feels like a daunting task to point my camera at a stranger's face and click. I know, I know in India not too many people mind, but I just completely freeze most of the time. And yet I was fascinated by it too. I would keep reading tips after tips thinking something would unlock the secret for me. I am still uncomfortable with street photography but I have given it a try from time to time and here are the things that worked for me. So consider this as street photography tips for the petrified.
Shooting Things: Since I was petrified of shooting people I started with shooting things. Most of the times, the street vendors are fine even when you walk up close, exchange a glance towards their stuff and raise an eyebrow. They generally wave a hand to go ahead. I know this is not real street photography but I had to start somewhere. That is where I started and remained for a very long time.
I do remember one incident when I was framing a shot of vegetarian street food in Kuala Lumpur. I had clicked the shot but I was still looking through the viewfinder. I sensed someone walking into my frame and that startled me! He was the owner of the stall. I had ordered something with the young boy who was there. And while I was waiting for my mushrooms to arrive and clicking this man rudely walked into my frame. I did not understand the language but I guess the young boy told him I had already ordered. The burly man was now sort of apologetic. And that was the end of the incident. I guess sometimes it helps to buy something from a stall and then soot. But I can't do this every time, more so when I don't eat non-vegetarian food. A lot many owners are just fine if you are shooting their stuff. Sometimes the vendors even insist that I click there picture as well!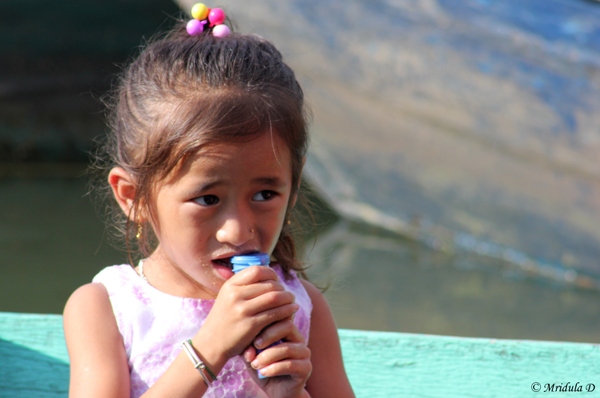 Too Difficult to Open: Clicked Using a 75-300 Lens
Using a Zoom Lens: I know every self street respecting street photographer would advise you against it. But remember we are not dealing with self respecting street photographer but a terrified street photographer. I actually gathered courage only after I used a 75-300 to shoot people walking by at Phewa Lake in Pokhara, Nepal. I was sitting on a bench under shade as it was too hot. I saw boats coming and going as well as people walking by the lake. I decided to use the zoom. No one took any notice as I was a little away from the scene. It helped that I stationary as well. I liked what I clicked and this was the first time (June 2013) I thought I have to try it more.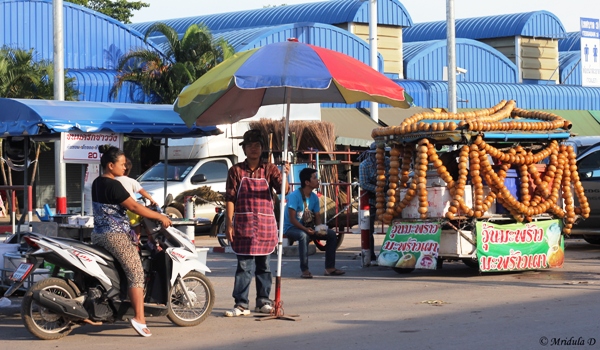 Wanted to Click the Man Under Umbrella Really
Framing Wider: So when I found myself in the colorful border market at Aranyaprathet (Thai-Cambodia border, September 2013) I wanted to do street photography. I was using a 50 mm (Canon) prime lens which would not let me zoom anything. I wanted to click the man under the umbrella but my nerves failed me as usual. I then decided to frame the scene wider. What to do, you have to think of ways to click things when you are scared of offending people.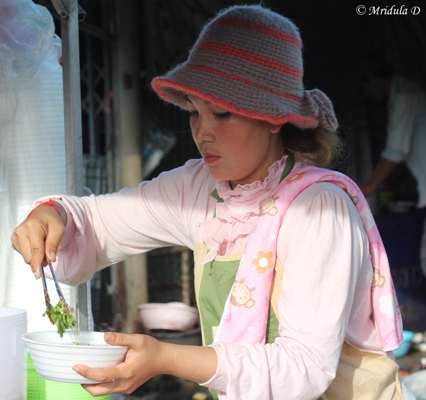 Busy with Making a Dish, Aranyaprathet, Thai-Cambodia Border
Clicking Busy People: While walking through the Rong Kluea Market at the Thai-Cambodian border I realized that the vendors were so busy doing their business they hardly had any time for nosy photographer. Now that is a good thing for petrified novices like me. She never knew I clicked her picture.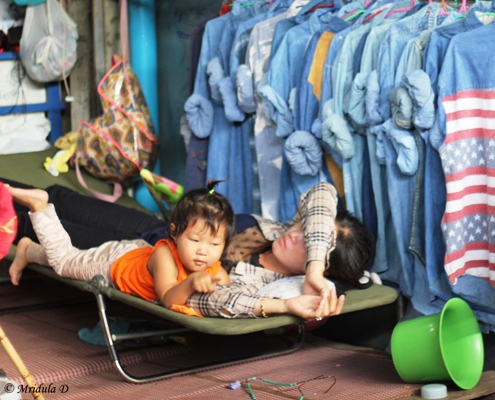 Mom is Asleep, Rong Kluea Market, Thailand
Chancing upon Things: This mom and baby were resting in their shop when I chanced upon it. I think the mom knew I was clicking a picture but she didn't stir beyond giving me a passing glance from beneath her hands. I was happy I mustered the courage to point my camera at them.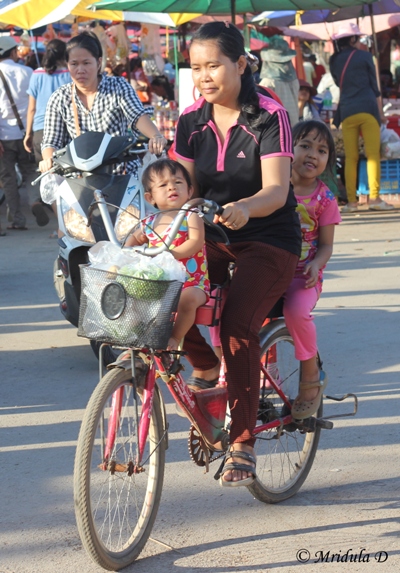 Taking Pictures from a Corner, Rong Kluea Border Market, Thailand
Positioning Myself in a Corner: But what has worked best for me is positioning myself in a corner of a busy street. That way I could watch the world go by and occasionally get a picture too. I must have clicked at least 30 pictures standing at this particular corner of Rong Kluea Border Market. Not one person stopped and asked me what did I think I was doing! A very happy scenario for me.
You can see more pictures from this market in another of my posts.
I know a purist reading this post would cringe. But what to do, I am just a petrified street photographer who is equally fascinated by it. I am trying hard to find my way around it.