I am no street photographer, I am really scared of clicking people. But I am not so timid when it comes to clicking the stuff displayed by street vendors on the road. Sometimes when I click a picture they ask me to click one of them as well. I will start with apple and oranges.
I was actually walking with my daughter in Chennai and that means I would not have time to take out the SLR and compose anything. But this arrangement was so tempting that I used my cell phone (a Nokia X7) to click the picture. I am often amazed at the presentation of the goods by the street vendors.
This was also clicked on the same walk, we had actually gone to the local market to buy some dresses (not for me) and while walking I had a great time clicking with my cell phone.
This was a colorful rangoli (also known as kolam) in front of someone's home and I had to stop and click again. My daughter wanted to mess it all up and play with it but I was able to restrain her without any damage to the rangoli.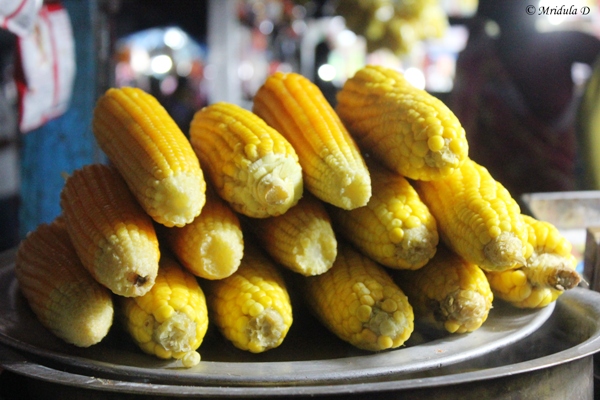 This one was clicked just outside Marina Beach in Chennai. It was the first time for my daughter at sea and she had a gala time. We actually ate these cobs as well and they were really good!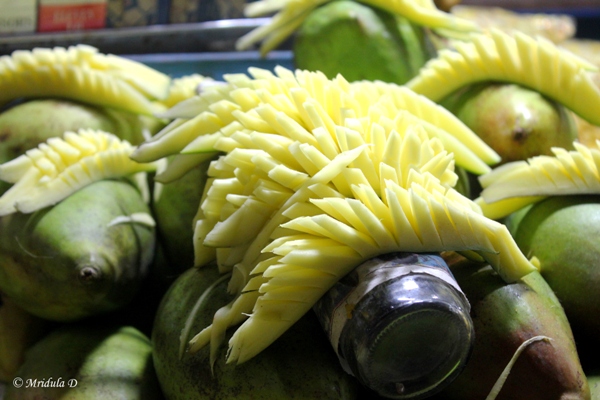 Living in India I am no stranger to mangoes. But the way these were presented, I have not seen it before. I also saw some of them smeared with chili but could not take a picture. The last two pictures were taken from my SLR but in very low light.
So even though I can never do street photography in the traditional sense, this is the closest I will ever come to it!