Strange is the word to describe my Schengen Visa experience with the Czech Republic. Here is a brief background about us and the trip. I have been travel blogging since 2005 and have been to 20 countries (excluding India) till date. But the number of trips I have done is much greater, as UK alone I have been to 6 times but counts as one country.
I planned a vacation with my daughter and niece to Prague, Czech Republic. The girls are 9 and 11 years of age. They have already traveled to Hong Kong with me. Chhavi (my adopted daughter) has been to USA last year with my husband, I was not traveling. Vasudha, my niece went to USA in 2016 on a school trip without her parents!
I thought we all have good travel histories so we would get the visa without a hitch. I didn't even consider that my husband was not traveling as we often travel without each-other. He has taken our daughter to USA without me, I took Chhavi and Vasudha with me to Hong Kong in the past, what could go wrong with our application? Well it looks like plenty!
I applied for the visa on 24th February 2017 thinking I will get it in days, or maybe like it has happened in the past, even before. I was dead wrong. To complicate the matters further I was to travel on another blogging trip from March 19 and I need to do another visa for Singapore. I still thought I had plenty of time to do both.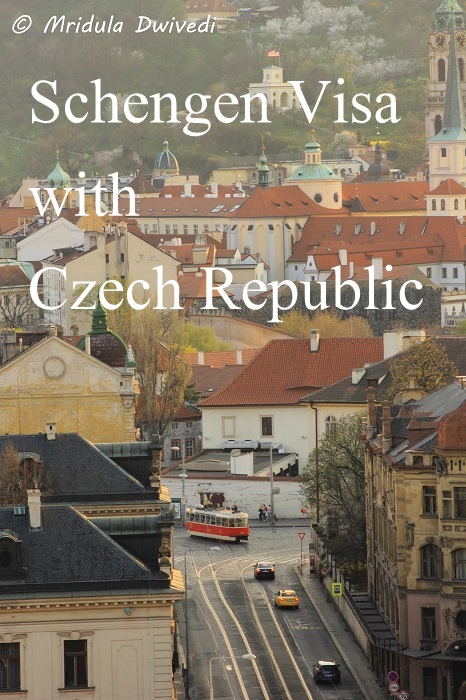 And then it started. On February 28, they asked me to submit another from for Vasudha which was signed by both her parents and their bank statement. I did it the next day on March 1st.
Then on March 6th 2017 I got an email from the consulate in Delhi for a personal interview on March 16! That would mean I would miss out on my other trip. I called them, I have to grant it to them they pick up the phone and talk. I told them about the other trip and they agreed to bring forward my visa interview to March 8, the International Women's day, at 9.00 am. They requested me to bring in the original birth certificate of both the girls and my marriage certificate!
They were probably paranoid because I am traveling with two minor girls. It is then I looked up the net and realized that human trafficking seems to be a problem with them but it is definitely not from India!
At the interview they first offered me that they could hand me my passport right away so I could do the Singapore visa and give my passport back to them once it was done. I thought it was reasonable. Then they went back on it saying they could give it to me only via VFS and wanted it back on 14th March. March 14 is way beyond their 10 working day guideline.
I initially said yes. But later when I had a chat with the Singapore team they said it was not possible. I once again called the Czech Embassy and told them that I don't need the passport as I can't do my other visa in that short a time frame. They agreed to keep it and give it back to me after they have taken the decision.
Now you might be wondering why am I calling my experience strange? Well, one of the questions they asked me at the visa interview was, "why is your husband not traveling with your daughter and niece?" I mean, hello when did that became a criteria to grant someone a visa? Or even a relevant question to ask? All hell would break loose if a foreigner was asked the same question to come to India. Indian women would be declared oppressed, there would be a call for freedom and liberty, all sorts of data would be quoted. But is no outrage when an European country asks such regressive questions to an Indian woman! After all they are a beacon of freedom and we are oppressed in India!
The next question that caught me by surprise was why is your niece traveling with you. I thought if you worked in an embassy you would have some cross-cultural training about your country of work. If the officer (a woman too) had any inkling of the Indian culture this should not have surprised her. We have strong family ties, I told her. And not only my niece, I have traveled with my nephews too.
Then came, who is paying for my niece's trip! This when my bank statement (and mine alone, my husband's bank statement is not even in the picture) and Vasudha's parent's bank statement combined has enough money to do 10 trips to Czech Republic, and these are just our savings accounts. Of course her parents are paying for her trip. Both the girls are only kids in their respective families. They are the closest friends, they refer each-other as sisters. And even though I may call Vasudha my niece just to maintain clarity; I treat both of them equally, which means both get equal amount of scoldings too. Also Vasudha's father, my dear brother-in-law, is wheel chair bound as he has cerebral palsy since birth.
There were two woman in the room other than me, a Czech and an Indian woman. Between them they talked, "has she submitted the affidavit?" And I was seething, have you not even looked at what documents I have submitted and called me for an interview? Of course my time is free and it should be wasted!
So here I am writing a long rant, instead of getting excited about a vacation that I planned! I have learned my lesson, from next time my personal vacations (and money) is going to a visa on arrival destination. I wanted a holiday, not a headache! Which is what I have right now! I now perfectly understand how it would feel to score a self goal!
In the end we got the visa in time to do the Singapore visa too. I have to say Prague is a beautiful city. The people are nice. The whole trip went without a hitch. But I still feel shaken by the visa experience and I am not going to plan another European holiday in a hurry.