Even before going to Unawatuna I knew about stick fishing and I was completely floored by those pictures. So I was on a keen lookout for stick fishermen in the region. I got my opportunity today. We were going to Mirissa Beach from Unawatuna and even though it was mid day we saw two fishermen on their sticks. So we asked our auto driver if he would stop? He parked by the road and my nephew and I ran to the spot.
The first question asked by a local fisherman, standing by the beach, was if we would pay money, all in sign language. So yes the activity is a bit commercialized. I was willing to pay and 200 Sri Lanka rupees (100 Indian rupees passed hands). My auto driver was very apologetic and said it was not like that. But as tourists kept coming, they would pay on their own and then the expectation built.
I was content with a few pictures but my nephew had other ideas. He asked in sign language if he could go and sit on the stick and the fishermen were quite willing, They helped him climb up that stick and soon he was perched there, fishing rod in hand and all!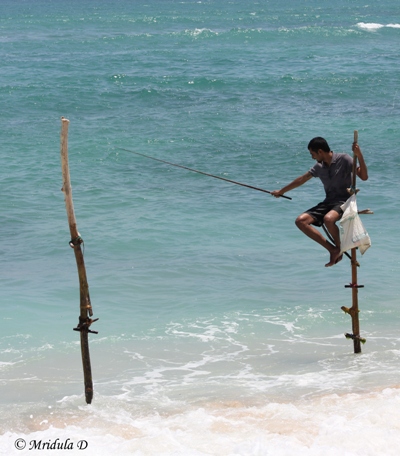 My Nephew Tries his Hands!
Later he told me that he asked fisherman what if the stick snapped? The fisherman told him he will fall but he would still be fine. In fact the stick next to him in this picture is a broken one. He remained perched there for quite some time! And all of us had a good laugh!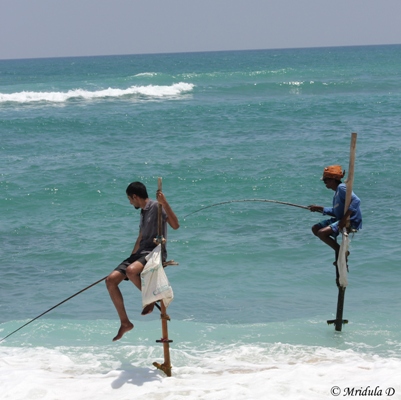 Stick Fishing in Progress, Koggala, Sri Lanka
When he came down we saw he had minor cuts on his feet and everyone around was quite concerned. My nephew told me that the steps leading to the top were slippery. Then the fishermen turned to me and asked if I would like to go?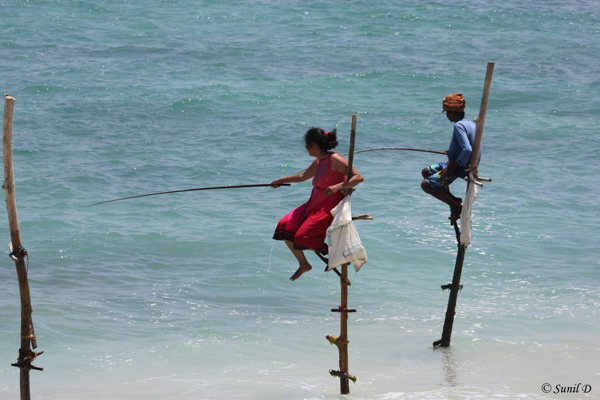 There I Go!
I never refuse an adventure when it comes my way. Soon with the help of a fisherman I was there, on top of the stick with a fishing rod in my hand. I giggled like a school kid. The fisherman sitting next to me asked me if I was from India. When I said yes and he asked where from (all in broken English and sign language) and I said Delhi. It was a pity that they don't speak English and I hardly could converse with them. They were happy that I did not pose too many challenges while getting up or getting down. I am also privileged that I got to sit on that stick. Traditionally the territory remains in the family and is passed from father to son.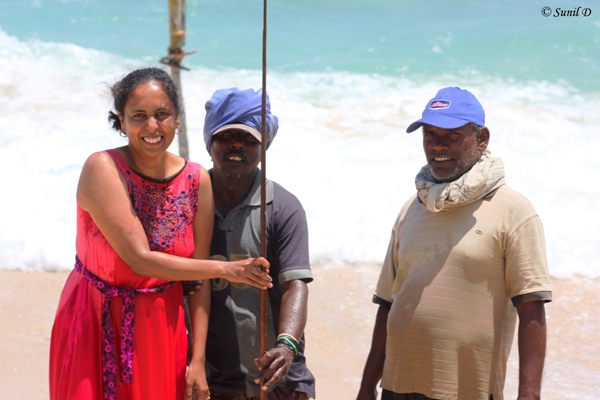 After Stick Fishing
When I was getting down the fisherman next to me escorted me out and the other person stood near the rocks so that I would not get any cuts like my nephew. Did we catch any fish? Well no, but in that duration neither did the fisherman! This last picture was on demand of the gentleman who escorted me out. And I guess my grin tells it all, it was such fun. If my nephew was not there I don't think I would have asked to do fishing and what fun I would have missed on!