I just got back from a trip to Rishikesh. We did a bit of rafting and visited two waterfalls that were a short trek away. Now I have crossed many waterfalls in my life while trekking. But I never managed to get beneath one. This water fall was close to Muni Ki Reti area and it was the first one beneath which I stood.
Two things helped me to decide that I was going to go beneath this waterfall. The first was the warm weather and delicious water. While I trek sometimes I am wearing layers of clothes. And a waterfall never looks inviting when you are freezing to death anyway. I have seen brave souls entering water even then but I am not one of them. I do not deal with cold well.
On this day the weather was warm and it felt good to put my feet into the water. Later after a rappelling session that ended in this pool I decided to get beneath the waterfall as well. The second thing that made me go was the pool itself. The pool surrounding the fall was shallow and of a decent size. It gave the feeling of a natural bath tub ( one of my team members described it as such), only it had its own waterfall attached to it and on a much grander scale than any bathtub I have seen in the hotels.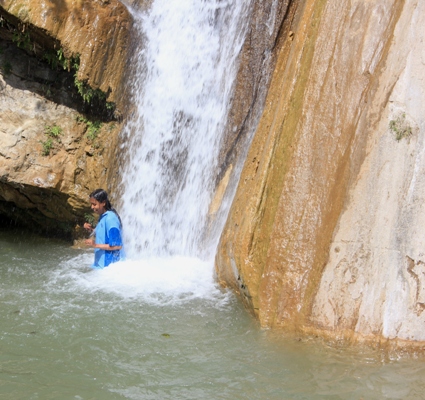 What a Feeling it Was!
I had given the camera to another member of the group and when I saw the pictures later I was quite surprised. I am very bad in front of the camera. I make it impossible for anyone to take a decent picture of me. I remember on one of the official shoots the photographer almost lost it with me! But here I was standing beneath a fall completely unaware of everything but the force of water that was hitting me! This was a small waterfall and even then I found it very difficult to stand beneath it for more than a few seconds! Also it was a moment when I let go! I felt so small, so utterly not in control and that was some experience. Most of our adult life goes in being in control! It was great for once to let go, to enjoy without being in control.