It is usually before a trip I feel most tired. It is logical to remember a wonderful spa experience at such times! I somehow never got around writing about my experience of the spa at Suryagarh. They call it Rait which means sand. This was my second visit to the Rait, both the times I had fabulous experiences. All the facilities at Suryagarh (Jaisalmer, Rajasthan) are on the ground floor which includes the restaurants, the bar, the swimming pool, the gym, spa etc and higher floors have rooms. I have written many times on this blog about Suryagarh. I really like the place.
I asked for aroma therapy this time. I will let you into a secret, I hardly know anything about spas and almost always I choose aroma therapy because the name sounds so exotic and hints of nice smells. After all there no rule that forbids me from using a spa even if I don't know much about them. And there is no harm in choosing a treatment that sounds good!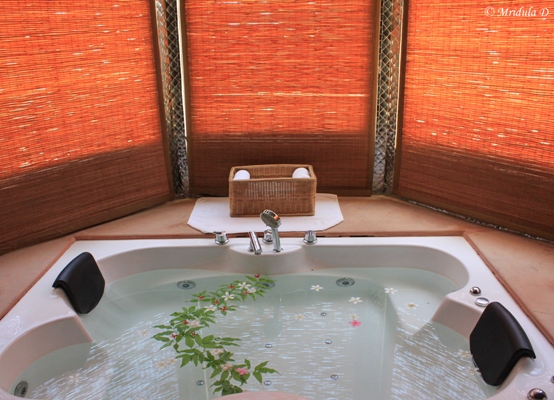 Jacuzzi at Rait Spa, Suryagarh, Jaisalmer
Last time when I was at the spa I had a great time. This was my second visit to the spa at Suryagarh and this time too it was no different. My therapist was a slender young girl, it was difficult to believe that she had such strong hands. This time they offered me a reiki experience as well. I would say once again that staying still for an hour and not staring at a flat surface (TV, laptop, etc) is a bliss. If being still also includes a nice aroma therapy massage with soothing music, it is all the more relaxing. I consider it ultimate luxury, a luxury I had indulged only on my trips on invitation other than the fish spa at Siem Reap!