I loved the time I spent at Kuala Terengganu and Redang. We took a ferry from Jetty Shahbandar at Kuala Terengganu to go to the Redang Island. Before that we also spent a lot of time around the central market area. The sun was high but a bit diffused due to the clouds.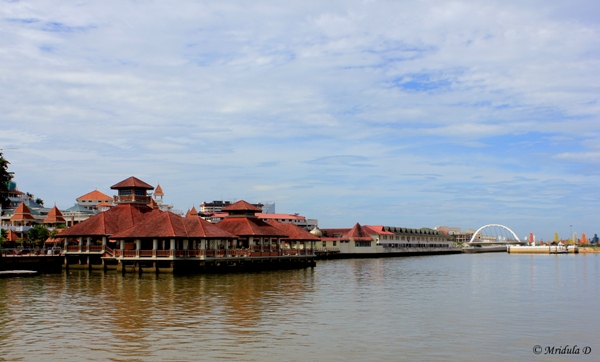 But I got even better skies when we came back from the Redang Island. I hate it when I fall asleep on a vehicle but I did fall asleep both ways on the ferry. My logic is that if I fall asleep I miss out on all the view en-route. Even then I could not help it. I got up blurry eyed when the ferry docked at the Jetty Shahbandar again. But my eyes liked what they saw when I started walking out to our bus. On this trip I was always stealing a photographs while walking. But the good bit was I was not the last as there were others who would take even more time!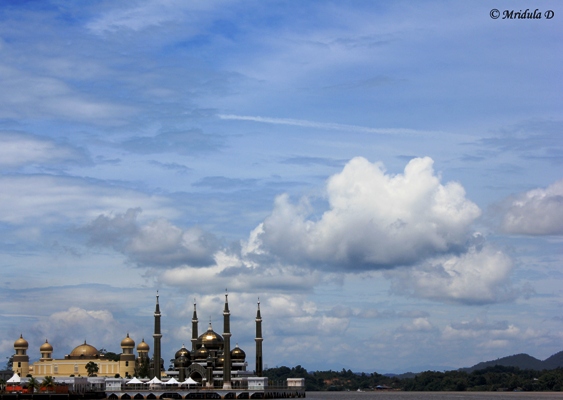 This picture was taken from the far side of the mosque from the restaurant we stopped for an early lunch at Kuala Terengganu. In Malaysia food is always high on the agenda. I think we had a 8.00 am breakfast and 11.30 am lunch! Later when I searched I realized it is a part of the Islamic Civilization Park which is massive and river cruises are also available.
I was also wondering why do Malaysian cities have Kuala in their names like Kuala Lumpur and now I came across a Kuala Terengganu! I realized that Kuala simply means an area between two water bodies. Kuala Terengganu was my last traveling spot in Malaysia and it is an amazing place.