My first glimpse of Moses Mabhida Stadium in Durban came quickly after landing at Durban.However my sky car experience at Moses Mabhida Stadium at Durban was much more fascinating.
I was supposed to attend (as a listener) the #MeetSouthAfrica blogging event but my flight was late. I managed to get to hear only the last two speakers. Then the snacks and wine was served. I was really excited about being in the stadium as it was one of the World Cup Football 2010 stadiums. So I took out my snacks through the door that opened to the stadium. Imagine having your snacks all alone in such a location!
OK, there were four other people inside the stadium all clicking pictures or having their drinks/snacks! But this was not my last encounter with the stadium, I was back for more fun at the end of my stay at Durban when we went on to the arch in the Sky Car!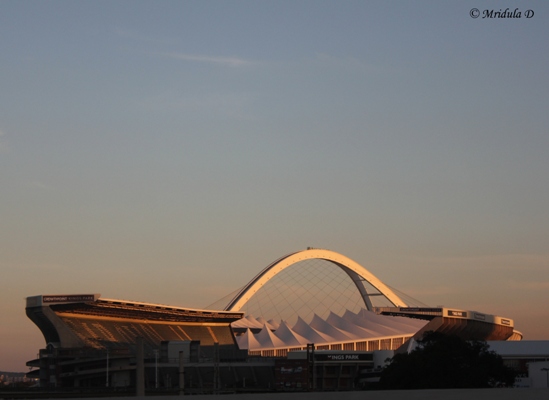 Moses Mabhida Stadium, Durban, South Africa
The Sky Car travels along the arch and leaves you high up on a viewing platform. The fee as of now is 55 Rand for an adult (one Rand varies between 6 to 7 rupees) and when we visited there was no queue. We actually formed the queue as we were 10 plus two guides. The only other tourist was a young girl on her own. It was late in the evening and I was quite excited about the views as well as the light!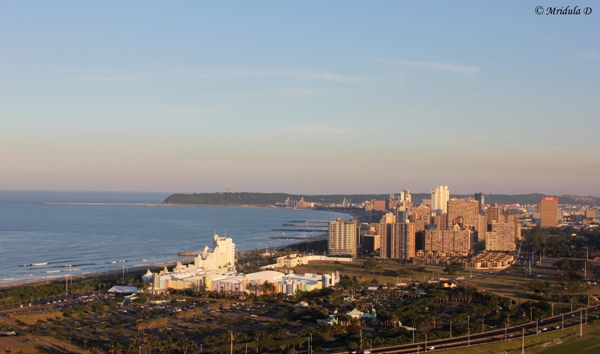 Durban City from the Viewing Platform, Moses Mabhida Stadium, Durban
I don't know how it has happened but these days when I reach a place I am interested in photography first and seeing later. I know this is a bad strategy but that is how things are and I am not even try to change it. After a while at this trip I had a feeling I saw more through the view finder of the camera than with the eyes. Not good but I guess it is not changing as well in the near future. The grand panoramas on all sides excited me even though I feel my pictures are not a patch on the actual scene.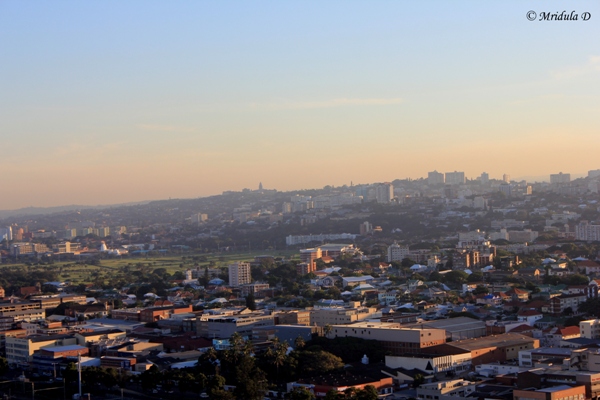 Durban City, Another View from Moses Mabhida Stadium
The view all around was lovely with the sun that was about half an hour from setting. I was wondering if we would stay there till sunset but it was not to be. I could have spent half a day there. All too soon it was time to get down.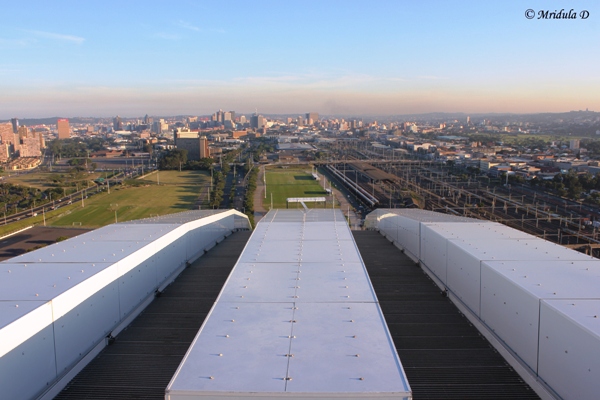 Sky Car Tracks, Moses Mabhida Stadium, Durban
If you are in Durban, do check out the Moses Mabhida Stadium. Sky Car is just one of the fun activities that you can do. There is much more check out the Moses Mbhida Stadium page to find out what is going on.