After watching movies all night on the Singapore Airlines flight, sleep was the natural outcome. I boarded the Silk Air Business Class flight from Changi, Singapore to Kota Kinabalu in Sabah, Malaysia. To begin with I didn't had a window seat. But as a window seat was empty next to Nisha (our team member from Silk Air) I happily hopped on to it. I could barely keep my eyes open even before the take off.
I took a few pictures while the plane gained height. On our flight to Kota Kinabalu, which was of two hours duration, the business class has 2-2 configuration. And then I shut my eyes. And I could barely open them even when the descent started. As the descent is over the sea, I had that strange feeling when you see a lot of water around and no land in sight!
But there was plenty of runway for the aircraft in the end. When I started walking out of the plane, the two air hostesses giggled, "Hope you had a good rest." So that is how my first leg with Silk Air Business Class went, me sleeping through most of it!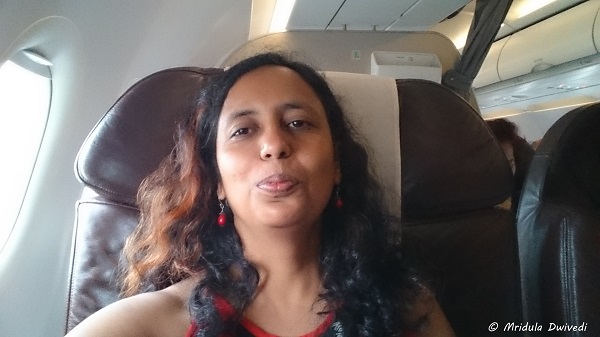 But I made up for it on my return flight. I was wide awake from the time I entered the aircraft to the time it landed at Changi, Singapore. The seats on the medium haul flights are large but they don't become flat, and I can see why. On a two hour flight there is no use of a flat bed. By the time the meal service ends, it is time for landing. You have the access to the lounge if you are a business class passenger.
The food service started once we were at the cruising height. It followed the elaborate tablecloth, drinks, food routine. I wonder how could I sleep through it all while going to Kota Kinabalu. No wonder the air-hostesses were giggling when I got out.
On the regional route (like Singapore-Kota Kinabalu) they may not always have vegetarian food. I managed with bread, butter, fruits and wine. However, the lounge buffet always had something vegetarian. So if you have a lounge access and you are a vegetarian it is better to eat at the lounge. Flights connecting to India have vegetarian options. The wine was excellent.
In the business class, there is a Lenovo tablet in the seat pocket which you can use to connect to the in-flight entertainment system. It is called Silk Air Studio. I connected it using my cell phone. I could download the App using one of the WiFi networks on air. Then I watched a movie called 7 Things to Do before I'm 30. The flight landed before the end of the movie. I hope I will watch in on some other flight again. Next time I will look for the App and start watching a movie early on. This time I started quite late.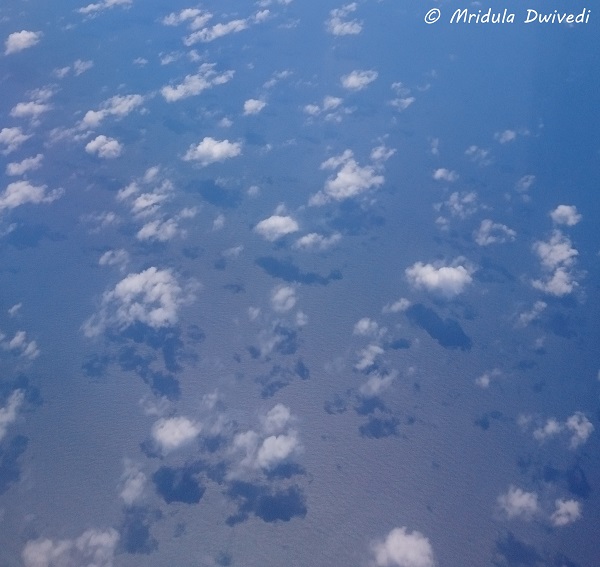 The business class had priority boarding on both the airports. Silk Air has an extensive network on flights connecting exotic destinations in Asia and Australia. They operate from Chennai, Bangalore, Kochi, Hyderabad, Coimbatore, Kolkata, Trivandrum and Visakhapatnam in India.
Overall, it was fun to fly business class with Silk Air and Singapore Airlines.
PS. I was invited on this FAM to Kota Kinabalu, Malaysia by Silk Air.