It was a cold and rainy day in Sharjah when we were supposed to go on the desert safari with Mleiha Sharjah. Throughout the day we kept wondering if the Safari would take place or not? Luckily for us the weather did not affect the desert safari in Sharjah with Mleiha.
I have now done desert safaris both in Dubai and Sharjah, both have their pluses. My vote goes to doing it in Sharjah if you are looking for a peaceful experience. However if you need belly dancing and crowd, you need to go to Dubai.
We started out in a Land Cruiser to the desert near Mleiha. Mleiha offers many other activities like star gazing, hiking etc. apart from the safari. They also have the Mleiha Archiological Center from where the safaris start. We did the Fossil Rock + The Camel Rock option.
Due to my previous experience in Dubai I knew that I would be affected by motion sickness so I took my medicine about 45 minutes before the start of the safari. Avomine leaves me sleepy but I have no option because otherwise I get nauseous with in no time. So, if you have motion sickness do remember that desert safaris can trigger nausea.
It had rained before in Sharjah, the sand was wet when we went for the drive. They were using land cruisers for the trip. There is a strict instruction to keep your seatbelts on all the time when you are inside the car and there is a reason for it. On the steep turns the vehicle may overturn. The seat belt will keep you safe. All the vehicles are reinforced so that they can take the flips if it ever happens.
We asked our driver, who was from Bangladesh, if he had ever flipped. He replied in the negative but added he had seen other vehicles flipping and nothing happens as everyone is using seat belts and the vehicles modified for it.
It was extremely cold and windy on the day we did the safari. We got out for a minute of the vehicle both at the Camel Rock and the Fossil Rock. Then we would run back say to the safety of it after clicking some pictures.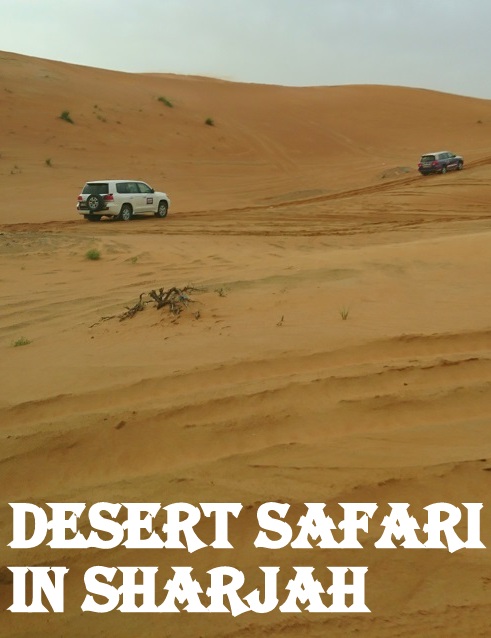 The mind boggles at the thought that the vast stretch of desert was under sea ages ago! There was not much of a sunset so we missed out on it. In my view the safari got over far too quickly and we were headed back to the city for our dinner!
PS. I was invited to Sharjah by Air Arabia and Sharjah Tourism Board.