I got my first dose of vaccine in Gurgaon around April 14, it was Covaxin. As I am in 45+ age category, I could walk in for my first dose. May 26th is the last date to get my second dose of Covaxin done. I was not too keen to go out but I eventually got it done today. The images in this post are of the vaccination center in Chauma Primary Health Center (PHC) in Gurgaon. This is where I got both my doses. It is a free vaccination site operated by the state government.
As I took free vaccines and I can definitely pay for them, I would donate the money to an organization of my choice. I went to Chauma PHC because of its outdoor waiting area. I didn't want to go to a private hospital as all of them have vaccination centers inside a building with air conditioning! And even otherwise, in my area, Chauma PHC has been the choice of people because of their efficient work.
After my first dose of vaccine, life went on. But by the end of April 2021, came the big Corona wave and all hell broke loose in India. Between the first and the second lock downs I have been only to two places regularly. First we would go to my daughter's tennis academy and secondly I would play table tennis with a Fitso facility. My daughter's academy is totally outdoors. My table tennis place had a tin roof and tent like flaps, so not totally closed. On April 24 we stopped going out at all. We stayed at home. We stopped taking assistance from the house helps two days earlier. Gradually, I stopped opening my door at all. I would talk to my vegetable vendor (may God bless you Sanjay), milk vendor (may God bless you Tarun) and kirana vendor (may God bless the employees of the local store) on phone and pay them through Paytm. I would go to the front room window to tell all Amazon/Big Basket Deliveries to be left at the gate, they were anyway prepaid, may God bless them too, because of them we can stay indoors.
Living like this, I slowly got used to the routine. We would go up in the balcony for the evening tea as we could see bits of sky from there. Days went by. By May 22 I started getting uneasy about the second dose of vaccine as I had only till 26th to get it done. Everyone told me not to go out. My cousin is a doctor and she too suggested to delay it. I knew I would not go on the weekend as the PHC would be crowded.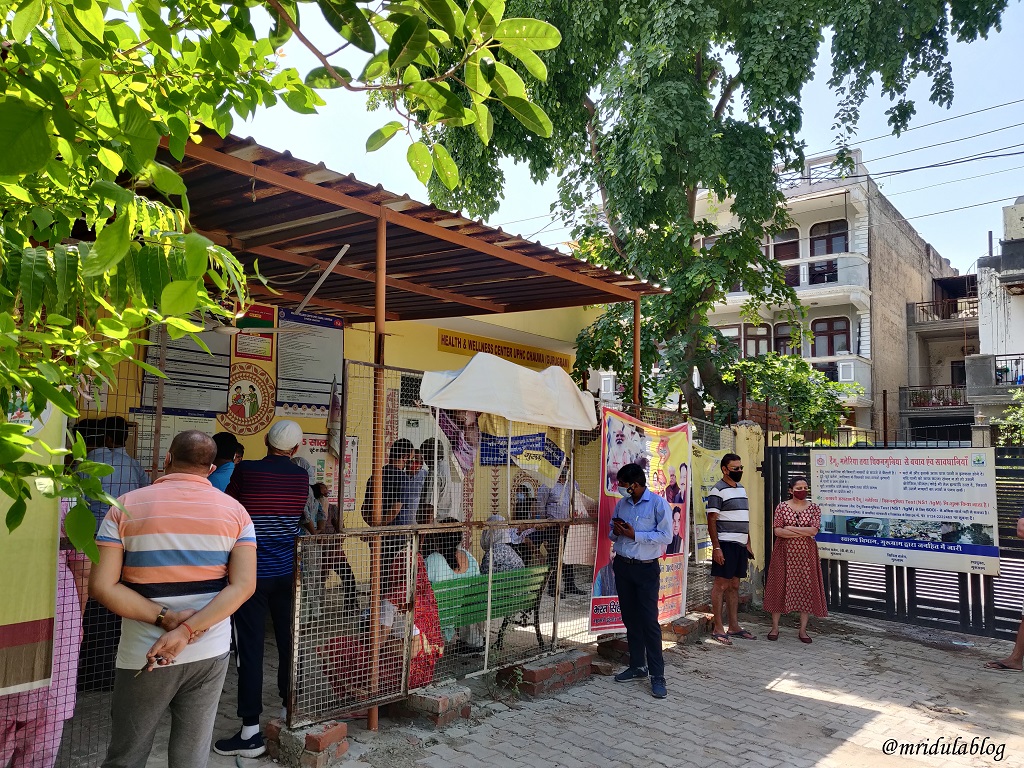 I started asking questions in my Resident Welfare Association's (RWA) WhatsApp group on Friday. The government owned Health Center in Chauma was people's choice as it has a large outdoor area. You go into a room only when you are getting the vaccine. They call two people inside at a time. Over the weekend I kept thinking about it and then I decided to give it a try on Monday. I told my husband that if it was too crowded, I would not get out of my car and simply drive back home.
The vaccination starts at the Chauma PHC at 10.00 am. I left my home at 9.15 am as it is not too far from my place. As it is always with me, I got a little lost while find the PHC. I took a U turn when the road started looking unfamiliar. I asked a person on the street where the place is and he told me to take the cut right beside me and then take the first right. I was 200 meters away from it (170 by Google Maps) when I asked for the direction. I parked my car and went to the small building that works as the vaccination center as it was not crowded. The main center was closed but many people were waiting outside. I went back to my car to wait.
When I saw other people around me walking in, I too went to the premises again. An old lady was making a list of the people who wanted to get vaccinated. She maintained two lists, one for the first dose and the other for the second dose. The first dose (Covishield) is by prior appointment via the Cowin Website. For the second dose of Covaxin walk in is allowed. I was 43 on the second dose list. After getting my name listed I went to the park behind the PHC to wait.
At 10.00 am the vaccination started. I saw a few people going in and coming out from the distance. They call out your name and number and then you can go in to get vaccinated. At one point, a small fight broke out between a woman and the hospital staff but it got sorted in a few minutes.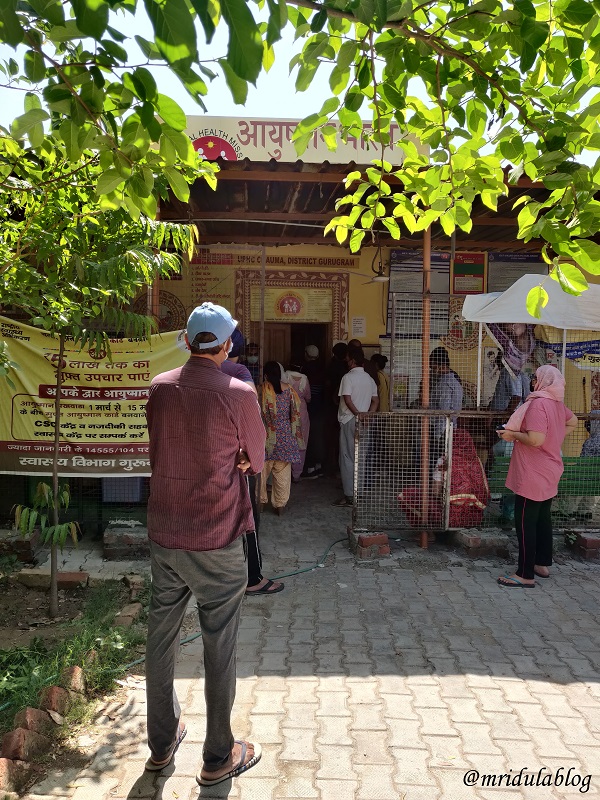 The only thing I don't like about this center is the people who come in to get vaccinated. They crowd the front door in spite of the token system. The attendant handling the list was a thin woman, she would request people to stay away but to no avail. I firmly believe it is not the job of the hospital to police the people. They have a system in place, it works if we cooperate. But people tend to bunch at the door and that gives the creeps. So, I stood away till it was almost my turn. The good bit is that we can wait in the open. I would hate it even more if this happened indoors.
While I was waiting in the open (and not near the gate) I saw the old lady who made the list in the morning. I asked if she was a volunteer? She said yes, she came to get her vaccination done and she did the list as well. I asked her name and she replied, "let it be, I don't do it for fame." I didn't insist, only thanked her. My feeling is that is a retired staff as people knew her around the center but that is just a guess. I was totally impressed by what she did.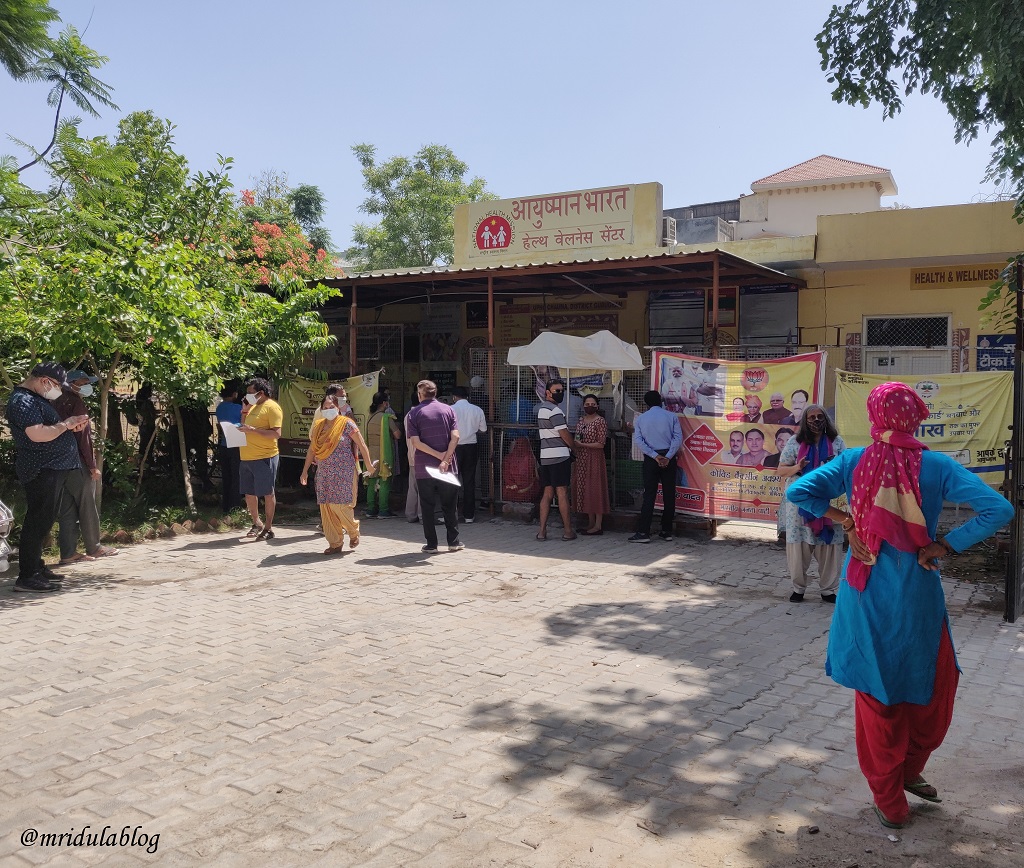 The numbers move fast. So when it came to 30 I had to move closer. I still stood away from the crowd. There was another girl who was 44 on the list. Both of us cribbed how people crowded the gate unnecessarily. Then it was my turn. I went in, they asked for my mobile number and then requested me to show my first dose certificate. They took the last four digits of my beneficiary id and then I got the shot. I thanked them profusely on my way out.
I straight went to my car, sanitized my hands and drove home. At home, we had an agreement. That I would go to one of the bedrooms and quarantine myself for 4 days. I know it is extreme, but what to do, this disease is extreme too. We have stayed home for so long that even venturing out for vaccination feels unsafe.
So while I am sitting in my room, my husband, daughter and father leave stuff at my doorstep. So far, I do not have any noticeable side effects other than a slight tingling in my arm. The side effects are definitely milder than the first dose.
I remember talking to two parents sometime in March 2021 while our kids played tennis. I told them that common people like me would be the last to get the vaccine. But I have been proven wrong. I could get the vaccine as a common citizen at a government center for free without pulling in any favors.
When I went to sleep on Sunday night I was still flipping the coin, should I do it, should I not? I had a thousand different thoughts running through my mind. I some how fell asleep, still undecided. When I woke up, my first thought was to chuck it. Why risk anything when I was safe at home. But I remembered my vegetable vendor, Sanjay, who brings vegetables and fruits to the doorstep every day by going out and I decided to go out for one day to get this essential work done. Other than avoiding standing close to people, I also used a double mask while I was at the PHC.
I will update this post when I come out of my room after 4 days! I will update if I feel any side effects. What strange times we are living in.