My husband and I took a trek in the Indian Himalayas from May 17 to May 27, 2003. I still dream about my Sar Pass trek, it was so incredibly beautiful. As I am writing this, I can see this one is going to be really long! Have patience with me.
My husband has trekked before but this was the first trek for me. He didn't want to scare me off by taking on a very difficult one. Searching for options we stumbled upon YHAI (Youth Hostel Association of India). They offer choice of three locations in the Himalayas for trekking in summer and have various other programs, do check out their website.
The trek starts at a base camp in Kasol, in the state of Himanchal Pradesh (HP). Kasol can be reached from India's capital New Delhi both by bus and train. By train one has to go to Chandigarh and then take a bus to Manali (a famous hill station) and get down at Bhuntar. From Bhuntar all the buses going to Manikaran pass via Kasol. Manikaran is famous for its hot water springs. Else, one can straight away take a bus from Delhi to Manali, get down at Bhuntar and follow the route.
After coming from the plains in the Indian summer where temperatures sore to 40 degree centigrade or more, I was greeted a view of tents pitched on a small flat piece of land, next to which river Parvati was flowing and facing it were snow capped peaks (Pin Parvati) looming high in a distance. And this was just the base camp. It was so soothing for our frayed nerves of metropolitan life. Whenever I was out of my tent (which was for most of the time) I would just keep looking at those peeks. On the day of reporting there are no activities scheduled though we were a day late for reporting but were accommodated in our original group.
The second day at base camp was spent in morning exercises followed by an acclimatization walk and a briefing in the evening about our route and expected behavior of us. Believe me, it is required as people seem so prone to leaving all kind of litter behind. The second is devoted to morning exercises and some rock climbing but this is not really required during the trek so they are pretty lenient about it. Third day and you are off to the actual stuff.
Before I start describing the trek, I will put in a quick word about YHAI and their organization of the trek. The whole show is run on a 'not for profit' basis and by volunteers, who themselves are experienced trekkers. They are called camp leaders. They are stationed at every stop, often two to three people along with the cooking staff. So at every stop we are greeted by ready tent and food for us. There cannot be any greater luxury than this after a day spent walking through the thick. There are camp leaders who have been coming every year since 1978! In the month of May every day batches leave in group of 50 and keep walking between these campsites. Such a crowd is managed every day in camps efficiently. I have a few peeves with YHAI but they are really minor and I will touch on them at the end.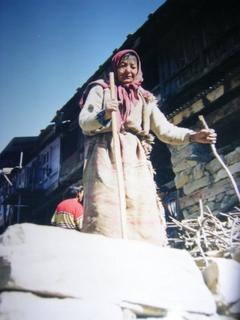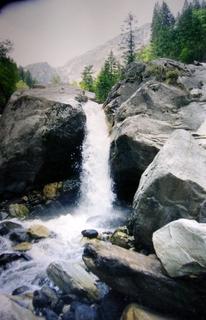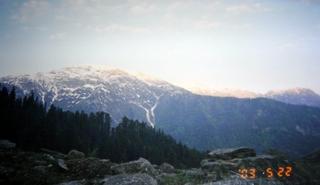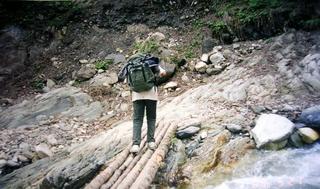 The groups that trek with YHAI contain people who are novice and not really fit, to really good trekkers. It has been designed such that a person who does nothing much their day apart from normal school/office going activities and occasional walking, too can complete it. The food they serve is Indian vegetarian and they do not allow you to smoke and consume alcohol while on trek (people do it at higher altitudes, but if you are caught, you might be sent back). Every night there is a campfire if the weather permits it but no burning of wood.
So coming back to the actual stuff, on the third day we started at 8.30 in the morning from our base camp for our first stop from base camp Kasol was to Grahan.

Kasol to Grahan: When we started, we were asked to leave in a single file with all the girls in front (we were 12 in number) and we used to hate this arrangement, the view is blocked by row of rucksacks and for heaven's sake I wanted to walk with my husband. Well, after walking for 200 meters all of us would go to wherever we wanted and fall in our own groups. The route was around 9 km. and we had to reach our destination by 4.00 in the evening.
Grahan is actually a small village and the last populated place on the trek. The way is through lush green forest and we were walking upstream on a river, waterfalls could also be spotted along the way. The route was fairly easy and we had a nice time going close to the river wherever it offered a patch safe enough. At midday we had lunch in a group of around ten near the river. Imagine the joy of drinking cool water straight from it! However, we were in for a surprise as the last two kilometers were steep uphill. Being moderately fit, I had no problem in completing it. Upon arrival we were greeted by the camp leaders and were offered tea, snacks and a little later soup. The idea is to force us to drink plenty of water. It was still daylight when we had dinner. At sundown it was time for campfire and then bed. All the twelve girls were in one tent and my husband in another, but then we were on a trek and not a honeymoon, so I didn't mind. Next day after breakfast we were off to Padri.
Grahan to Padri: This was the easiest day we had in the entire trek. The route was again scenic, through forest, dotted with purple Iris and giving a better view of the snowcapped peaks that were visible through our base camp. In Padri there is grassland where locals graze their animals. We kept meeting them on the way. Our tents were also pitched in the same grassland. From here on, call of the nature has to be answered in the open. The view around this grassland was smashing. In the distance was Pin Parvati again looming high and covered in snow in patches. Watching sun set on it was an amazing experience. There were flat rocks throughout the ground and sitting on one, I was having my dinner with my husband watching the sunset. We were wondering what a resort would charge for a view like this! Then I guess for such views we have to take some trouble and go near them.
By this time all of us were settled in our own groups. My husband and I would keep together for most of the time but we would often walk between this group from Bhopal (a city in MP state) and another one from Gujrat and would join them whenever we wanted or they cared for. By the end o
f the trek we were exchanging addresses. Again after sundown it was time for bed and early off to next day to Ratapani. Till Padri we were following arrow marks and walking on our own.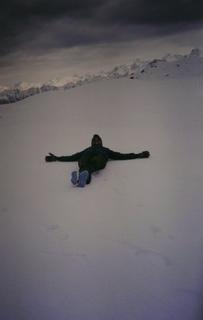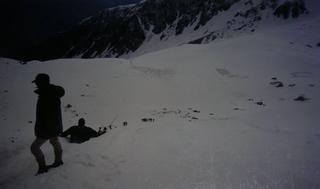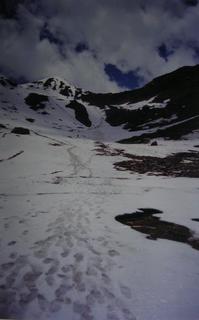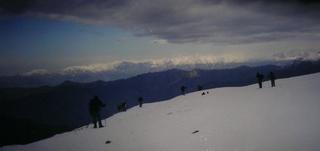 Padri to Ratapani: From here on, the way is uphill and the distance traveled roughly 10 kilometers everyday. The route becomes increasingly beautiful as we are gaining height. The flora has started changing again and there are flowers of different kind now. We are almost at the snowline. It has also started raining. We were enjoying ourselves at a stream when rain hit us hard for the first time. All of us went into our rain sheets but still it is uncomfortable. Fortunately the rain did not last long. From Padri up to this point of stream we had a guide with us (a local villager) as the forest was dense.
The local people set up small tea stalls along all the camps, and we were eagerly looking forward to this one. After hot cups of tea, we started again to our destination. The way was again uphill till the end but it was manageable. The view from the camp side was breathtaking. Tents were pitched in a flat piece of land. Next to it were rocks of medium size and beyond it stretched completely snow covered peaks of Himalayas. We were told that they look magnificent when the sun rises from behind, and I agree as I saw them in the morning.
It rained heavily in the evening but a few of us were in the tea stall tent next to our camp and we enjoyed the rain and the view for quite some time. We had to eat inside the tent as it was still raining till dinner time and we could see the snow falling in the distance. After sometime the rain stopped and we were out again till we felt like sleeping. The next day we were off to Nagaru, the most famous and feared campsite.
Ratapani to Nagaru: Ngaru is the gateway to Sar Pass. Nagaru is where wind speed is so high that at times it has blown off the tents (we were told this by none other than the Camp director at the base). Nagaru is where there is snow everywhere. We started from Ratapani around 9.00 am. The way is completely uphill. We had lunch at a particularly beautiful spot. What I remember most is watching an eagle circle below us is huge graceful sweep for quite sometime. I am used to looking up at them from the ground and not sitting above them! It was incredible. It was also along this route that we saw snow close at hand for the first time in this trek and for me in life! It was a dirty brown patch of old snow but still I went off route to touch it and stand by it for some time. It rained on this day too but not heavily. However, there were patches of snow that were melting and it caused some problem to get over it. As I turned one last bent for Nagaru, it was just white everywhere. We were finally in snow. I was jumping all over, but not literally, as it was so slippery. A few of our group members guided me through.
The view from the campsite cannot be described in words. I was told by someone "ma'am look that way, you are in heaven." I had to agree with that young chap. The campsite is small, one way leads back to Ratapani, other to Saar pass. The rest were steep falls and miles and miles of snow and high peaks. Though initially the weather was full of mist it cleared eventually. Along the tents was freshly fallen snow. In middle a rock that is considered holy by the locals. All of us were fooling around in the snow and trying to learn how to walk on it without falling. The temperature was freezing. After the usual tea and soup, we were told to hurry up or it might start snowing again. The serving staff added maybe for ten hours. I replied that "it may, but why are you scaring us off?" He smiled and said "no, I can't see you scared." Well I was not.
In this camp we are packed off to bed at 7.30 in the evening as we have to get up at 3.00 in the morning and try to leave as early as we can, so that we can cross the pass before snow starts melting. So by 4.30 we were off and we had two guides with us, taking us every inch of the way.
Nagaru via Sar Pass to Biskeri: The initial part of the trek was smooth. The most stupid thing I did on this trek was not to wear a proper trekking shoe but a jogger. It was payback time.
The incredible thing is that a person puts a tea stall even in this region! He treks with us and goes back after a point. A stray dog came with us all the way from base camp to base camp!
After this tea stall I found that my grip was not so sure and at two spots, one of the guides literally held my hand and see me through, leaving a huge dent in my ego. I blamed my husband heavily for not advising me properly for the trekking shoes as he had walked on snow before and knew what it would be like. But what made me forget all this was the slides.
By this time we were walking in snow and all over were high peaks of snow and more snow. There was a very light snowfall along the way. Peaks of other famous mountains like Deo Tibba are visible from here. The highest point we touched was 14,000 feet. The climb at certain point in this route is such that we have to sit and slide down on the fall, it is impossible to walk on the other side of it. Sitting on snow and sliding through is to be experienced and not described. There were three such slides and the last one puts us on the way to the other camp Biskeri. It was the sliding that made me forget my miserable shoes and slipping on snow.
After this third slide we are on our own again and out of snow. The peaks are around but we are not walking on it. At the end of this slide is canteen too, where we hogged on Maggi (noodles) and omelet before starting again.
Biskeri is called the royal campsite of the Sar Pass trek. The small flat land of campsite is surrounded
by snow covered peaks in a distance. The stream that we used for drinking purposes and cleaning had small flowers all around it, yellow and red. The setting sun would give glowing colors to the peaks. After dinner I lingered for a long time outside before going to bed.
Biskeri to Bandaktach: This was our last campsite. The route was downhill and we took it easy. The snow capped peaks were still with us. This campsite again is very beautiful with tents pitched in a small grass land and snow covered peaks all around. It rained for sometime but when it cleared it was beautiful. Late in the night there was a faint moon glowing and stars lit the sky. Next day we were off to our base camp again and back to roads and civilization. The funny thing is that river Parvati was still flowing as majestically and the Pin Parvati peaks were still there at the base camp but it was not enough. I had seen so much more, that I will surely return for another trek in the Himalayas, but in some other region as there is so much to see.
Before I wind off this one peeve that I have with YHAI, due to some reason I did not find them friendly to couples and by that I mean even married couples. Girls were always asked to walk in the front and men at the back. It was OK as we would walk as we please as soon as we were out of the campsite but I wonder why this was required. Anyway the magical pathway we took and the care YHAI took about our food, sleeping bags and tents (of course we would clean up the tent before leaving but that was the minimum expected of us), was an excellent introduction.