I visited Rawli Tatgarh Wildlife Sanctuary a part of my Lakshman Sagar visit. Rawli Tatgarh is about 15 kilometer from Lakshman Sagar. We went in the open 4X4 jeep with a packed lunch for us as well! And when I say that do remember I had a big village breakfast in the morning. It was a narrow road but almost devoid of traffic. Also it was better than many roads I see in Gurgaon!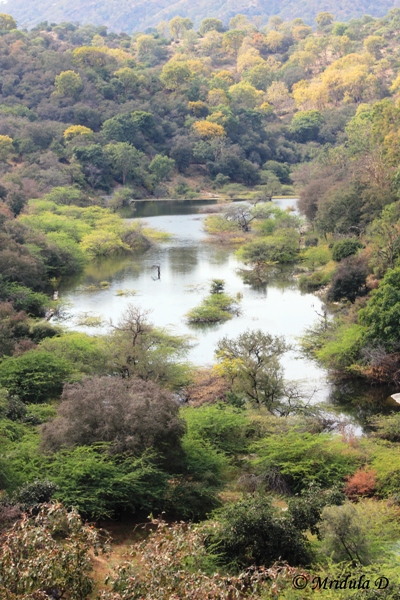 There is a small guest house on the premises which belongs to the forest department. This was the view from the top of the guest house. The guest house sadly was not maintained well but if you want to rough it out it was perfectly suitable. Unfortunately I could not get any contact information for booking the place.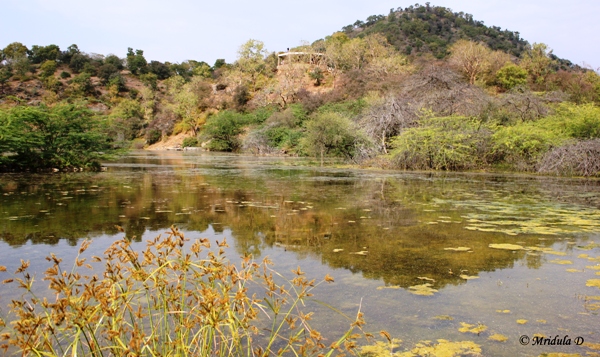 As soon as we reached Arjun and Gajendra ji inquired about lunch! I told them it was out of question, my breakfast had to settle down before I could think of lunch! I asked if it was possible to walk around and Gajendra ji took me around the water body you see in the first picture. It took us a little more than an hour to walk around it. He told me that it was a rainwater lake and as the rains were good this year we could see so much water. What completely surprised me though was the fall colors. I never associated Rajasthan with fall colors!
While walking around I could hear so many birds and I could see a few as well. But I didn't try to click pictures or the walk would have taken us 3 hours or more! I heard kingfishers many times and what a ruckus they make. They are such loud birds! I also saw quite a few drongos too. We walked so close that we startled them a few times.
Finally I reached back to the guest house and we sat in the veranda to have lunch. The lunch was Daal Bati Churma and if you have not tried it yet you are missing out on good food.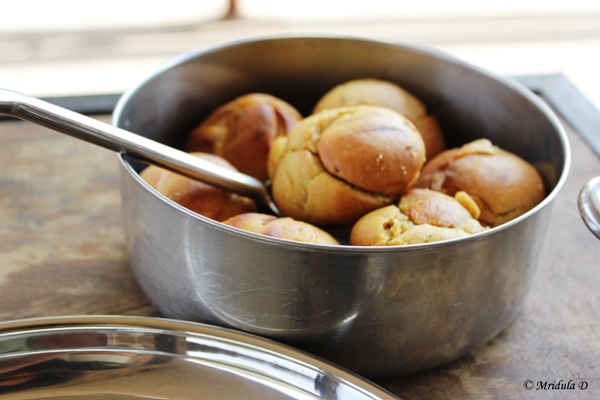 The food was good. I really enjoyed my Rajasthani meal. In the mean while another car arrived which brought in a few locals as well. I clearly remember I called home and had a chat about Nooftal (Rudolf the reindeer who is Santa's helper. My daughter calls it Nooftal) with Seshdari and how he eventually figured out our daughter was referring to Rudolf!
After lunch it was time to head back to Lakshman Sagar. I decided to walk around the property itself in the evening.