I remember walking by the torch light towards the beach. It was a windy night! We were at Ras Al Jinz Turtle Reserve in Oman. We had checked in earlier in the evening and we gathered in the lobby after dinner for our turtle watching session.
Our Omani guide kept a brisk pace and we marched with him! He warned us at the briefing, if there are no turtles at the beach, we can't help it, after all we can't control nature. I was not sure what to expect.
Soon, I was sitting next to a giant green turtle (Chelonia mydas) laying eggs! Our guide explained to us, "the mother turtle will dig false pits to confuse foxes who hunt for turtle eggs. After laying the eggs the mother covers the pit under deep sand so that no one can find the eggs easily!" And there I was sitting and watching a giant mother turtle first lay eggs and then cover the hole with her flippers! I was totally amazed at my luck, at what I got to witness.
After a while we changed positions with the other group! This time our young guide showed young hatchlings in torch light. My heart was full. It was a thing of beauty both to watch the mother and the young ones!
As we were heading back the head guide announced that there was a morning viewing starting at 5.00 am. We could get out at 4.45 am and join the group.
The next morning I dragged myself out of the bed to be there at 4.45 am in the lobby. The group was smaller now. The day was breaking as we walked to the beach.
In the morning we could not find any mothers but there were plenty of young ones! Only a few survive on their first walk from the sand pit to the sea! Birds hover overhead to snatch them away! What to say, nature works in mysterious ways!
I also got to watch a glorious sunrise, fishermen going out to the sea and the beautiful beach!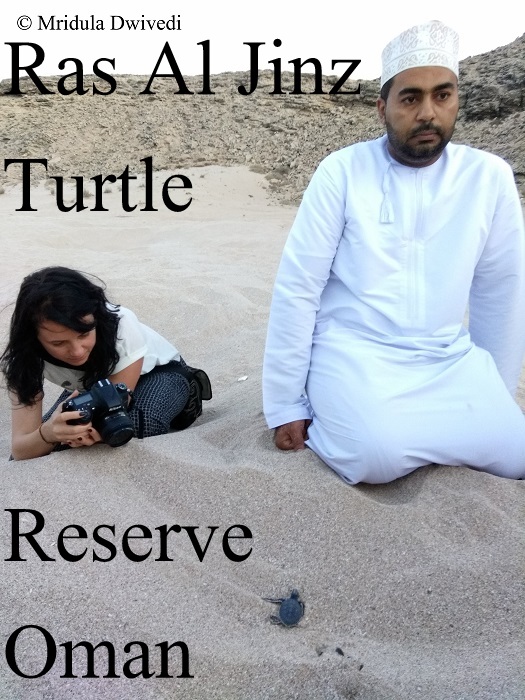 If you visit Ras Al Jinz and stay, the reserve provides accommodation. I stayed in the carapace rooms though they have AC tents too. There is a restaurant inside the reserve which serves all the meals.There is a cafe too. The reserve has a museum on the premises but our arrival and departure was such that we could not visit it.
I was completely caught unaware by the natural beauty of Oman. Apart from Ras Al Jinz Turtle Reserve I had a great time Dolphin Watching in Muscat and swimming in Bimmah Sinkhole near Muscat! Oman truly surprised me with its natural splendor!
PS. My trip to Oman was sponsored by the Ministry of Tourism, Oman