One of the fun things we did in Thailand was rafting at Nakhon Nayok. I have been on rafting trips before in India so I knew what to expect. There is a dam on the Nahon Nayok River which was the idea of the current King of Thailand known as Rama IX. The King of Thailand is highly revered in the nation. I saw many pictures of the king on display and he holds a camera in so many of them!
We stopped at a bridge to look at the dam and the surrounding areas. The view of the Nakhon Nayok river is beautiful and later in the evening we were going to raft along it.
We started near a bridge late in the evening, there were 6 of us in the raft other than the expert. If you have rafted in the Ganges you will find the Nakhon Nayok River milder. In Rishikesh both the times there was a dry bag on the raft so that I could put my camera in it. On calm stretches they would let us take it out and do photography. Not so in Nakhon Nayok, they had a dry bag but not in the raft. So I had no camera while we went rafting and for sure I had withdrawal symptoms!
Rafting was a lot of fun. All of us took turns to sit at the front of the raft. That is where you get drenched most. But unlike the Ganges there was no one who got thrown out in the water. There was a mild rain as well which made the experience even better.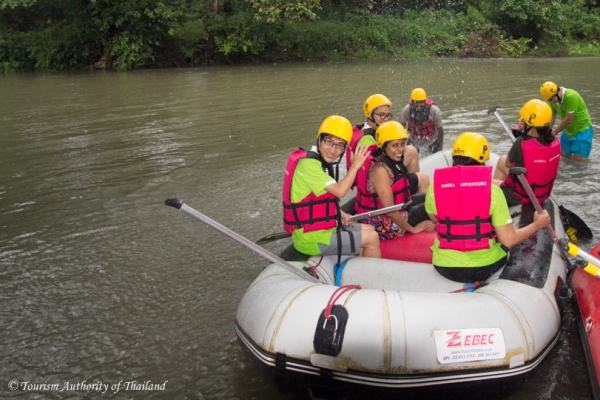 Rafting at Nakhon Nayok, Thailand
The worst we did on this trip was, we would turn the direction of the raft. The expert was the last person in the raft and when we would hit the mild currents we would make him become the first, the raft would turn 180 degree. The expert was able to correct the position again quite easily. We did this many times!
When we reached at the end point for rafting there was another activity waiting for us. From an elevated platform we had an option of taking a Tarzan Jump! There was a long rope hanging from a tree and a tire attached to it. You had to swing from the platform holding the rope and standing on the tire. Then you could let go of the rope once you were above the water. I did it, it was a first and it was so much fun! I don't have particularly strong arms so I was quite afraid that I would fall off as soon as I started. I fell off quite soon but at least it was not a vertical fall. That honor went to a young man from Taiwan! So on that high note our rafting at Nakhon Nayok came to an end.