It was a daughter-mom trip, I was traveling to Pushkar with child! And if you are wondering why we left Seshadri behind it is because he was away for work. If I had a free hand I would have gone to Jaipur with Chhavi. But one of my dear school friends wanted to visit the dargah at Ajmer and the responsibility of planning the trip was with me. I decided to stay at Pushkar instead of Ajmer. Closer to the date, my friend had to drop out. But I decided to go ahead with the trip. That is how Chhavi and I ended up at Pushkar on Friday and we just landed back yesterday.
In a way, Pushkar was a cosy place to visit with Chhavi. It has a small market that the two of us could walk easily. The Pushkar Lake was also next to the market. On Saturday while we were walking to the market hand in hand I got a phone call from another friend who was asking why my husband's phone was out of reach! While we were chatting Chhavi told me, "mummy phone rakh do, mein shopping karunge " (mummy put the phone down, I want to go shopping). I was incredulous. In my home shopping is not a concept, none of ever say let us go shopping. Anyway, I kept the phone down as she was getting restless. Her first stop was this color shop.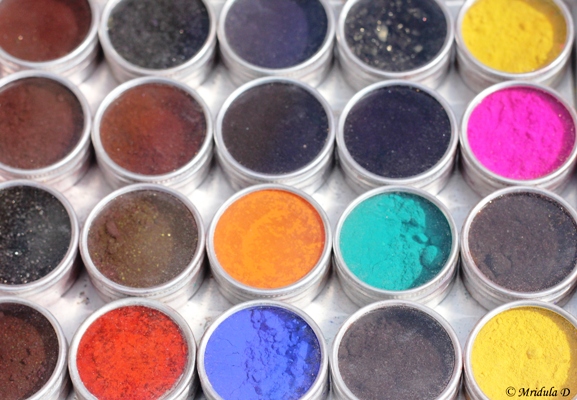 Color Box
The shopkeeper was selling colors in a box. I bought one for Chhavi, put it in the bag I was carrying and forgot all about it. We spent the entire day outdoors by the lake but that is a tale for another day. By evening Chhavi was too tired. After dinner she told me, "mamma mugjhe bahut ninnu aa raha hai, pata nahin kyon, mein Doraemon bhi nahin dekh paa rahe hun" (mamma I am feeling very sleepy, I don't know why, I can't even watch Doraemon). She fell asleep within no time. I finished reading 'The Guardian Angel' by Rohit Gore and called it a day.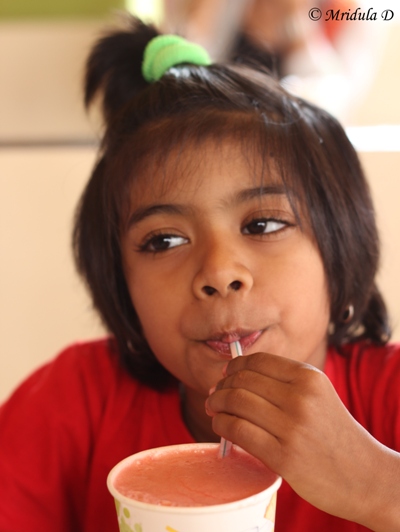 Chhavi at Pushkar, Rajasthan
The next day we were taking it easy. After breakfast we came back to the room (we stayed at the Sarovar, a RTDC hotel) and she asked for her painting box. I opened the back door. She sat on the floor with her giant drawing book (purchased in Pushkar again) and colors. I put on the TV (I had no other book to read) while I was lying on the bed. For 10 minutes I relaxed and didn't use the eyes that I have for her on the back of my head. After 10 minutes I got up with a start and looked around. It is quite unusual for her not to call me for something for whole 10 minutes. She had taken a bath before breakfast and kept the white towel in the balcony to dry. And that hotel towel was now multicolored. I have no idea why she did it, probably it was a way for her to get the paint off her hands.
As soon as I saw it I knew it was a lost cause. I gave her a sound verbal scolding. She was scared. My mood was completely spoiled. It was 11.00 am but I decided to check out before she wrecked anything else. On the check-out I told them about the towel. I offered them to pay for it. They had a look at it and told me it was gone but after all she is a child. They didn't charge me for it.
We went out to take a walk through the market again. She told me, "mamma usko aab bhul jaao" (mamma forget it now). When I told her they would scold us, she replied, "per mugjhe tou nahin danta" (but they didn't scold me). I am still recovering from the trip.