When the good folks at Sewara Hospitality asked me if I would like to visit their Pushkar Resort I was quite happy. I picked up the long weekend due to Eid as my date. I was taking a Volvo to Ajmer from Bikaner House. I was traveling with Ambica from The Humming Notes. The weather was awesome but as soon as we approached Rajiv Chowk (the Gurgaon one) we realized that the traffic was diverted because of Eid. It was a long detour and we reached quite late at the Pushkar Resort in the end.
In fact this was the evening sky at reception when we did the check in. Both Ambica and I were longing for tea. And tea with pakoras was the first thing we had. Ambica enjoyed mirchi ka pakora whereas I attacked the other deep fried stuff. Both of us were forced to skip lunch as the bus never stopped for lunch. Before I could even blink, it was time for dinner. We enjoyed the Indian food buffet with a glass of wine.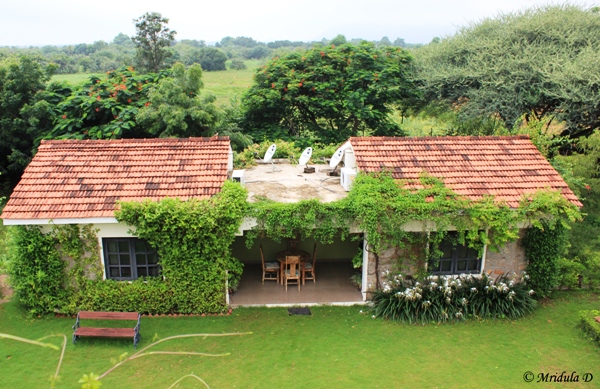 Our Rooms at Pushkar Resort, Pushkar
The resort is spread out and each cluster has a few rooms around a lawn. These were our rooms. After dinner all I wanted was to crash but somehow sleep eluded me. I slept after 11.30 pm in spite of being quite tired. And yet magically I woke up at 6.15 in the morning. It was completely overcast hence there was no sunrise for me. In fact, the clouds were hanging so low that it gave the impression of a hill station rather than desert city!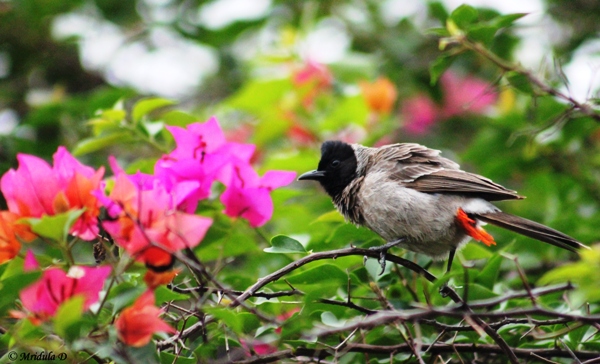 A Red Vented Bulbul at Pushkar Resort
But I was still happy as there were so many birds at the resort! I will actually do a separate post on the birds I clicked at Pushkar Resort. In the monsoon the place was so green. I looked at the swimming pool but decided to give it a miss in the end as we were going to explore the Pushkar City in the morning and then head for Lakshman Sagar.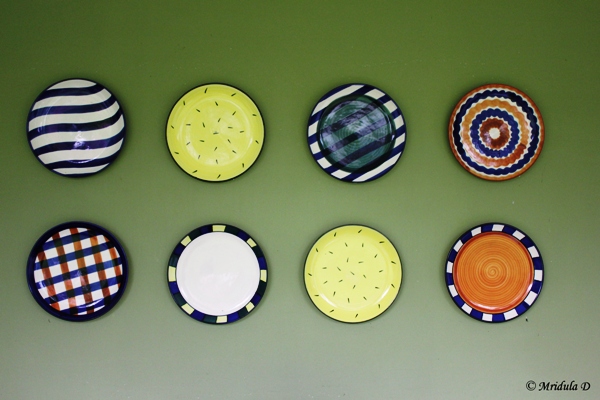 Pottery on the Wall, Pushkar Resort, Pushkar
After breakfast it was time to head out to the city. Before going I decided that the pottery on the wall was really pretty and it had to be clicked. It was a short but nice stay at Pushkar Resort for me.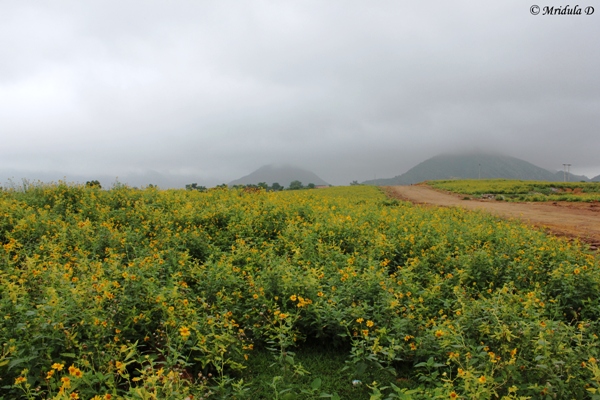 Wild Sunflowers near Pushkar, Rajasthan
While coming into the city I had taken notice of this field. I was determined to stop and click a picture on our way back. And as I said Pushkar had such a hill station feel to it during my entire stay.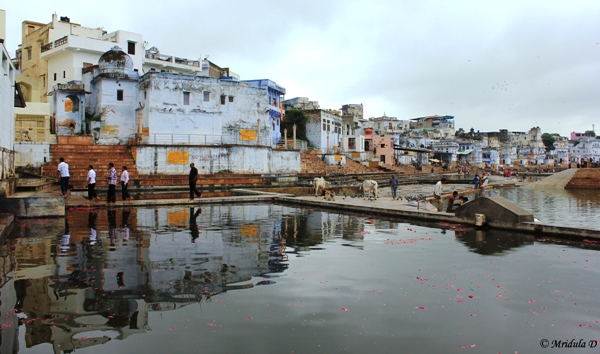 Pushkar Sarovar, Pushkar, Rajathan
Pushkar is a small town which has a sacred sarovar (lake) a renowned Brahma Temple and a small market apart from the famous Pushkar Cattle Fair held yearly. Our first stop was the Pushkar Sarovar. People try to rope you in for a pooja as soon as you enter these parts but they are not too pushy. After a few firm nos we were left alone to walk around the lake. As the lake is sacred shoes have to be removed. There were pigeons flying around the place. Cows also consider the space to be their own. Prayers were being performed at various ghats. Add to this scene a wet surface due to the rains and the picture is almost complete.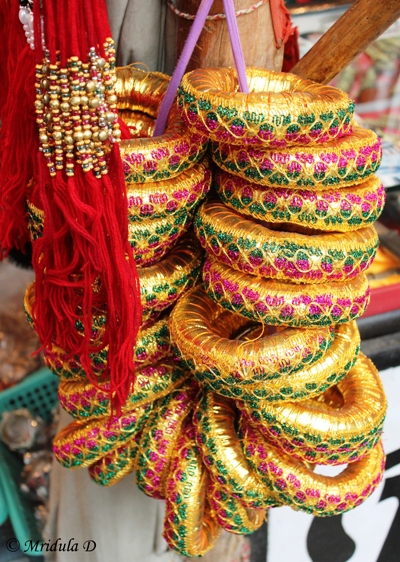 Glitter at the Pushkar Market, Pushkar, Rajasthan
Pushkar has a small market on the outskirts of the lake. It sells all things shiny and we strolled there for a while. I cannot go home without buying something for my daughter and niece (generally nephews and sister too) so I bought lehengas for them. I would have liked to stroll for longer but we had to visit the temple, stop at Ajmer Sharif Dargah and head to Lakshman Sagar all in the same day.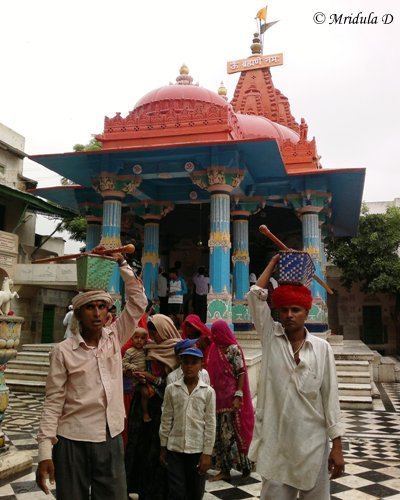 The Brahma Temple, Pushkar, Rajasthan
Our last stop at Pushkar was the Brahma Temple which is said to be most prominent Brahma Temple in the world. I am not strong on mythology but the present Jagatpita Brahma Temple dates back to 14th century and the original was 2000 years old. I am not particularly religious but it is fascinating to see the faith all around. They let you take only your cell phone and wallet inside the temple and nothing else. There are lockers for safekeeping but Ambica and I took turns to go and watch the handbags we carried. So the picture above is from my cell phone.
After this we were headed to Ajmer to visit the Ajmer Sharif Dargah and then continue to Lakshman Sagar.