Pushkar Lake (Rajasthan, India)  is a beauty, more so at the sunset. The sunset can be seen from the lake and everything around it becomes even more magical. However, the lake itself could be better maintained. As of now the ghats are dirty. The water too looks green and full of algae. Pushkar Lake is of religious significance to the Hindus so on the main ghats you can walk only barefoot.
I got serene blue skies in the late evening. The lake by now was a beautiful mirror. Sarovar means lake in Hindi and the banks are known as Ghats. The lake attracts a lot of tourists both pilgrims and people who are there just to enjoy its beauty. I belong to the second category. Many Hindu priests would ask you if you would like to perform a pooja (prayer) by the Pushkar Lake. I have always declined and the pandas (priests) have never troubled me. I have been to Pushkar Lake twice.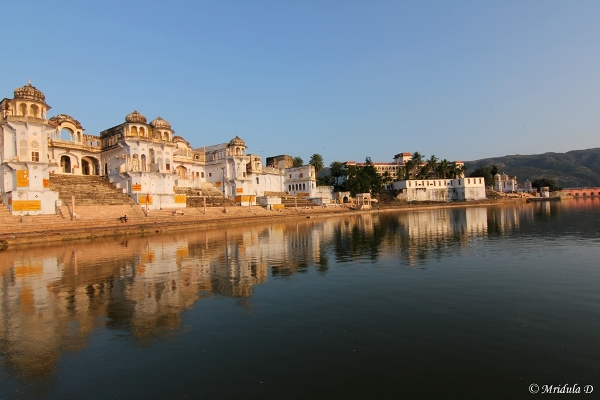 Puskhar Lake, Rajasthan, India
The lake's origin are traced back to 4th century BC as it has been depicted on coins from that era. Otherwise according to the Hindu Mythology it is as old as creation itself. Pushkar has a temple devoted to Lord Brahma and this lake is also said to originate from his lotus petals that fell on the ground in a fight with Asuras (demons). The water of the lake is said to have healing properties.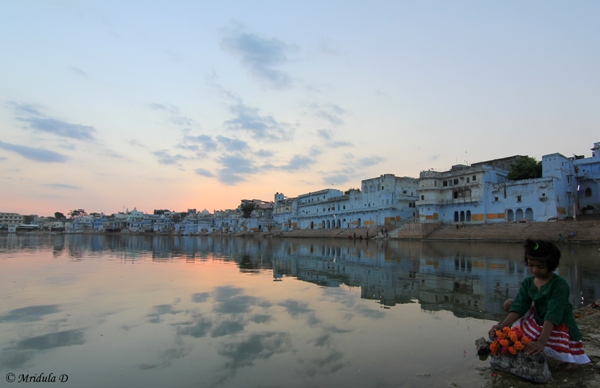 Chhavi Playing at the Pushkar Lake at Sunset, Rajasthan, India
For me the trip was doubly special as it was the first daughter-mom trip! We had a great time and I am already planning the next trip with her! She hates posing for the camera and with great difficulty I manage to click a few decent pictures of her.
This post is part of Sky Watch Friday. Do check it out.