It took me three visits to Oxford before I could go punting! When I saw those punt boats for the first time just ahead of the Oxford City Center on the Magdalen River, I wanted to try it. After all, who would not be tempted to view the historic Oxford buildings while gliding through the water?
When I finally got a chance it was just after a conference and I didn't even have to time to get out of my formal attire! But I never let such minor things stand in my way to experience something new. We were 6 in the group and one of the local professors was a pro at punting. In Oxford if you need to hire an expert to punt your boat you have to give two week's notice! At least that is what the websites say.
So I asked the professor, "how did you learn punting?" Pat came the reply, "by falling a lot in the river!" Even though it was May and officially summer in UK, I was glad that I was wearing a jacket. The idea of falling into the cold water was not tempting at all!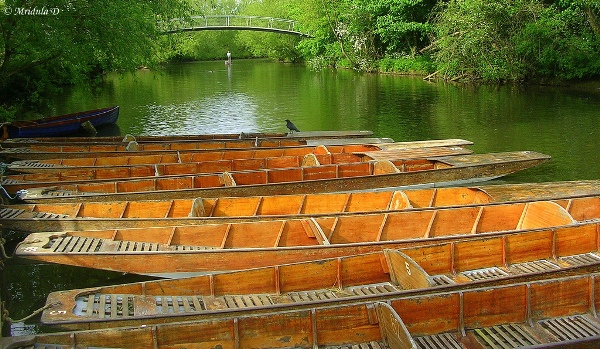 A punt is steered with a tall pole because the river bed is quite shallow. If it is not done properly the punt (boat) will get stuck on the shore along the trees and the overgrowth. But the good folks who run this activity have foreseen this possibility and they give you an oar as well to get out of a tricky corner! As we had an expert with us we didn't use it much. But there was a group who was using the oar much more than the pole and giggling like crazy! Another group was wearing elaborate costumes and having champagne in the middle of the river.
The kind professor invited us all to try our hands at punting. One of our colleagues promptly got us stuck in a corner but we got of it in no time. Then it was my turn. I was really afraid that I will let the pole slip out of my hands and get everyone stranded. However, with the help of the pro professor I also managed to keep everyone on the punt and didn't get stuck in the corner! I have to admit we were so caught in keeping things afloat that we hardly noticed the scenery! When we were about to disembark the professor casually remarked, even if you would have dropped the pole it would float on the water!
What was an insane adventure for me, is actually considered to be a very mild activity by the pros where you gently row along the river admiring the architecture and countryside as it rolls by!