It has been such a long time I have travelled anywhere. The trip to Bangalore was not so much for tourism but for visiting family. We thought of going to Bharatpur Bird Santuary but we just could not go. Now H is in London but we plan to go someplace in Chamba (Himanchal Pradesh) in December. So when I feel travel sick and cannot travel, I revisit the photographs from my previous trips. And here are a few more from my trip to Ladakh in this June.
I took this photo from quite some distance and could not visit the monastry, but I like this shot as it contrasts some very green trees with bleak mountains.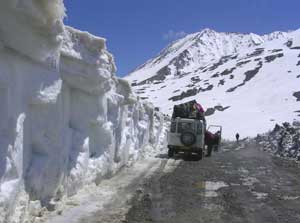 The journey from Manali to Leh takes 18 hours and it is very tiring but the views are stunning.
This one was taken on the way to the Pangong lake and this photograph does no justice to the actual scene.
I took a lot of pictures (that were lost in a hard disk crash) leaning out of the bus, because the driver was obviously not going to stop at every site we tourist found smashing. The above picture is one of them.
I have put this picture before on my blog but then no one said I could not put it again, right? In order to reach the Pangong lake we cross the Changla Pass at an altitude of 17800 feet. I could hardly breathe and our army folks are stationed there for months. We chatted with a few of them and one person who was just 18 , told that he found the posting difficult. Rest of them were stoic and joaked constantly with you. Ladakh has been a trip of a lifetime for me. The memories forever itched in my mind. It was my first tryst with sublime!