Do you ever sit back and think about a trip you did sometime back? Do your feelings about the trip change with the passage of time? When I just got back from Nepal after trying to trek through the Annapurna Circuit Trek, I was tired and not too happy about the amount of rain I got. The trek had to be given up at 4200 meters and walking back to find a jeep turned out to be a quest. I liked the trip still but with the passage of time I retain more of good things and I have already forgotten the tiredness and the soaking rain.
I had so expected to see the high peaks while I trekked. But the clouds hid them all. So on my last day when I did see Machapuchare I didn't even bother to post it till today. This is Machapuchare or Fishtail mountain right from my hotel balcony. I stayed at Mount Kailash at Pokhara. It is a decent hotel, comfortable and clean. It does however attract a lot of Indian pilgrims who go chanting loudly whenever they please.
Closer to the trip my disappointment was high with seeing only clouds. Today I was thinking now how come I did not share this clear and majestic mountain on my blog. Time makes some of my trips better.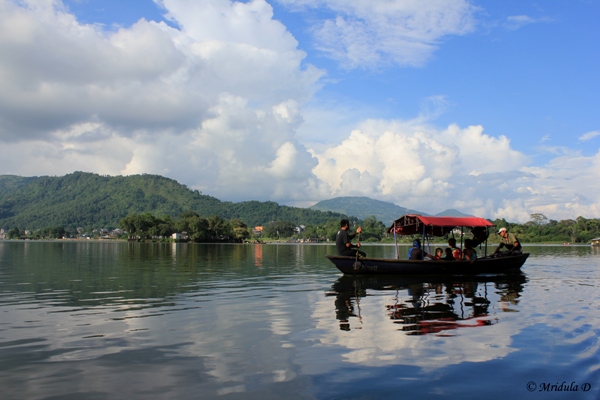 Phewa Lake, Pokhara, Nepal
I was happy around Phewa Lake even in the monsoon as I was not walking any longer. So if it rained I could sit inside a bar. But there was a constant thread that went into my head while I was there. What if I had a clear day? Mountain peaks would have been visible. The light at sunset would have been gorgeous but for the clouds. And now when I look at it I think what a beauty!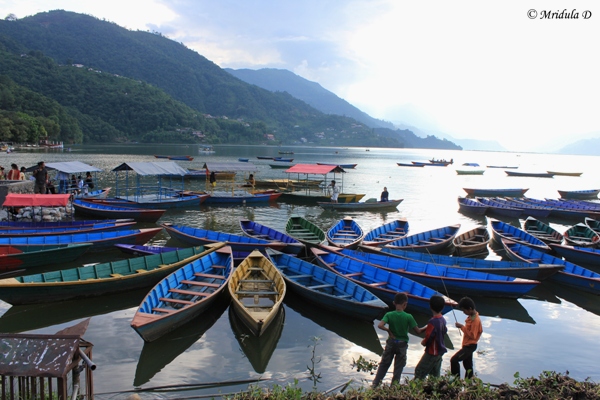 Young Kids with Fishing Rods, Phewa Lake, Pokhara, Nepal
Do you think time gives a different perspective to your trips? This post is part of Sky Watch Friday. Do check it out.