First off I use the words traveler and tourist interchangeably, so take your pick. In our travels we sometimes come across a situation where we end up interacting with performing animals. I have to admit I became conscious of the issue only gradually!
I derive a lot of pleasure from visiting national parks. I have been lucky to visit many in India. I have been to one each in South Africa and Thailand. It is a joy to watch a wild animal in its natural habitat. I am slightly phobic of all animals, so I anyway enjoy them at a distance.
Elephants are wild, not performing animals
But what about animals that perform in the circus? Or for that matter that are raised to entertain tourists! To take an example elephants are wild animals, they are awe inspiring when seen in their natural habitat. On their own they will never do any tricks that they end up doing in camps or circuses. Some form of cruelty is involved to make an elephant perform the tricks which are contrary to their natural behavior. One common instrument used to tame them is the bullhook. You can search about such practices and then take call on whether you wish to support them or not. No one in their right minds would actually support it. We visit such places out of ignorance mostly.
Dolphins are wild not performing animals
The second issue that came to my mind was of performing marine animals, particularly dolphins. I have seen dolphins only once in the sea in Goa. I got a fleeting glimpse of two of them swimming together. I immediately smiled at the sight. I am not so sure about performing dolphins though. And whatever I read about it doesn't look good either. I would say go for dolphin watching (or any other marine life) in the wild rather than going for a show.
Husky rides seem to be alright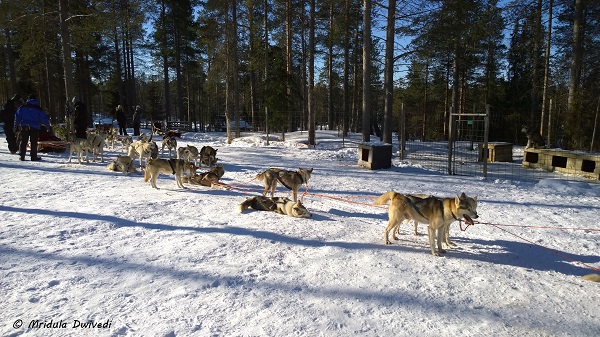 I once went on a husky ride in Lapland, Finland. I went back to look at the treatment of the dogs and I found that running around in a pack is not contrary to their behavior. There are laws governing the treatment of the dogs in many countries. However, taken to the extremes even this can turn dangerous to the animals. I read of an incident in Canada where a business owner killed his huskies in a cruel way because his business fell in volume and the business no longer needed the dogs.
What are your views on performing animals? Do share your thoughts.