Pangong Lake was nothing like anything I had ever seen. It was my first glimpse of a high altitude lake and it will forever remain special. And to think that we almost missed it. Our original plan was to trek in Ladakh. But it was not meant to be. I had to give up the trek as I developed a furiously upset stomach. And a furiously upset stomach is no good on an ordinary day at an ordinary altitude, it is completely crushing to have it on a trek at an altitude.
As we cut short the trek, we had a few days to roam around before we headed back. That is how the plan to visit the Pangong Lake was hatched.The Pangong lake is 150 km away from Leh. One has to hire a taxi (preferably shared, as it reduces the cost) for this journey. One the way one crosses the mighty Changla pass, the second highest motor able road in the world at 17800 feet. The lake forms a border between India and China. One third of the lake is in India and the rest in China. As we were heading towards Changla I was wondering why it was so difficult to breathe! At 17800 feet it was an effort for me to simply breathe. Indian army is stationed there.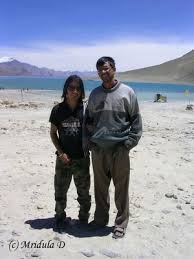 The first site of the lake was, well the first sight of the lake! There is no denying it was a lake of magnificent proportions. Way back in 2005 it was not too popular with tourists. I remember two army men stationed there, who told me they were so used to the view at the lake. They were longing for their homes, rather than this view!
I can only wonder how the other lake in Ladakh , Tso Mo Ri Ri would be like? I could not visit it but I will go back someday.