Online shopping trends in India have continued to evolve over the last few years, providing residents with the means to shop from the comfort of their own home for goods, apparel, electronics and so much more. Many of those who own computers within India have taken the steps to start shopping online with ease. While this may not have been the first country to introduce e-shopping, India is catching up quick with growth and advances being made each and every day. Many different retailers from across the world are stepping up their game and offering their services to Indian residents. Some sites may offer free shipping to India while others have a small extra shipping fee. In-store pickup may also be available for those shopping online at stores that are commonly found within India. The possibilities are endless when opting to do your shopping online.
With the everyday consumer choosing to do a great deal of research before purchasing items in this day and age, shopping online is a major benefit. Through online shopping, Indian consumers are able to do the research that they need to about the product online and read real user reviews before making their purchase. Discounts and deals only available to online shoppers is another prime reason why many choose to now shop online. Rather than spending hours of your day in the busy commute on Indian roadways, save time, gas and energy by shopping from home at your convenience.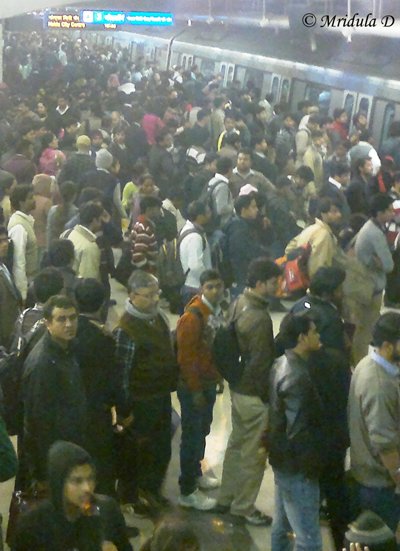 Weekend Crowd at Metro Station
Current trends in online shopping in India show that the majority of buyers choose to shop at websites that allow them to purchase a wide variety of items from a range of different stores rather than one, select retailer. When purchasing electronics and other goods, many Indian shoppers rely on opinions and online reviews from other users from around the world. In a recent study, it has been determined that within the next year alone, eight out of every ten Indian consumers will make at least one purchase on the internet. With the help of social networking websites and online media outlets, nearly 50% of all Indian consumers rely on these social outlets to make their online shopping decisions. By using for example American Express cards on your next online purchase, you will be taking advantage of safety and security while purchasing the items that you have always wanted. American Express offers top-notch security measures to provide you with the best online shopping experience.
PS. This is a sponsored content my American Express