Update 1: Hell fire and damnation, I forgot the laptop charger at work, so very little chance of blogging from the destination. Sorry about that.
I am off to conCLAY with Club Mahindra at Baiguney, Sikkim. And how I am looking forward to it! of course I am going to talk about my Everest Base Camp trip, these days I am anyway not able to talk about anything else these days!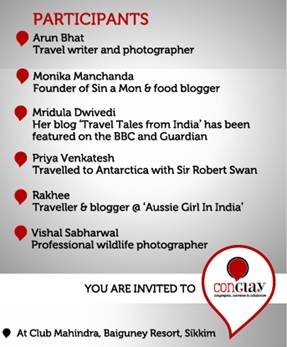 Got to know that Manish was also invited but his dates clashed with his travel to Japan. I am taking my laptop along, hoping to connect from there as well. So stay tuned for more updates. Looking forward to meeting Arun, Rakhee, Priya and Vishal and meeting Monika again!
PS. If my Club Mahindra Coorg experience is anything to go by, I am going to gain back all the weight I lost on the Everest Base Camp Trek.