We are off camping, Chhavi and I with my neighbor and her daughter. Seshadri is already out trekking with his friends, he is doing a tough trek. My niece Vasu was also supposed to come, but she backed off, saying she is missing her parents!
Finally the packing is all done. I should be actually cross checking what I have packed, but here I am glued to my screen, doing one last post before I go. I should have net access for part of the holiday. I may surprise you with more posts. But I am not sure.
The trek is of course going to be easy (walking wise) as there are two small kids for whom it is meant. But you never know in what ways they will make it interesting.
I so like staying in a tent. The pictures in this post are from a 2009 trek we did in Triund, Himachal Pradesh. It was the last trek Seshadri and I did together. After that Chhavi came in our life. She has already trekked to Triund with Seshadri! I think she has done at least 5 treks till now. We should actually sit down and count her treks properly.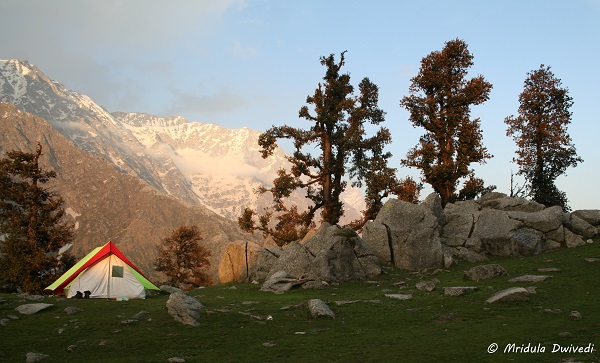 This is the first trip for me after quitting my job, so it is extra special for me as well. In fact, we have not done the return bus ticket from Manali! We will come back when we want to! I never had this luxury before, as I used to count my leaves tightly.
So, in less than an hour we will be off. I wish my niece would have come too, but she kicked in such a storm that we gave up in the end. She happily went to Hong Kong with us last year. So I had let my guards down. And sure enough the kid surprised me and her parents too! Anyway I hope she will come next time. We are going to miss you Vasu.