Our excitement knew no bounds as Chhavi and I were invited to stay at Novotel Goa Resorts and Spa for 2 nights. Luckily it was a long weekend so she was not missing school. But on weekends she plays tennis both in the mornings and the evenings but I could do nothing about that. Both of us have been to Goa before and yet her excitement knew no bounds.
How do you contain a kid who is about to fly to Goa! #feelwelcome #goaforkids pic.twitter.com/oE3y8lDuJI

— Mridula Dwivedi (@mridulablog) August 5, 2017
Chhavi was bouncing in the plane itself. Our Air Asia flight was mostly uneventful otherwise. We were promptly picked up at the airport. The kid fell asleep in the moving vehicle and I had to wake her up when we arrived.
The Room
She loved the room, it was after all the Prestige Suite. There was something on the table all gift wrapped. She asked me if she could open it? It was a Minion! She jumped around the room for half an hour with it.
However, her favorite part of the room is the bathroom where she likes to be in the shower for a long time! This time was no different.
The Swimming Pool
After playing with her Minion for a while she started chanting, "lets go to the pool." So pool it was. Even though Chhavi knows how to swim, she likes to fool around much more than anything else! There was ice-cream for kids by the pool! It is a daily event and happens at 5.30 pm.
Then she discovered the sunken bar by the pool! Of course she was thirsty and only a lemonade by the pool would do! I also took it as an opportunity to order a beer! It was the same story the next day too. At the end of the vacation I asked her what was her favorite bit about the trip, she replied without any hesitation "the drinks by the pool!"
I too love swimming pools but my favorite bit was the kids room and I will tell you in a minute why!
The Kids Room
There is a dedicated kids room at Novotel Goa Resorts and Spa and at the Novotel Goa Shrem too! Initially both of us would go there, then she got comfortable. That meant I could go to the room and pack in peace on the last day. I could also make a cup of tea and sip it without being distracted a thousand times with "mamma …" If you are a mom you know what a luxury it is!
Activities for Kids at the Novotel Goa Resorts and Spa
There were many other activities for kids at the resort. There was a Table Tennis table, a basketball hoop, Fustball, Carom and much more. We tried out everything.
There were computer related extravaganza too! There was an interactive game table where kids could touch the screen and choose age appropriate games! My girl would play Angry Birds all the time!
There was a TV too where games were loaded. You could play by moving around, the screen would respond to the movement. Chhavi tried bowling on it!
During our stay carnival games were organized too. Chhavi was busy for good two hours, which meant mama was free to enjoy her day too!
She was anyway pampered to the core throughout her stay. I often wonder if she will start expecting it on every trip but so far she has been happy either way, as long as she is traveling!
Food
We had our meals at the Food Exchange. It is a buffet type all day dining with a wide variety of food. They had ice-cream for breakfast! And it is full of kids running around. A father was feeding his toddler who was making him run all around the big dining room! The girl was so cute, she came by our table and we chatted for a while. In the meanwhile the poor father was able to feed her two more spoons!
Food, mama was asking me to eat breakfast ! #novotelgoa #goaforkids @AccorhotelsAPAC @CriessePR pic.twitter.com/8bQbiTroqF

— Mridula Dwivedi (@mridulablog) August 6, 2017
Chhavi too gives me a lot of trouble for eating food! Recently we watched 'Dangal' together and I told her "मुझमें भी महावीर सिंह फोगाट की आत्मा आ गई है!" (I am also inspired by Mahavir Sing Phogat, so you better eat your food!) She sulks, she avoids and then she starts singing under her breath "ये तो torture है बड़ा, ये तो torture है बड़ा" (It is such a big torture)! If I can get inspired, so can she! But these days I hold firm when it comes to food!
I quite enjoyed my meals. But I enjoyed the coconut ice-cream a bit more than anything else.
We also enjoyed dressing up for the dinner on both the nights, though you can dress as you please at the resort!
Candolim Beach
Novotel Goa Resorts and Spa organizes free shuttles (every half hour, between 10.00 am to 7.00 pm) to Candolim Beach. We went there on the second evening. The girl loves water! The sea was rough and I had to restrain her!
It was her first, watching a rough sea. But even in the limited way, she had a gala time playing with the sea, I am sure she was talking to it too!
When she plays it is easy to click her pictures! Otherwise she behaves like a diva! I think we fight the most about clicking pictures, after food. So all the credit for the pictures goes to me!
Overall, we had a memorable trip to Goa with Novotel Goa Resorts and Spa! We will remember it for a long time!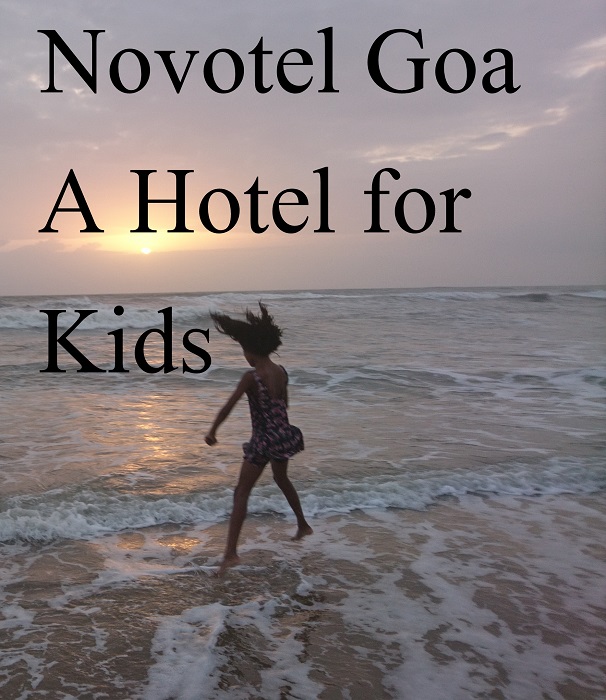 After coming back she was telling her brother (my nephew, the one who is known as Brat 2) it is a fancy hotel, a really fancy hotel!
PS. We were invited by Novotel Goa Resorts and Spa on this trip and we had immense fun!