In December I visited Palampur and the adjoining areas. One such stop was Baijnath temple. I went there by a local bus which covered the 15 kilometers or so in one and a half hours. It was a fun ride. The bus would stop at every turn to pick up or drop a passenger.
The temple was peaceful on the day I went there. Though photographing it was difficult as it has a boundary wall and a lot of light poles which completely destroy the pictures. After a short while I decided to head back to Palampur. As Baijnath is a small town I decided to have food at Palampur itself.
However while going back I was interested in boarding the narrow gauge toy train from Baijnath Paprola to Palampur. I asked about the directions and a furit vendor told me to take a bus from Baijnath up to Paprola as the railway station was there. I did as told and got down at Paprola which was just 2 km away. There once again I asked around for directions. I was told to climb down the stairs at the market and I would end up at the station itself.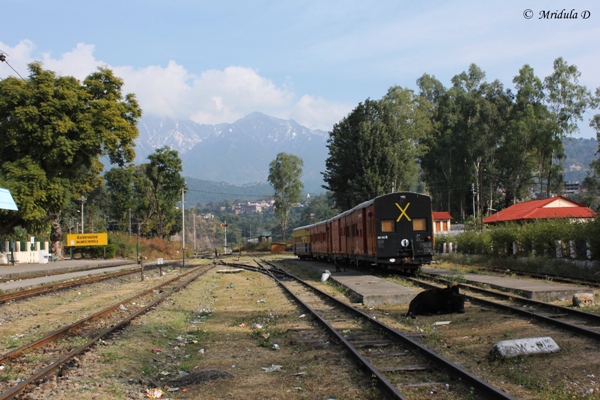 Baijnath Paprola Railway Station
After getting down the steps I reached the station and it was fun. Though I stood out like anything among the locals with my SLR, no one bothered me really. The day was cloudy which I did not like at all, it takes away so much from the view and pictures. When I inquired about the ticket they said it is available 20 minutes before the train time. So the ticket window would open only then.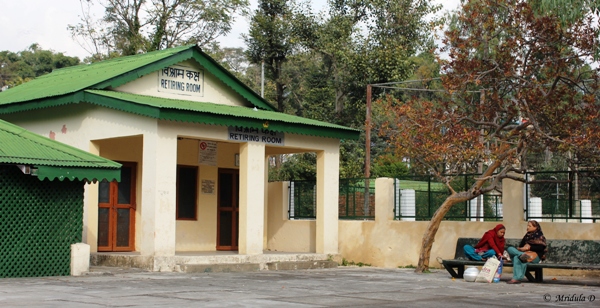 A Peaceful Place for a Peaceful Conversation
After spending quite some time at the station including some at the lone tea shop, I realized that the ticket window was open. So I went there and stood in the queue. And I was so surprised to find that the ticket from Baijnath to Palampur was Rupees 2!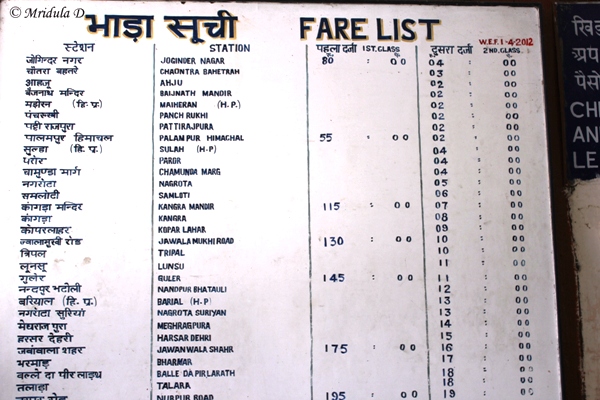 Fare List
After buying the ticket I went to the tea shop again to get some pakori and chai. And then I settled down for the journey. There was a coach in the train that was for ladies only!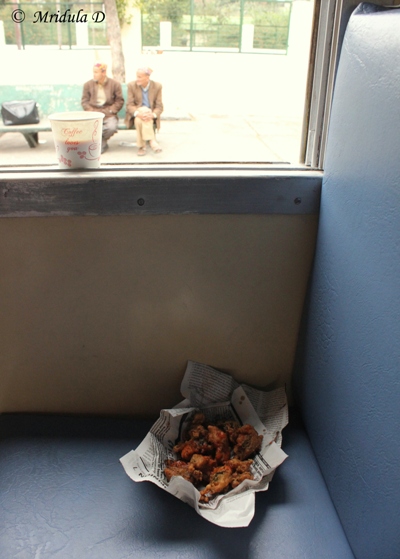 Pakori and Chai
The journey was short and peaceful. I didn't get much of a view because of the clouds. But I would always do this again even on a cloudy day, even when it would rain!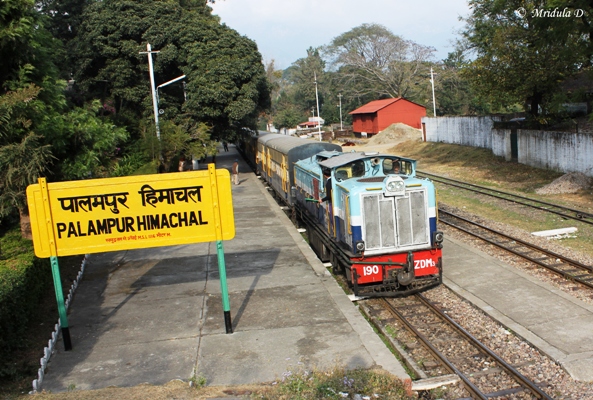 Palampur Railway Station, Himachal Pradesh
When I got down at Palampur I ran up to the front of the platform as I wanted to click a picture of the departing train. The people in the engine asked me if I was making a documentary film! I told them I was just a tourist who liked to take pictures.
Palampur Railway Station is a little far away (4-5 km) from the city. I got out from the railway station and after crossing the road I waited for a bus that would take me back to Palampur and food. So this is how my Rupees 2 train adventure went!