After buying the colors, Chhavi and I were walking towards the market. On the way she spotted the Narayan Cafe Pushkar. They had a big display at one of the walls and Chhavi spotted juices there. So, she wanted a glass of juice. I asked if they made it in mineral water and they assured me they did. So we sat down, I ordered a watermelon juice for Chhavi and a chai for myself. As Pushkar receives a lot of foreign tourists all the cafes I went to had wifi.
In a while our drinks came. After five sips Chhavi told me, "aab nahin peena" (I don't want to drink anymore). As I was drinking tea I didn't want to have an ice cold drink after it. So I requested the guy in the blue shirt above to keep the drink in his fridge. I would finish it once we came back. I think he and his father owned the cafe.
We went off to the lake and spent hours there, Chhavi running around and I running after her. By afternoon we both were really tired. We started walking back, looking for food.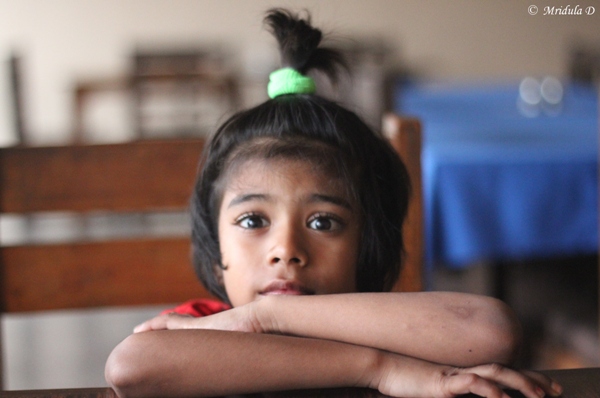 All Innocence!
We crossed Narayan Cafe again and we looked no further. We asked for a bottle of water and pasta for lunch. We also finished that watermelon juice between us. Chhavi was tired and hungry so she ate like a good baby. There are days when she can test the patience of a saint while you try to feed her. No such tantrums for this meal though. In fact she climbed in my lap, opened her mouth and ate all what I fed her. Stomach full, she went and sat on her own chair. Then she told me, "mamma ice cream chahiye" (mummy I want ice cream). While I finished off the pasta, her ice cream arrived. After three bites she told me again, "mamma aab nahin khana" (mamma I don't want to eat anymore). I fed her a few more spoons and ate a few spoons myself.
Fast forward to the next day. I liked the tea at the cafe so I told Chhavi I wanted to have a cup of tea there. She told me she wanted a white cold drink. I asked for a Limca for her. The young boy in blue shirt told Chhavi then, "piti tou kuch nahin hai tou" (but you don't drink anything really). Then he turned and told his friend who worked with him, "bhai isko ice cream kharid kar di, woh bhi na khaiye, kilana pada!" (her mom bought ice cream for her and she didn't even eat that, she had to feed her).
So that was the reputation Chhavi earned in three visits at Narayan Cafe! And that cold drink, of course she didn't finish it. As I don't drink cola I had to let it go.