I have to admit that North East India fascinates me. I have only been to Sikkim as of now and I am very keen on exploring further. In fact in 2011 I tried very hard to go to Nagaland. But Tourism in North East India particularly Nagaland didn't seem that easy. In spite of my best efforts I could not make that trip. We were two women and we wanted some sort of pre-arrangement and we failed. Then I thought I would go to Nagaland in January 2013 and asked a good friend for contacts. But then a training program has come up when I could take leave and that is that. But Nagaland is certainly on the top of my wish list.
Similarly I am smitten with the pictures I have seen from Arunachal Pradesh.  But I have never been able to make it there too. Similarly I have a cousin who lives in Aizawl but I have yet not made it to her place! But North East has been on my mind for a long long time.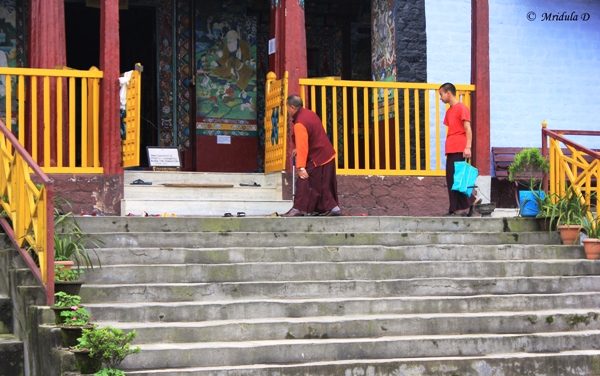 And the reason for it has been my two trips to Sikkim. On my first trip my husband and I went to Pelling, Gangtok and Yumthang in December. Before the trip I was very scared that I would freeze to death but I actually did fine with a down jacket and some warm clothes. We used Gangtok as a pit stop mostly. I loved Pelling and Yumthang both. Pelling in December gave us magnificent views of Kanchanjunga. And I can never forget North Sikkim as I saw it on my way to Yumthang. I have never seen a place that is so green, it was absolutely out of a picture book for me. I also visited Nathu-La and enjoyed that trip as well.
The second time I was with a group of bloggers at Baiguney and I visited Pelling again! In July clouds ruled and I didn't even get a glimpse of Kanchanjanga but monsoon makes the hills beautiful in another way! You might ask why did I always go in the wrong season? Well given that I have a day job in academics it is easier for me to take leave during the semester breaks rather than when the session is on. But then I would not let weather stop me from exploring and enjoying  place!