One of my trips with Travspire was the heritage tour of Muziris. When I met Lijo Jose my guide for the Muziris Heritage Tour, he pulled out a map of the Spice Route in ancient times to show how the port of Muziris was an important part of it. And if we thought of cities and ports as more or less permanent, well the port of Muziris completely vanished from the map of the world. One theory is that it got submerged into the sea. Whatever be the reason it is not to be seen anywhere now. Once again reaffirms my faith into human beings as a speck of dust but this extends it to even places being not so permanent.
However many structures survive and my visit included a visit to the St. Thomas Mathoma Church, Paravour Synagogue, Chendhamangalam Synagogue, a visit to a hand-loom factory, Kizhthali Siva Temple and Kodungalloor Bhagavathi Temple along with the excavation site. All these places are close to Kochi and we did it as a little more than a half day tour.
When Lijo came to my hotel it was raining and I did not have an umbrella. We took the local ferry to cross the lake and take a car from the other side of Kochi. There were a few shops on where we disembarked and I got my umbrella. I was a little surprised that women boarded one corner of the ferry and men another but then why to get surprised, after all it is the same at Delhi Metro too!
Our first stop was the St. Thomas Church in  Kodungalloor. It is from 52 AD. Can you imagine that kind of time? Something standing since then? My mind surely boggles at the mere thought.
The church has two parts. The old area is no longer used for prayers and yet is a beauty in its own right. Lijo knew everyone around! The old structure looks royal from inside.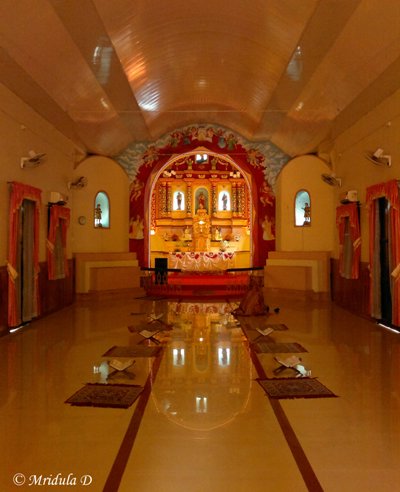 St. Thomas Church, The Old Structure, Kerala
While we were there a betrothal was going on in the main church. People follow the temple tradition of not carrying footwear inside the premises. I was quite surprised because in any other church that I have entered I have always gone inside with my footwear.
Our next stop was the Paravur Synagogue. It was my first visit to a synagogue. In Kochi I could not visit the Paradesi Synagogue as it was closed on a Friday. Synagogues are also closed on Saturdays but as Lijo knew everyone, they showed me around.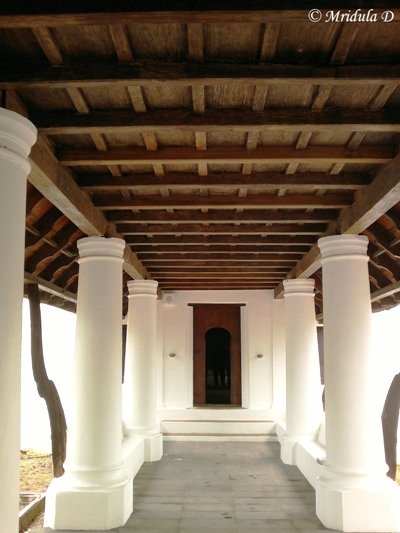 Paravur Jewish Synagogue
I am told that all the synagogues have similar structure. The section from where women pray is separate from men. Lijo and I had a very interesting conversation about it. I told him when people say they wish they were born in an earlier era, I never agree because the life of women was even more restricted in those days. I love my freedom and I will not like to be born in any other time but the present one.
Our next stop was a hand-loom factory which was mostly run by women. After that we moved to the Chennamangalam Jewish Synagogue.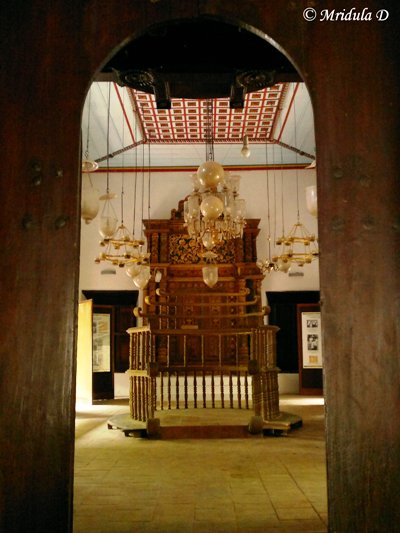 Chennamangalam Jewish Synagogue, Kerala
This synagogue is said to have been built in 17th century. It is also said to have the oldest Jewish inscription in India. The structure in the sense of arrange of the rooms etc is very similar to the Paravur Synagogue. Here the designs of the roof have Hindu influences. This is one area where there is a mosque, a church and a synagogue all within a few kilometers of each-other.
We then moved to the bank of the lake and went to stand on a bridge waiting for the ferry to come, or so I thought. Our car also fitted on the bridge. I was wondering why was it a plank of iron wedged into two boats. When it started moving I realized it was the ferry itself! It was a lot of fun to cross the lake like this.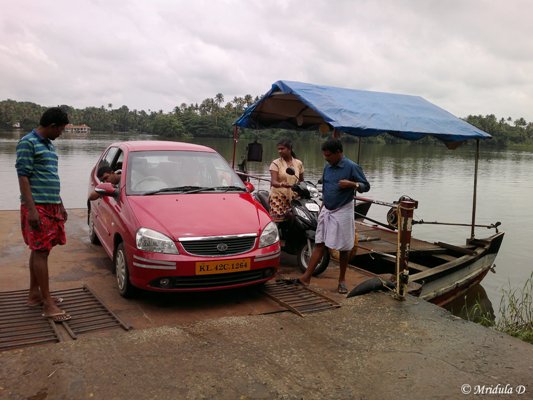 Crossing the Lake on a Float, Kerala
This crossing is quite close to the excavations going on for the remains of a fort. Unfortunately because of the monsoons the excavations had been halted and everything was under wraps. However, there was no other tourist in the area apart from me! But Lijo thought the area would become popular after the Muziris Heritage Project was complete. Our next stop was the old Shiva Temple called Kizhthali Shiva Temple.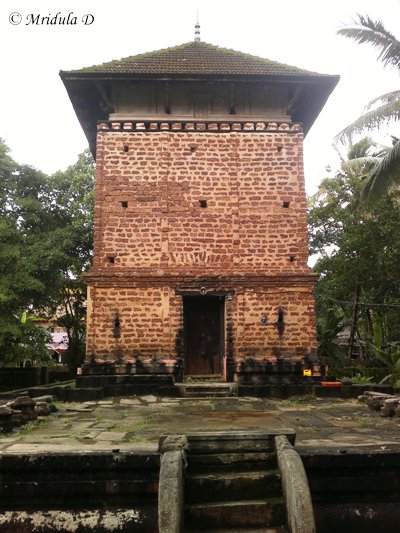 Kizhthali Siva Temple, Muziris Heritage Trail, Kerala
The temple is supposed to be from B.C 113-AD 343 but destroyed by the Dutch, Portuguese and then Tipu Sultan. Now only this main structure remains. A cow was tied within the premises and it protested loudly when I went in. There was a lady around and I asked if I could go in to which she said no. And because I was visiting a few temples there was a dress code and I was wearing a salwar kurta. I do wear it for work but hardly ever while traveling. So this was a first of sorts.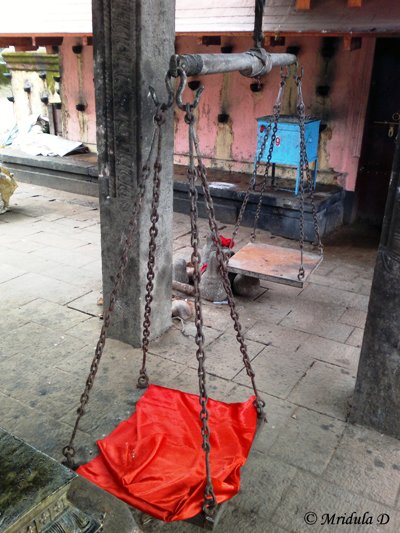 The Concept of Giving, Kodungalloor Bhagavathi Temple, Kerala
After the Shiva Temple we headed for an excellent South Indian lunch. Lunch done, our last stop for the day was the Kodungalloor Bhagavathi Temple where I came across this interesting concept of giving. You are apparently supposed to give rice, oil, gold or whatever you wish to donate equal to your own body weight. And I saw these weighing instruments in all the temples where worship still happens!
Soon we were headed back to Kochi where I took the ferry once again to reach my hotel. I have to say heritage is not my first choice (and very few brownie points for guessing what it is) but it was so quiet and secluded here that I was glad I did the tour before it becomes part of the touristy trail.