Even before we started from home, Chhavi and I were bargaining hard with each-other. She wanted her hair braided right at the gate. I told her that she had to let me take pictures, including hers! The deals in place we headed to the metro station to go to Dilli Haat. It was the mother daughter day out!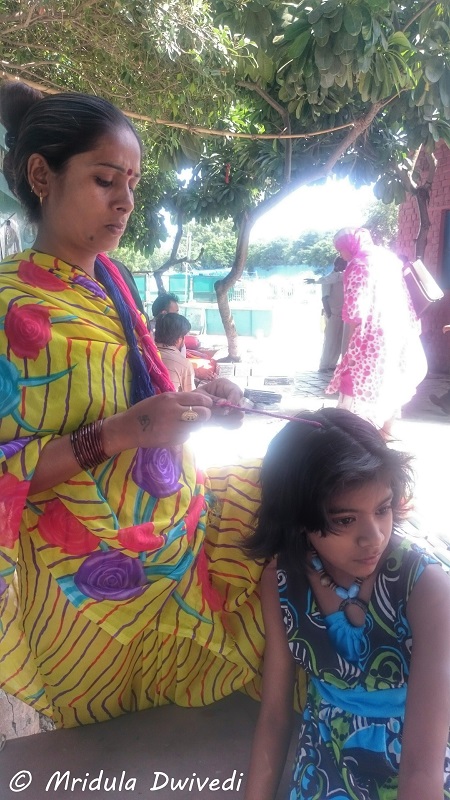 True to her word, she got a single braid right at the entrance. She wanted henna on her hands too, but I cajoled her to let it go till the end, or else she would not enjoy roaming around.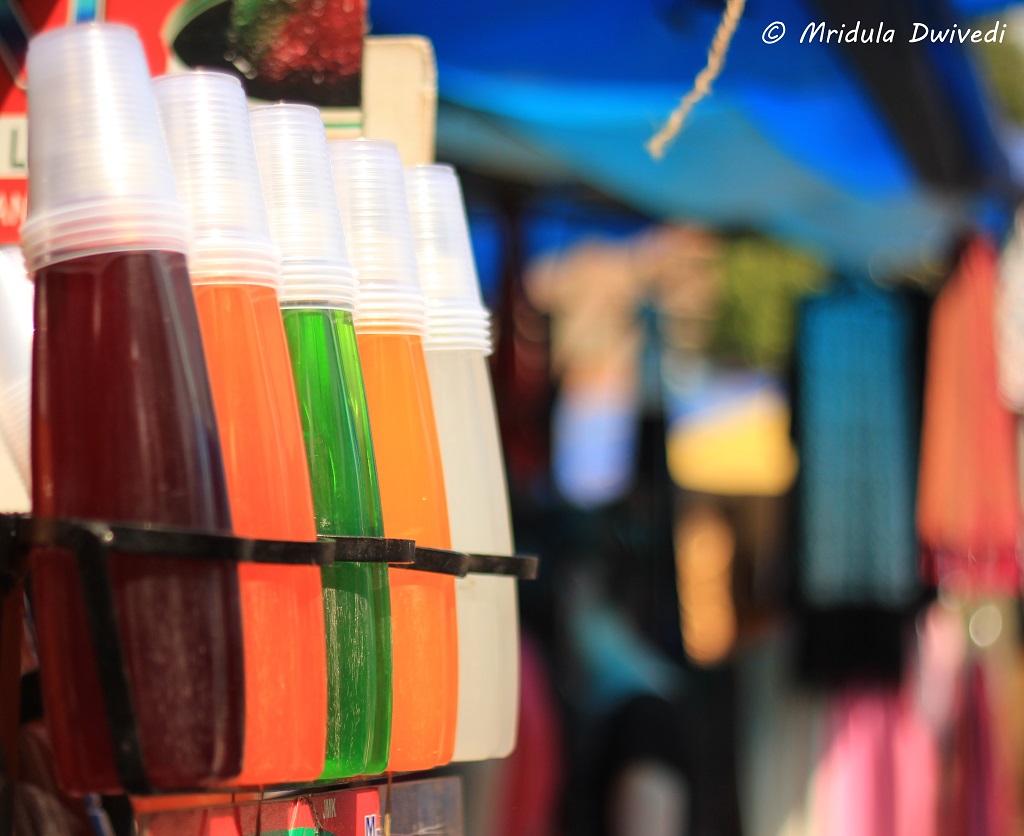 Her next demand was for a chuski, which I agreed to. While she was eating her chuski and dropping half of it on her dress, I went and got a mango kulfi for myself. In the end she did not finish her chuski.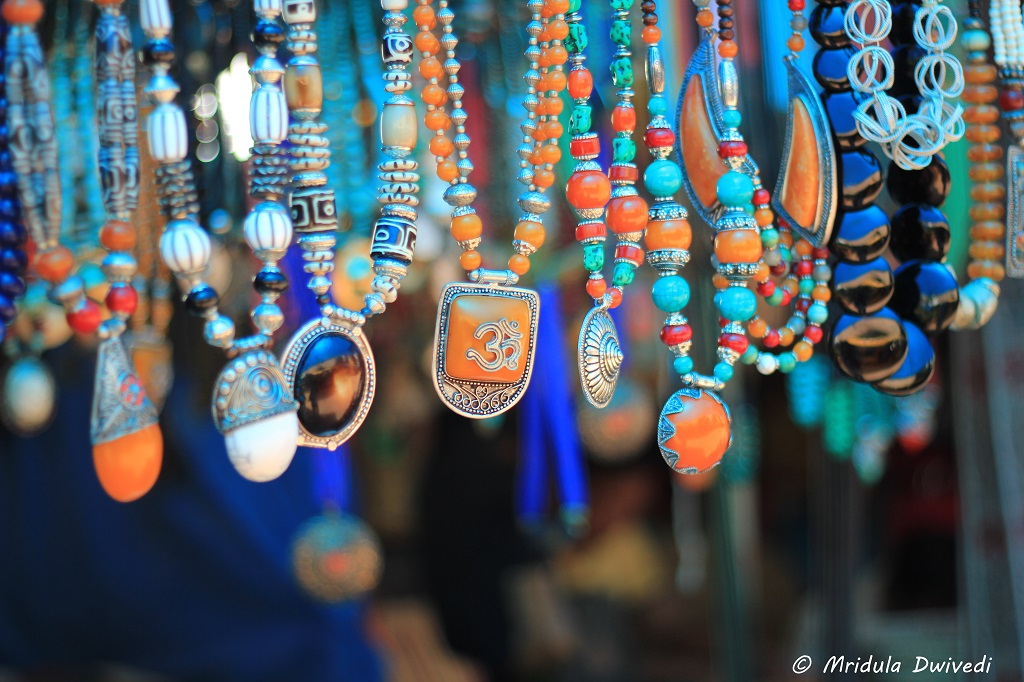 Chhavi likes to touch everything that is on display. And I have to keep running after her, to make sure she doesn't break anything. But the shopkeepers were extremely patient with her. Not even a single one said anything to her for touching their stuff!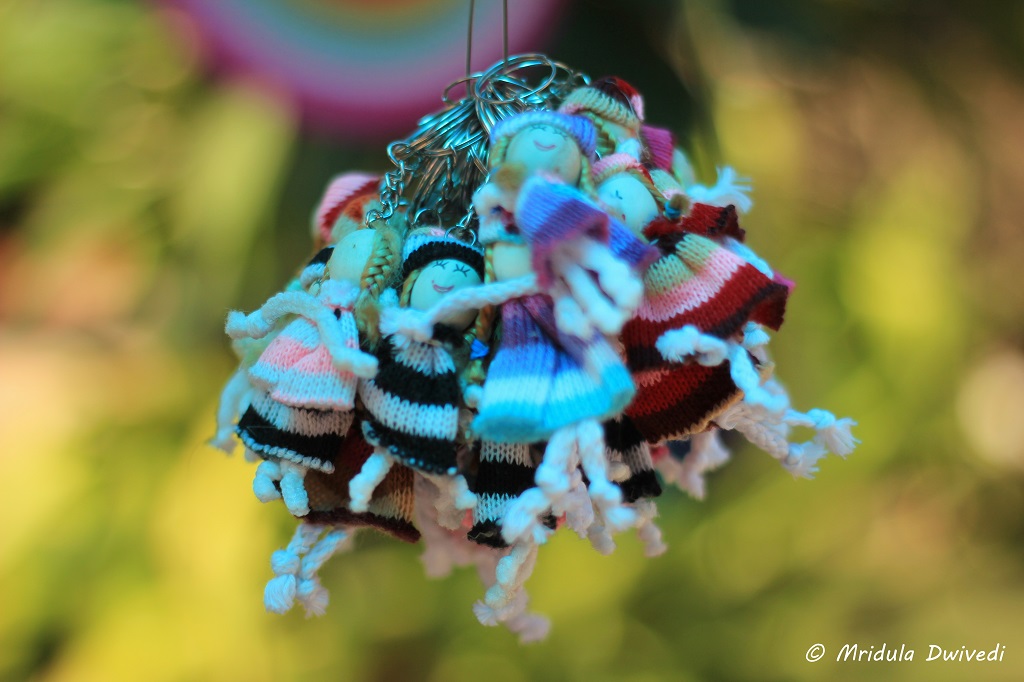 We bought two rings for Chhavi from this shop. While going back I stood by to click another picture of this display which I liked a lot. I was yelled at for clicking a picture now that I was not buying anything. It took me a bit by surprise as almost every second peron in Dilli Haat walks around with a DSLR! I am good at giving back, but that is not why I go out of the home, to pick up petty fights. Anyway this was just one stray incident in an otherwise wonderful day.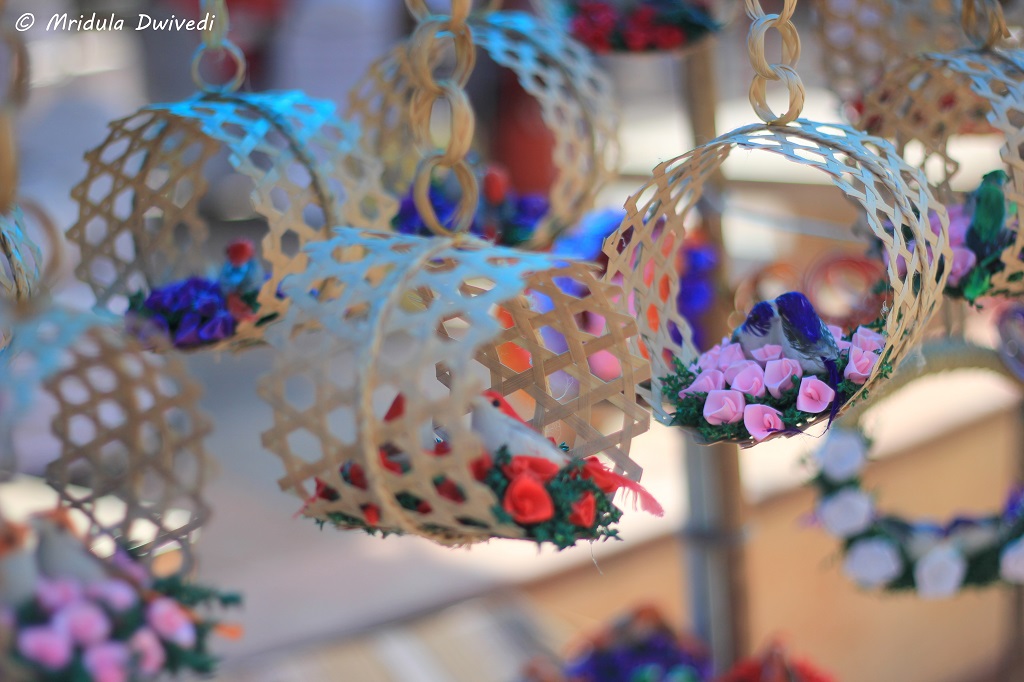 I quite like taking a stroll at Dilli Haat for such colorful pictures. I told Chhavi she could buy three things though eventually the limit was revised to 5! She bought a head band from this shop!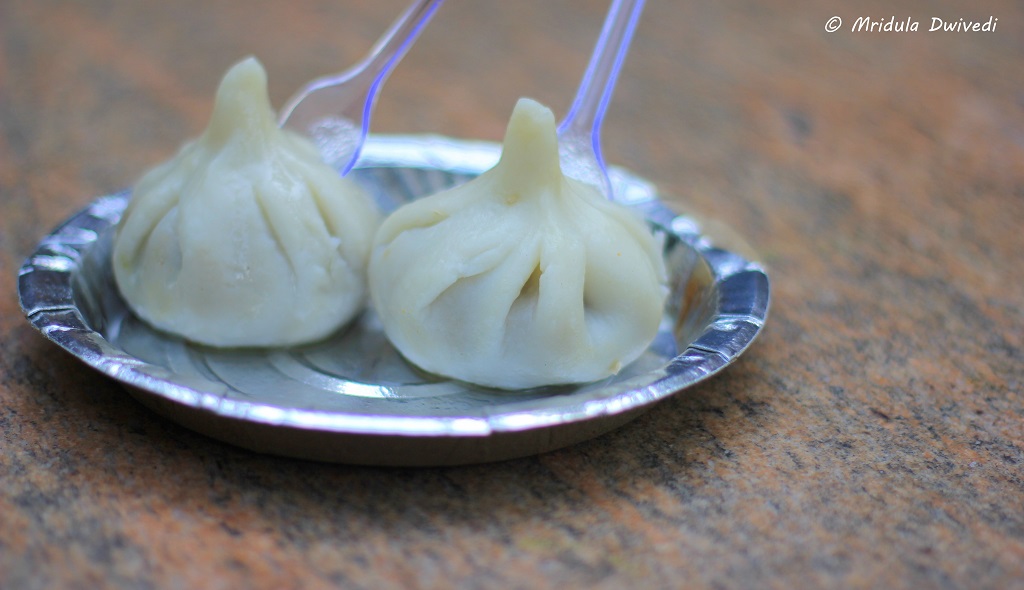 After a while I insisted on food whereas Chhavi would not go anywhere near it. We found Modak at the Maharashtra Food Stall. In my foolishness I ordered two. It was a struggle to finish it off as the kid would just not eat her share! I tell her that there is a limit on things she can but but not on what she can eat. She wants it to be the other way round.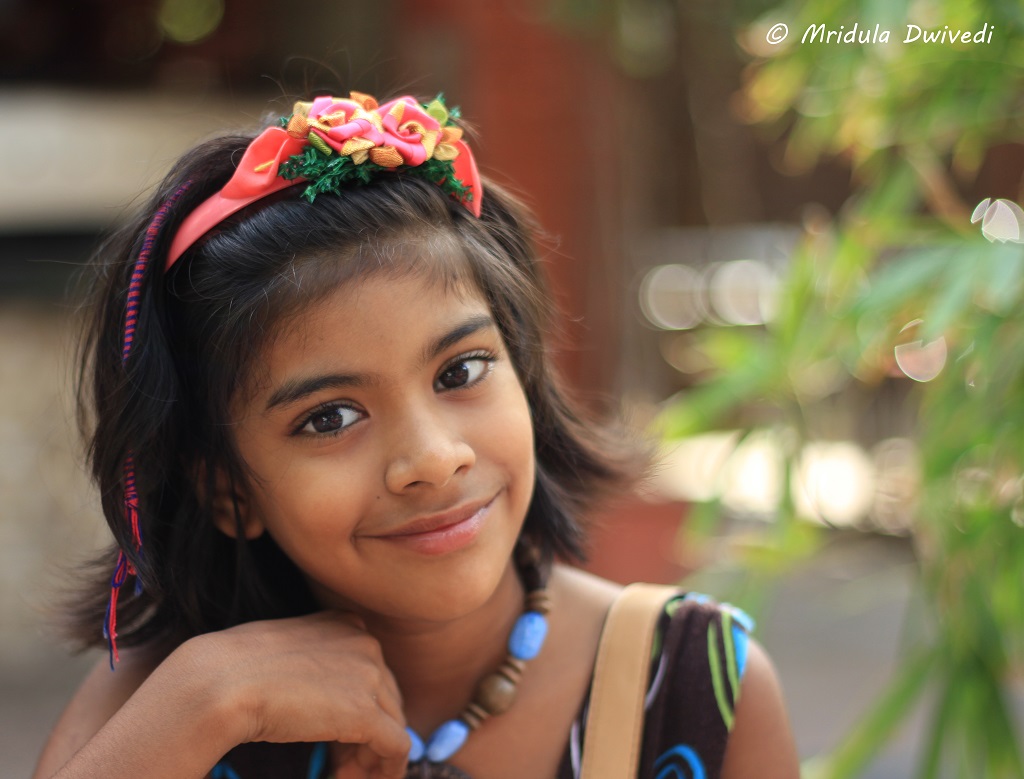 By the time we reached the Maharashtra Stall she wanted her braid to be opened at any cost! The knot was tight and I could not open it. First, she wanted a braid and then she could not bear it! The joys of going out with a child! I told her we will ask the same lady to take it out. That gave me some breather to finish my tea in relative peace!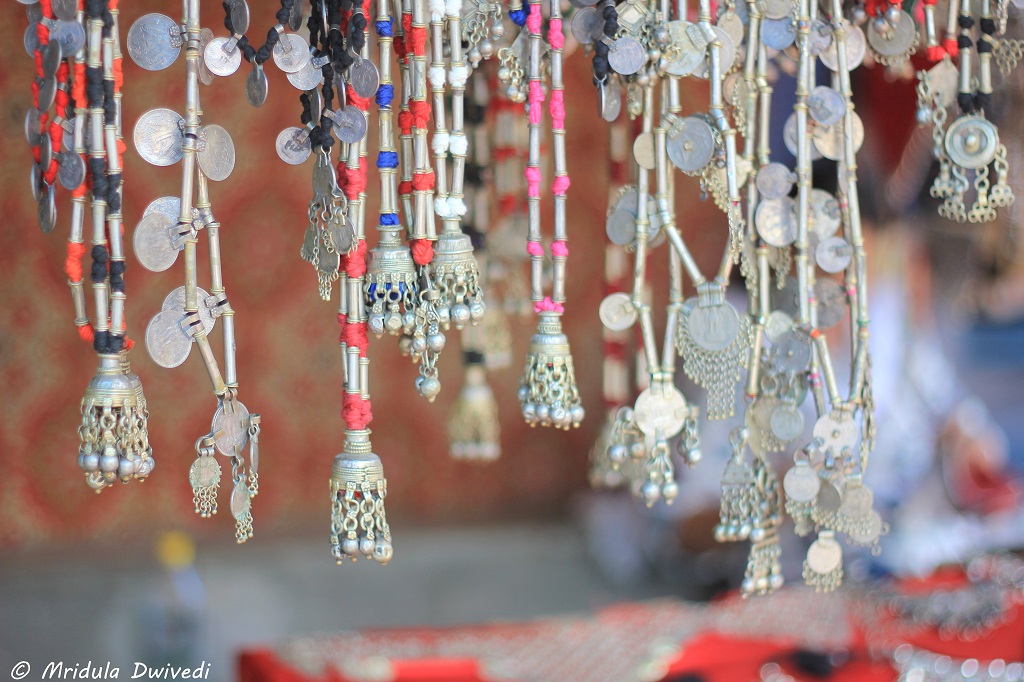 Chhavi often urges me to buy one of these for myself. I never wear them, so I am content to click pictures. She bought a huge pink necklace from outside for herself.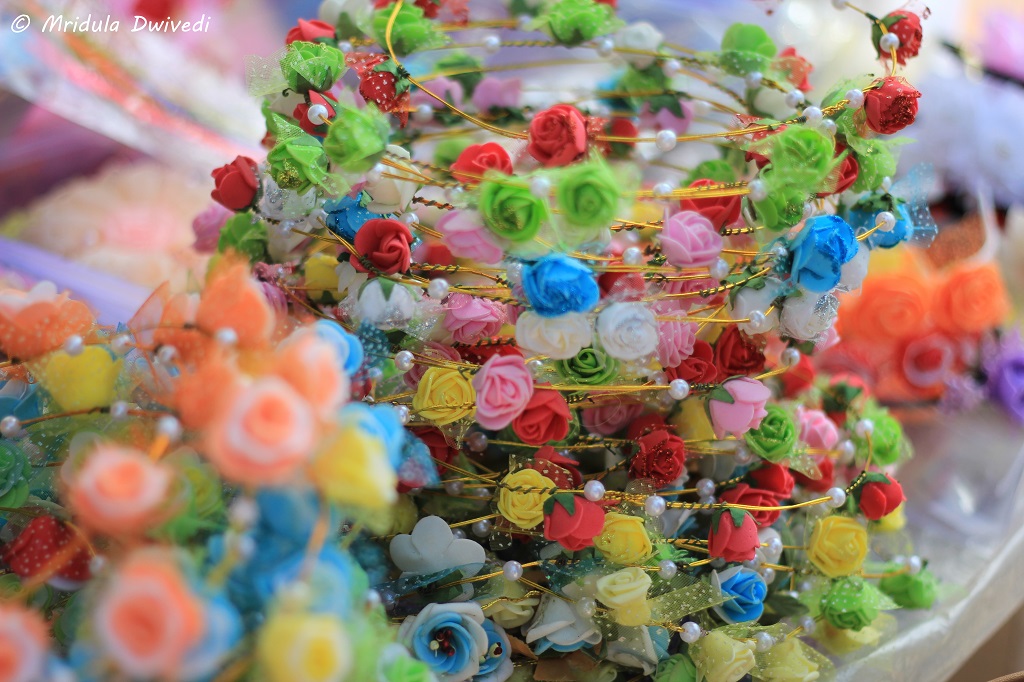 A blue colored flower crown was our last purchase. After that we went to the same braid lady and asked her to take it off. She was quite sympathetic to Chhavi asking her if it was too tight?
After two visits to Chandni Chowk, I have realized that Dilli Haat food is not even a patch on food in Chandni Chowk. I have had mango lassi now at both the places. At Dilli Haat they charge twice a much for a very watery drink. For our next outing within the city, I think I am going to go out to Chandni Chowk with Chhavi.