I recently visited Alwar in Rajasthan which is about 150 kilometers from Delhi. But as both of us are not a big fan of driving we took the Shatabdi Express from Gurgaon. Alwar is one and a half hour journey from Gurgaon by Shatabdi. I used to think that when we would start traveling with Chhavi we would become more organized. But true to our previous form we turned up at Alwar without any hotel reservation. We stayed at the Aravali Hotel quite close to the Railway Station in the end.
This was a very short trip we arrived at around 8.30 am on Friday and we were taking the 7.32 pm Shatabdi the next day. But it was a great trip nonetheless. We visited only two places the Siliserh Lake and the City Palace Complex. It was within the City Palace I saw Moosi Rani ki Chharti (Queen Moosi's Cenotaph). And what a place it was!
The main structure is quite impressive. As the name suggests it is the memorial to the queen and king of Alwar, Bakhtawar Singh and Rani Moosi. Unfortunately the signpost doesn't tell much beyond that it is a 19th century monument and that it is made of limestone and marble.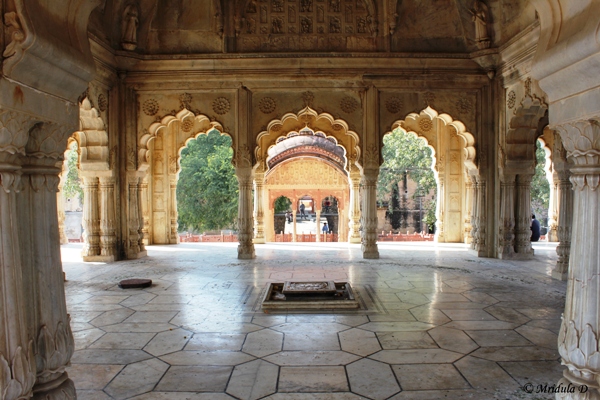 Interiors of the Moosi Rani ki Chhatri, Alwar, Rajasthan
Not only the monument looks grand from the outside it has impressive interiors. To go to the main platform one is required to remove the shoes. And don't go by my pictures, the place had a lot of people. Many people were merrily eating groundnuts and discarding the shells around. Locals also use it to play cricket. I am all for people and history interacting with each-other and for locals having the first claim to the monument but I am not sure such a place is best used as an informal cricket ground. The less I say about discarded groundnut shells the better it is.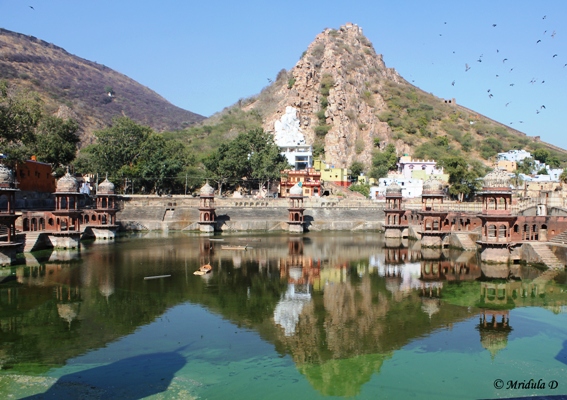 The Water Tank at City Palace, Alwar, Rajasthan
Adjacent to the Moosi Rani ki Chhatri is this water tank and I flipped when I saw the reflections! I am not sure what was the purpose of this tank but it simply adds so much to the beautiful structures surrounding it. If I can let my imagination run wild this must have been the place where people liked to take a dip on hot summer days in the eighteenth century!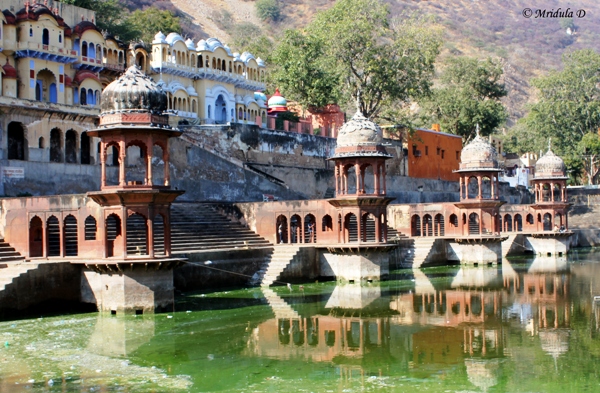 Reflections in the Water Tank, City Palace, Alwar, Rajasthan
The place was such a magnet for photography but there was a counter balancing force- my daughter Chhavi. My husband was not feeling too well on this day and he stayed at the hotel. So it was only the two of us. I needed my third eye to keep a watch on Chhavi while taking pictures. She is a curious child and wanted to go down the steps to the water level. I took her there holding her hands tightly. But even after that, every time I put the camera to my eye, my third eye had to be active lest she went down towards the water on her own.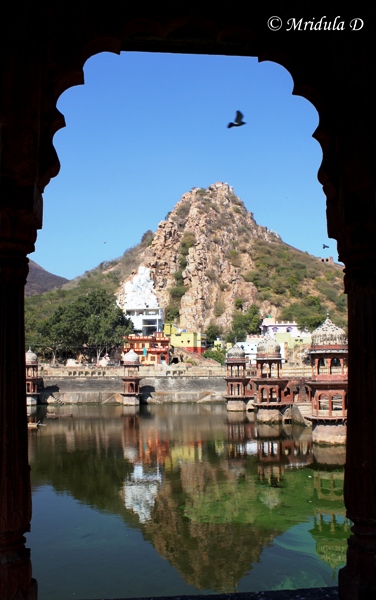 An Arch and a Reflection, City Palace, Alwar, Rajasthan
She didn't do that at all but then I didn't had a luxury to wait for the pigeons to fly and then take my pictures. I have to grant it to her that she was remarkably patient on this spot and would ask me, "ho gaya photo?" (are you done with your pictures). She also walked around with me the entire complex without ever telling me "mamma godi" (mamma carry me). It was only when we reached the Siliserh Lake that she would bang her head at my waist (that is how high she is at the moment) and say mamma mamma mamma to draw my attention!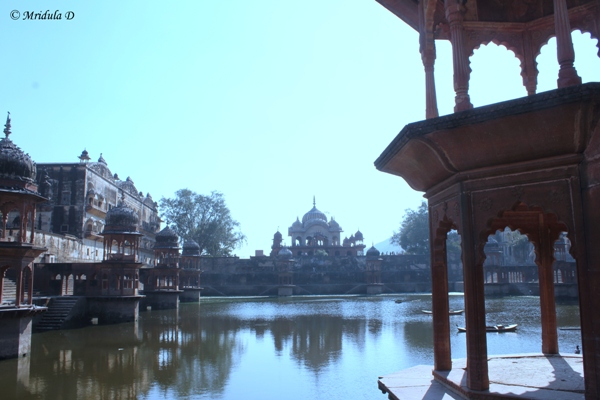 Moosi Rani ki Chhatri, Refletion in the Tank, Alwar, Rajasthan
The place was so beautiful and yet in such a state of disrepair that I was simply taken aback. Once again don't go by the pictures, they are selective in what they show. For example the tank is full of filth and I wonder why no one cares to keep it in a better shape. I am no history buff but even I was surprised that there were just two lines or so available as description about the cenotaph. And yet the place is so beautiful!