When someone says Rajasthan what is the image that comes to your mind? When I traveled to Jaipur for the first time in 1990 (where did the time go?) what I saw was not what I expected from the desert. Jaipur had trees and the 'real' desert was nowhere in sight. Similarly this time when Suryagarh invited me to visit them for 'monsoon magic' I was wondering if there would be any rains in the desert! I was seriously wondering what would be the monsoon like in Jaisalmer? And if you are wondering too let me show it to you in a few pictures.
We got the rains within a few hours after our arrival. They said that the operations manager, Nakul, was good at singing Megh Mallhar. Before we arrived he went to the terrace and sang to his heart's content and that brought the rains. The weather turned quite pleasant after the shower and it also gave me the pleasure of capturing reflections. The musicians at Suryagarh are good. I am not so much into music but the musically inclined blogger Sudha G. had a really good time listening to them.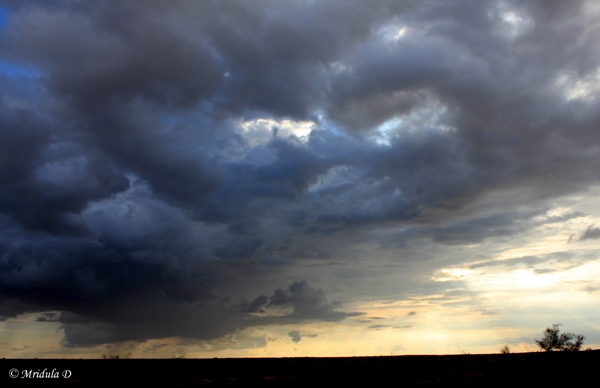 Monsoon Magic, Jaisalmer, Rajasthan
On the second day we were on a temple trail (a separate post for that). Afterwards the plan was to visit the Jaisalmer Fort. Shivya, Neelima and Supriya along with me bullied the owner Manvendra Singh Shekhawat ( a former model at that too) into driving us around the Desert National Park. The vistas were dramatic to say the least. Vast open spaces with monsoon clouds truly provided magic to be captured by my camera.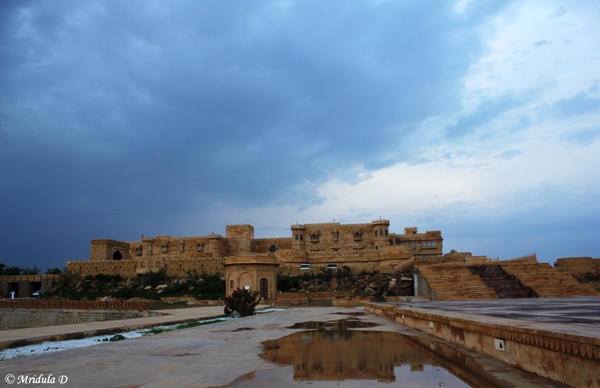 Suryagarh, Jaisalmer
Back at Suryagarh I went to walk around the premises in the pleasant weather. It is anyway very difficult to keep me indoors. I have visited Suryagarh in January 2012. But this walk was to that side of the hotel where marriage ceremonies are held. In January 2012 Manvendra said there there were plans to construct a rain water harvesting system and it was in place now.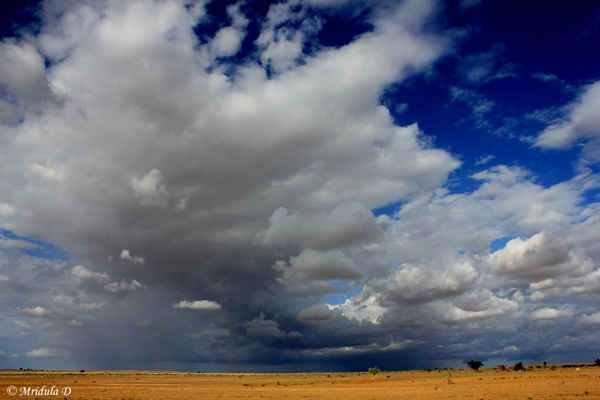 Beautiful Skies at Jaisalmer, Rajasthan
Suryagarh specializes in taking its guests out in the wilderness and hosting high tea, drinks, dinner and what not in middle of nowhere. I associate Jaisalmer with blue skies but this time there was so much drama in the sky. And I loved capturing it. I don't know how you view your photography. But I really do not like the pictures I click initially as the actual scene is fresh in my eye. It is only when the memories fade that I start liking what I clicked. However, I think the above picture is an exception. I like it already!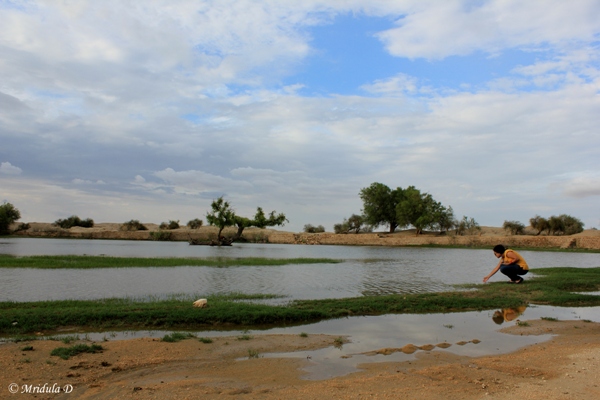 Fellow Blogger Shiva Nath Enjoying the Scenary
Our last stop on the drive was this fresh water pond. Now did you associate so much water with Rajasthan? At least I did not and was really happy to see such ponds along the way. This is Manvendra's secret. He says people at the hotel do not know this place! Beautiful it was!