Sorry for the Hindi title but it is related to an old ad of Mountain Dew which claims that Cheetah drinks Mountain Dew. Well I don't know about the Cheetah but monkeys at Siliserh Lake at Alwar (Rajasthan) certainly like to to drink Mountain Dew and other cold drinks.
It was my daughter who came shrieking to me that the monkey was drinking the cold drink. I had to click a picture. There is a RTDC hotel at the lake and location wise there is nothing better than that! The terrace servers as an extension of the restaurant. It is from here that monkeys steal whatever they can.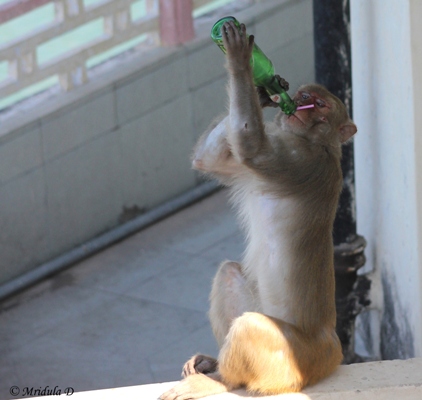 Drinking it to the Last Drop
I stood and took quite a few pictures. I was amazed to see that the monkey actually drank it till the last drop. In fact whatever was spilled was licked. And then the bottle was left on the ledge. And I don't think they have any brand preference. I saw them drinking other brands with equal relish.
This is my daughter's most loved story from our trip to Alwar. She is telling it to everyone who will care to listen and this was the first story that Nana and Nani got to hear.
So not sure if cheetah drinks it or not the monkey for sure drinks Mountain Dew!