Maybe it has got something to do with the way history has been taught to me in schools! I would remember a lots of dates and places before the exam, only to forget it later. Maybe it became a pattern with me which was trying to settle for life. But I desperately wish to break it now. So, I decided to visit the Mehrangarh Fort with an audio guide. I have nothing against a human guide, only that they have a will of their own! An audio guide has no choice but to move at my pace. And if I have left you wondering where is Mehrangarh Fort, it is in Jodhpur, Rajasthan, India.
Thus armed (and my pocket lighter by 100 rupees for it, another 100 for camera too along with the entrance fee) I entered the Mehrangarh Fort.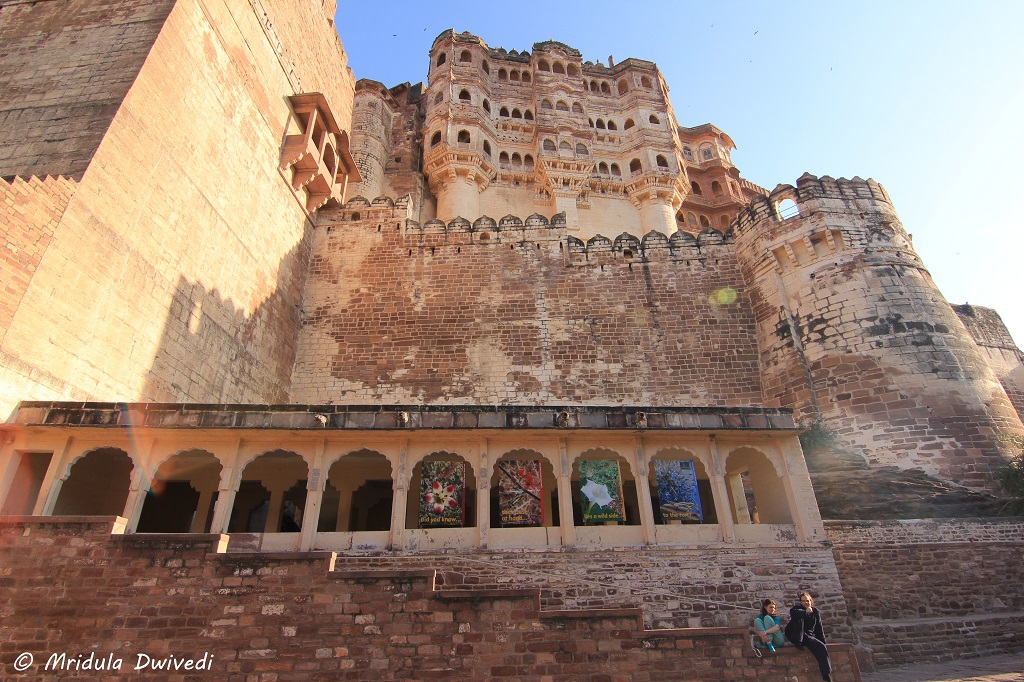 Rao Jodha (now don't confuse him with Jodha Akbar) who belonged to the Rathore Clan is credited with shifting his capital from Mandore to Jodhpur in 1459. The Mandore Fort was old, his people needed a new, better fort.
The site was identified as what is the present Mehrangarh Fort in Jodhpur City. However it was then a residence for birds (bahurcheeria) and had a protector saint Cheeria Nath ji. Cheeria Nath ji used to lived with the birds, when Rao Jodha and his army wanted to move in, he did what saints do when they get perturbed- he cursed the place with water scarcity. The Rao King tried to appease the saint by giving him a home and a temple near his cave but he still was not sure if the curse was lifted!
Then came what is a gruesome tale by present day standards. To appease the higher powers the Rao asked for a volunteer who would be buried alive at the foundation of the fort! Raja Ram Meghwal came forward. He was assured that his family would be taken care of for generations! Even today the descendants of Raja Ram ji live in Raj Bagh which was given to them by the king. I wonder what does the present Meghwal generation feels about their ancestor's sacrifice!
All the spots where I was supposed to stop and listen to the commentary on the audio guide were clearly marked. I only had trouble spotting the numbers in the painting room. But once I spotted one random number I knew I need to look in the corner of the paintings for a small number.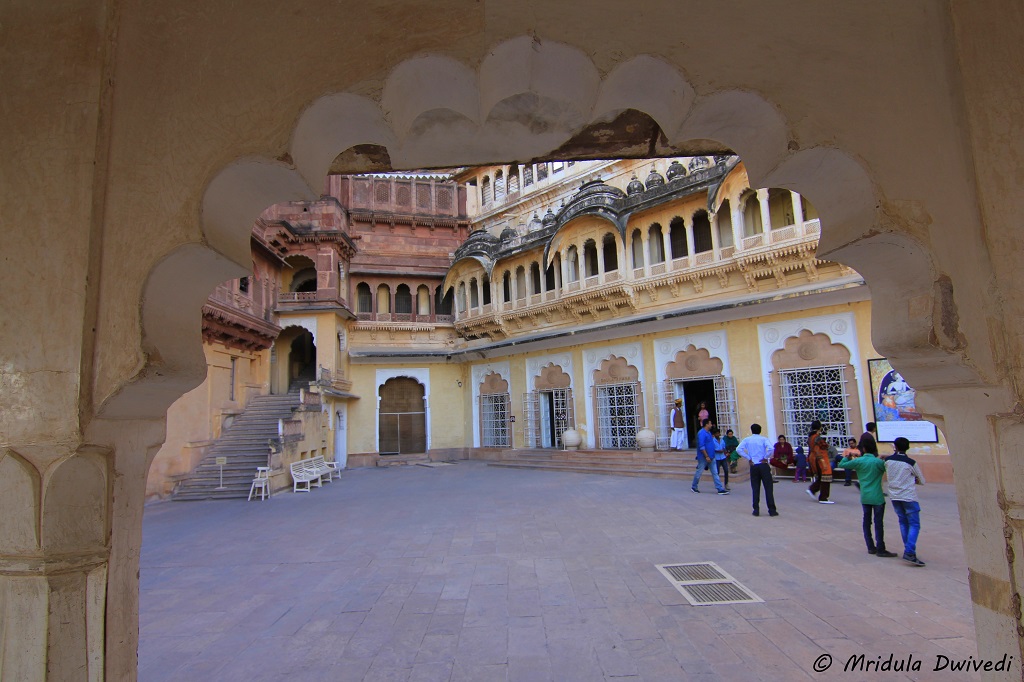 But my major worry was that I gave myself only 2 hours at the fort, after that it closed its doors to the public for the day. I went with the evening time as I wanted to catch the sunset from the fort. I had seen the pictures and I was smitten.
Even though I have no problem walking, there is a lift option at the ticket counter to which I simply gave a condescending glance and walked off! My problem was that I would stop at every spot and listen to everything that was there to listen. If you have the same compulsion you would be much better off with three or more hours!
There were in total 32 stations to stop and listen it. Actually let me make it 31 as the last one was a thank you.
By number 12 or so I realized that even if I wanted to glance through everything I better rush and rush I did. But it is no fun rushing all the way through.
Coupled with that there were two large groups- one of school children and other of men, entirely of men, a bus full of men. That too was no fun. I would have avoided them if I had time, but time was something I didn't have then! So, I sort of avoided them and sort of rushed through as well.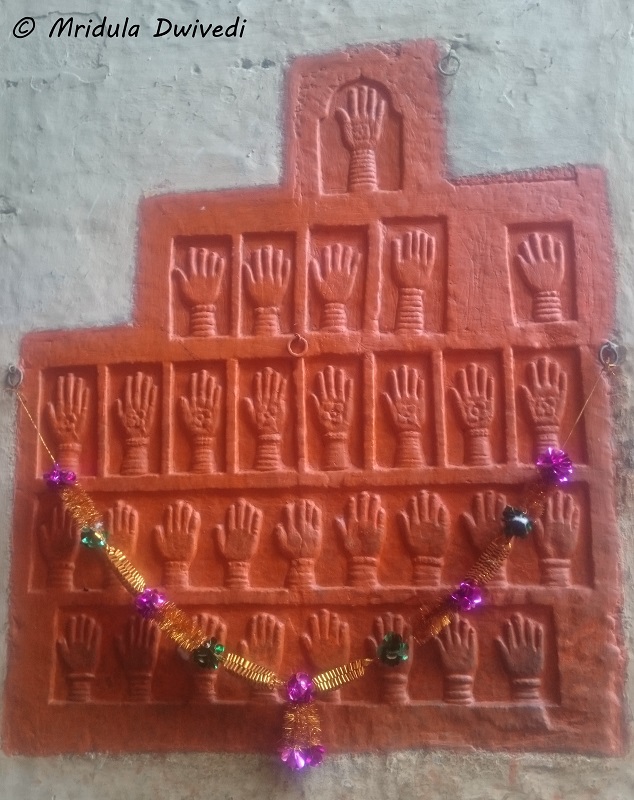 As I walked up to the fort there are hand prints of Sati women (google it if you don't know what it is, it is a nasty piece of work) at the Loha Pol (pol is a gate, loha iron) and it left me fuming. I am no one to judge people and eras but 31 or 32 women burning them at the funeral pier of the king in 1843 makes me, I don't even know what. I only feel thankful that I have been born later, much much later when such crap is known as crap. However, the last known incident of Sati in India was in 1987 and even at the mere thought my skin crawls.
Anyway, I walked past with a prayer of thanks and got immersed into the immense museum section. From here the things become murky as I was now truly rushing through and trying to avoiding children and men at the same time.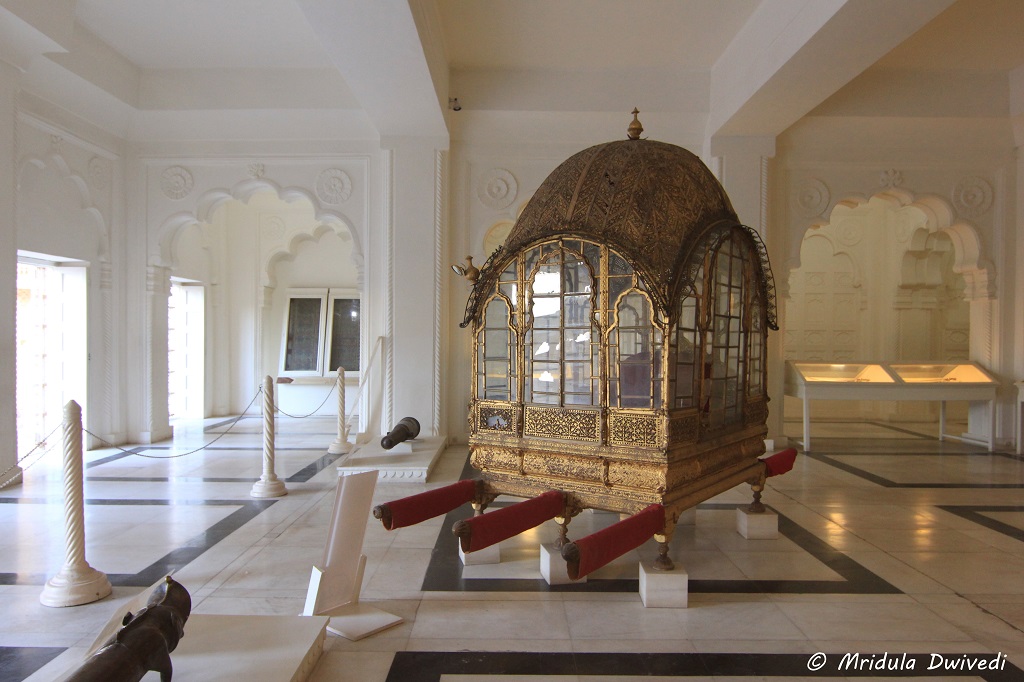 I spent time in the palanquin room but I wish I had more time to indulge. The Mahadol certainly made me pause but time or the lack of it was clearly urging me forward.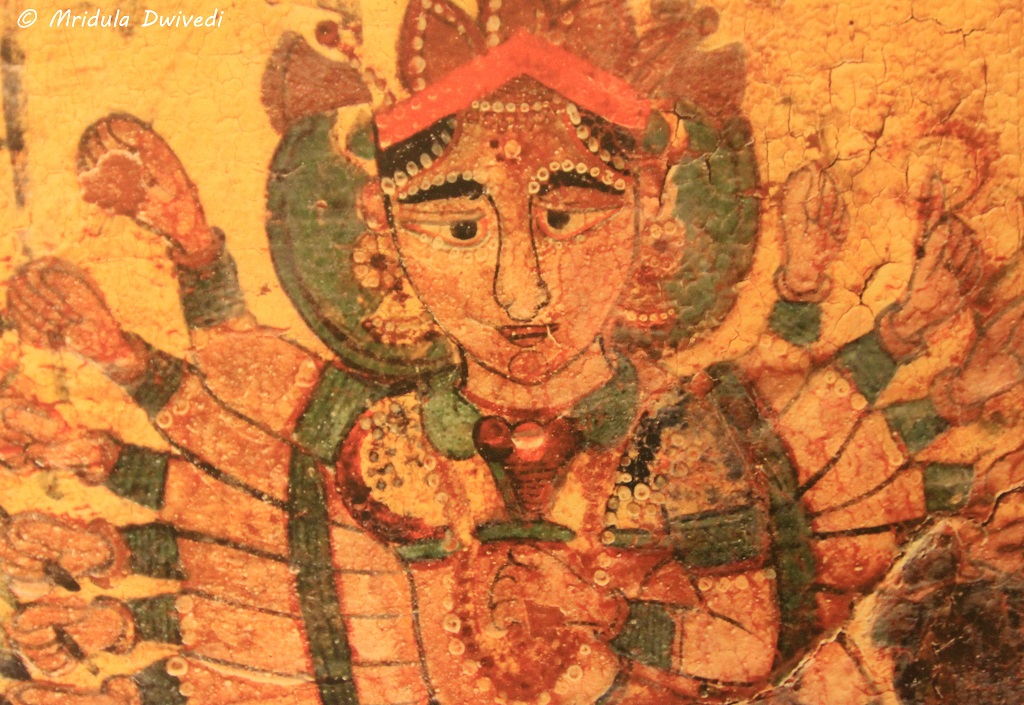 I also tried to listed to everything in the painting room but I only have a partial recollection. I definitely remembered the idol of Gangaur Devi too, the protector deity of Rajput women.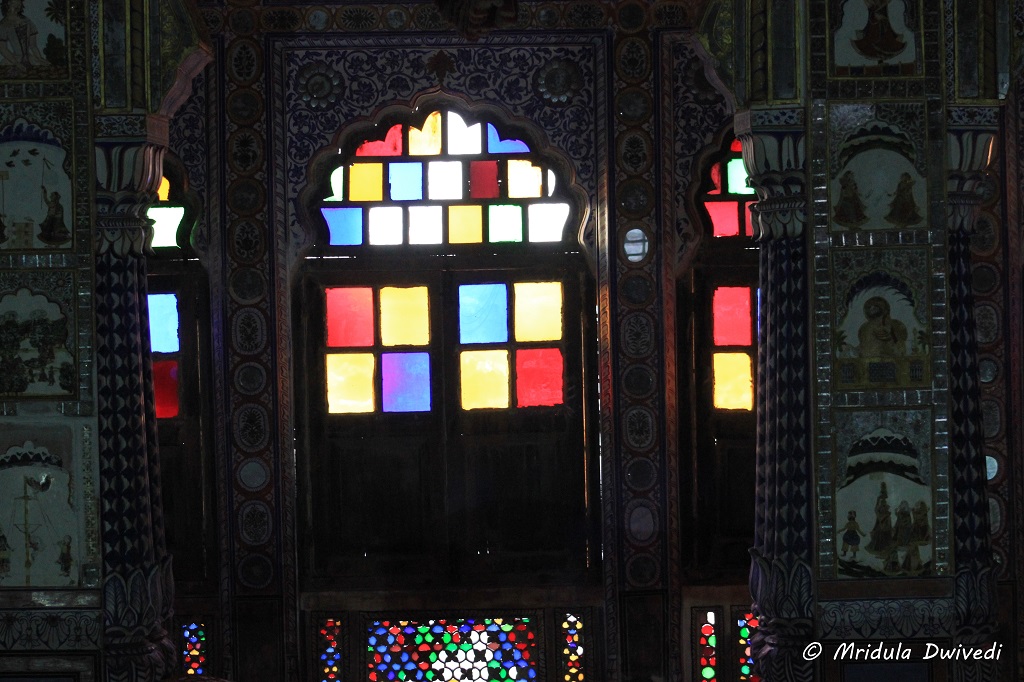 By the time I reached Sheesh Mahal I was taking the tour with the people who were responsible for locking up the place! I was the only female member of the last group. This group was large too, the school children had vanished but the bus full of men were still around. I have to give credit where the credit is due. The caretakers were polite with me at all times and did everything they could to make me feel comfortable. Rude they never were, but I knew they had a job to do and me and my camera were standing firmly between it.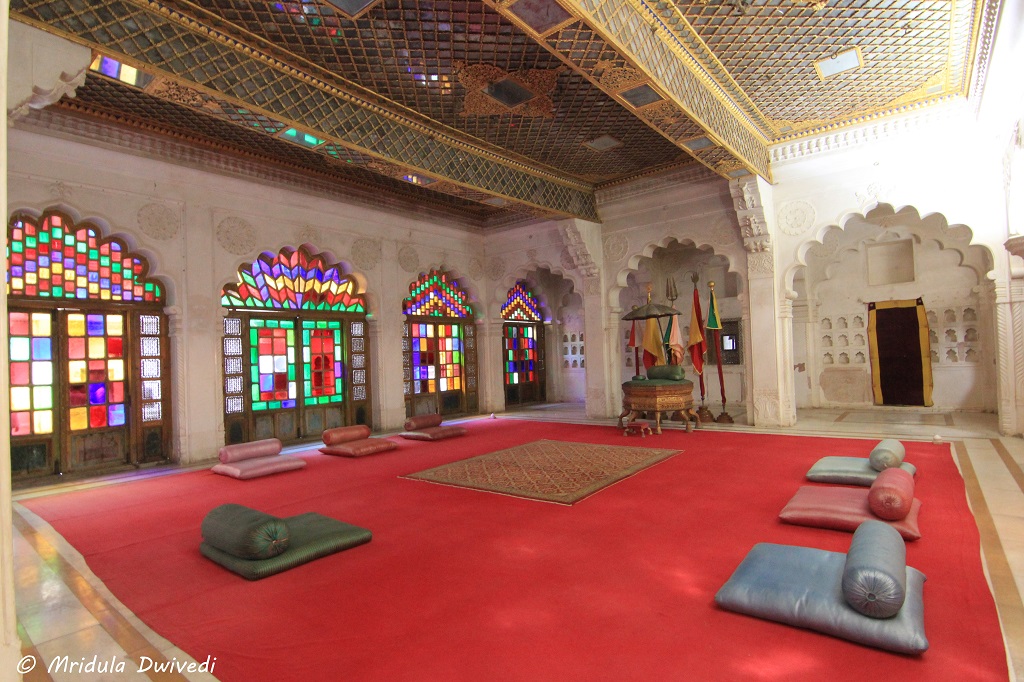 I still was was arrested at the sight of the Sheesh Mahal. This was Maharaj Ajeet Singh's bed chamber! Rest I will leave to your imagination!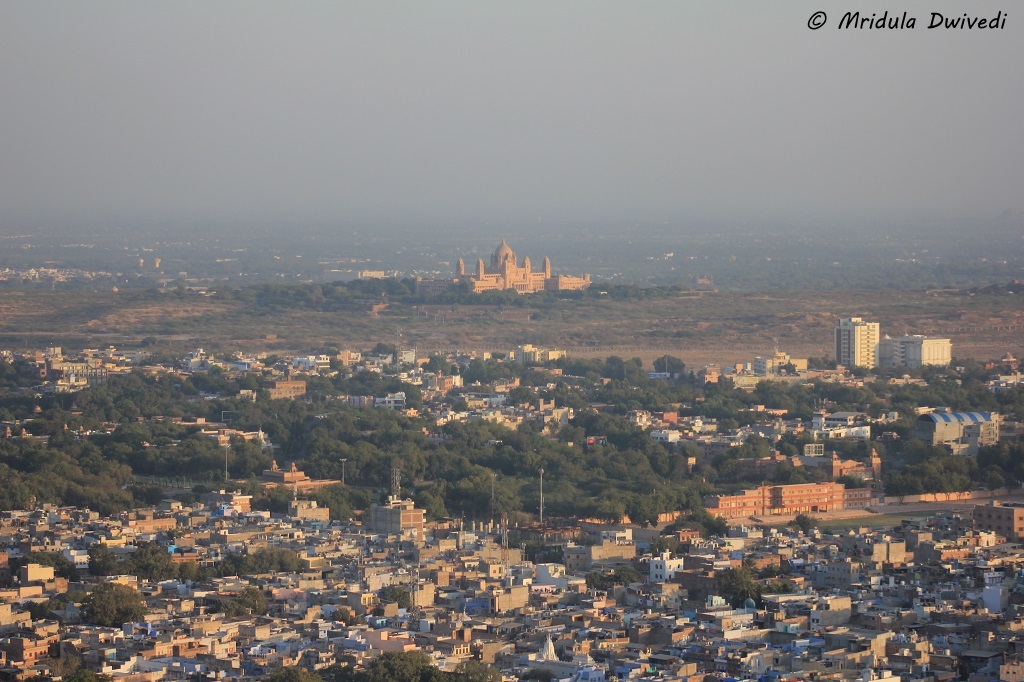 I did manage to catch the far away view of Umaid Bhawan Palace in this rush, it was the place I stayed for two nights.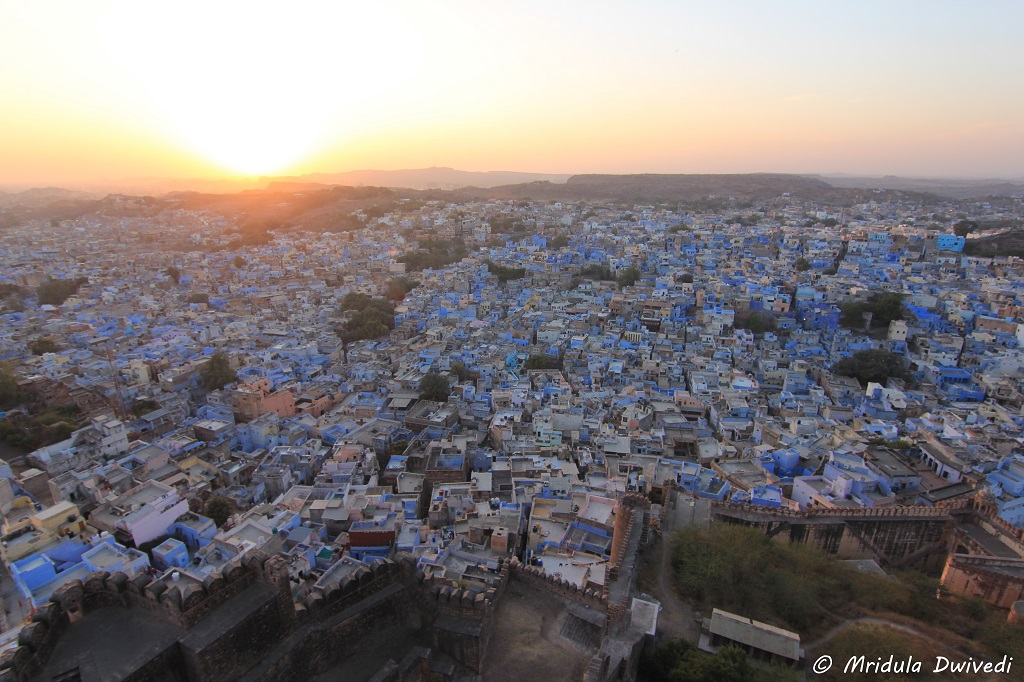 Once I was out of the palace premises I walked to the Mata Temple as I wanted to see the view of the blue city! I was rewarded with the sunset too. Rushing out of the palace made sure I didn't miss out on the sunset. Once again there were keepers at the temple who wanted the tourist to be gone but they let me be, very peacefully till the sun disappeared behind the hill.

You can watch some of the highlights of the Jodhpur city from my video above. It is a combination of photos from 2 trips to Jodhpur.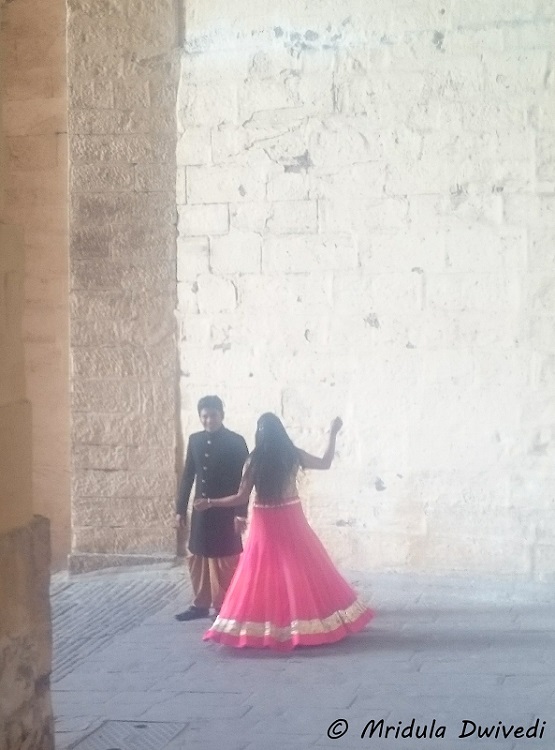 There is a side story from the fort premises too. This nattily dressed young couple was with photographer friends who came with sturdy tripods. After a while they got into a huge argument with palace keepers. I guess photographing is fine but event photography could get you into trouble. Anyway, one needs to confirm this, I am purely speculating.
In conclusion with the aid of audio guide and google search it seems that I have remembered the fort better than the school history exams! It pleases me no end! Oh and the guy who comes to collect the audio guide was not thrilled at all that I was one of the last to stumble out of the fort!