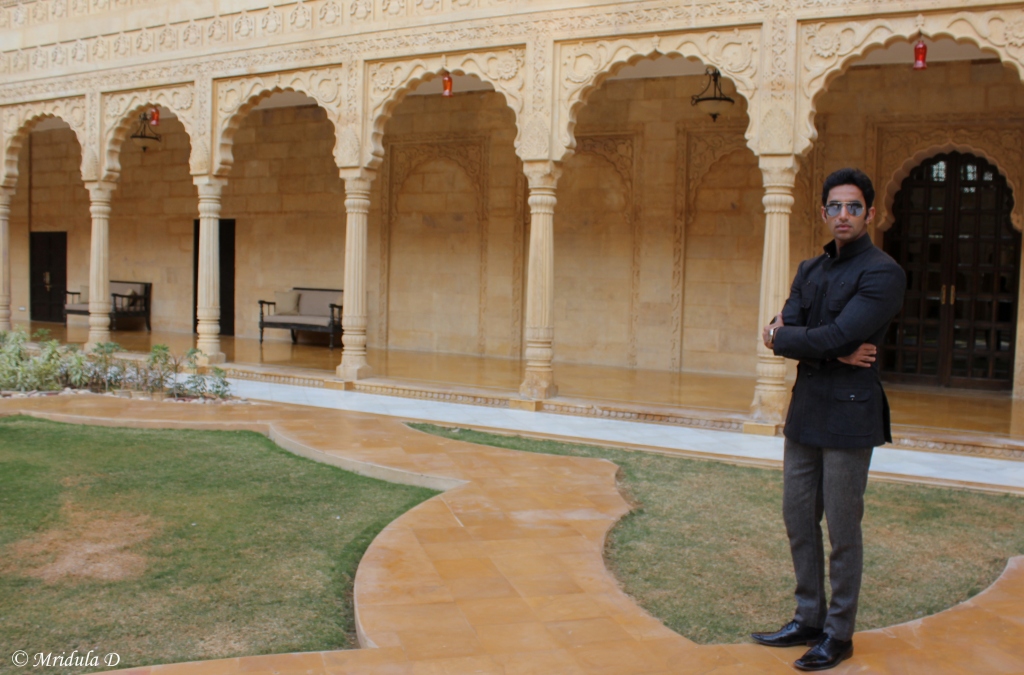 Google Manvendra Singh Shekhawat and chances are you would find more images and stories from his modeling days with Gladrags rather than being the owner of Suryagarh, Jaisalmer. I met him first over the lunch at Nosh, the coffee shop at Suryagarh. We were in a group and all of us had questions for him, what made him think of doing such a hotel? What are the future plans, etc? I had not Googled him before the meeting in spite of the excellent wifi at the hotel and it was only after the meeting that I Googled him.
At the meeting he mentioned that he was studying in Bombay and did modelling for his college and then became a model with Gladrags. It was at a party that someone said something very nasty about his father without knowing who he was and he decided that he was going to do the hotel. He said, "I was the party boy." So I asked him if his parents opposed him being a model (the typical middle class me) and he said not really, not all out but they were really happy when he cut his long hair.
About the hotel he said his vision was to make it a smaller but a luxury hotel so that there was a clear differentiation from the others in the market and if my experience is anything to go by, I think the hotel reflects that vision. Soon the conversation turned to how he found Jaisalmer after Bombay and he had a fascinating stories to share. He said the only shop he had access to was a sweet shop and the night life stopped after 6.00 pm in the winters and 8.00 pm in the summers. And it was then he started noticing the little things in life.
He said it may feel even stupid to some people (I quickly mentioned not to me) but when they were doing the courtyards in the hotel, the floor was so smooth that a small sparrow would come take a few hops and then slip and he had time to observe all this. Then he mentioned that he liked to explore the nearby areas on foot and if we were interested he would take us out in the evening. I was the first one to grab the offer and everyone else agreed almost at the same speed (Preeti, Pallavi and Arushi if you are reading this please feel free to disagree).
So in the evening at 4.30 all of us met at lobby and then headed out to Kuldhara which in itself has a fascinating story attached to it but I will tell it separately.
We drove to the village and reached there soon. Then we got down in the abandoned village itself and climbed up a house over rickety stairs but then Manvendra took us beyond to these ruins. He agreed to pose for a picture and also agreed that he will not send his lawyers after me if I used it at my blog.
None of us were sure what the ruins are about. He thought it is a graveyard while we said that pillars have inscriptions and drawings so this can't be a graveyard. But we loved the seclusion and it was sunset time so I went clicking. After a while it was time to head to Suryagarh again. While we were in the lobby he offered to show us another place next morning if we were willing to get up early. So we agreed to meet at 6.30 am the next day.
At the appointed hour only two of us made it. Priti and I along with Manvendra headed out and it was still pitch dark. It was only after we got into the back seat of the car we realized that Manvendra was himself driving the car. After a few kilometers we were in middle of nowhere and our target was to climb up a small hillock. It was my turn tell Manvendra a few stories now. I mentioned that I once trekked in Spiti and how Himachal Pradesh takes care of roads and electricity much more than other states. Then I went ahead and clicked a few pictures. After a while I realized that I didn't tell him that at Spiti villages you either stay at monasteries or do homestays. He was quite amused to hear that.
Our plan was to catch the sunrise from the hillock but the clouds ruled. After a while we decided to head back. I got another story to hear. He was telling while the hotel was being built one of his key workman wanted to go on a religious yatra (journey). He said he offered more money as he was in a hurry to complete the hotel. But the man had to go on a yatra so he went on a yatra. He commented, "It was while bulding the hotel I realized how content people can be."
When we got back to the hotel again he was showing the areas that they wish to develop further. So there is a plan to create a lake from the waste water from the hotel and add 30 odd more rooms along with more staff quarters. Then he pointed out the building in the picture above and said when the hotel was being constructed one of the chattries (small room) used to be his room and the smaller one on the side was the bathroom. He often used to sleep on the terrace then!
He then fetched his laptop and showed us some pictures of the hotel in the lobby as it looks when it is done for weddings and functions. Soon it was time to thank him and say bye. I thanked him above all for the time he took out for us. Otherwise Suryagarh would have been one luxurious hotel for me. But I was fortunate enough to know the stories behind it from Manvendra himself. He also mentioned that if any guests wanted to do things off the itinerary like we did his hotel staff would always be happy to arrange it.