I had heard of Mawsmai Cave even before I headed to Shillong. Last year another colleague had done this trip and was singing praises of it. So I was looking forward to our day off and our trip to Cherrapunji. The route was scenic and I have discovered a new thing. I can survive on mountain routes these days with just half a Avomine and it leaves me less drowsy. That way I can enjoy the route more. As we stopped many times along the route we reached the Mawsami Caves almost at the lunch hour.
There is a small entry free (I think Rupees 20) to visit the caves. As I was saying thank you to the person at the counter he said to me, duck your head and enjoy. I laugh and said I would do so. Little did I realize how much ducking there was to do!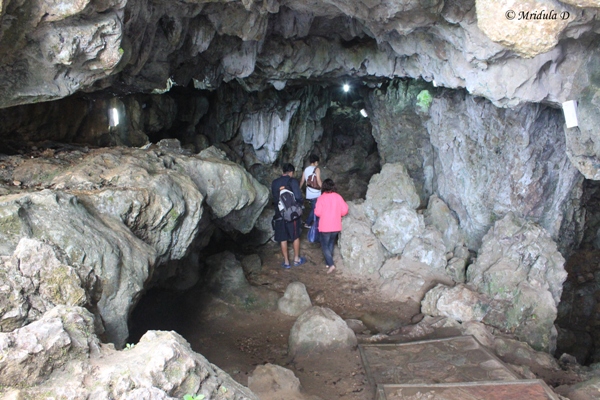 The Entrance, Mawsmai Caves, Cherrapunji
The entrance was wide and beautiful. The cave looked big and spacious, and talk about the first looks being deceptive! I have visited limestone caves in Andaman (near Baratang) too but somehow I never took pictures at that occasion. This time I was determined to get more pictures. At Baratang we needed a guide but here the cave is well lit and you can walk on your own.
Mawsmai Caves, Cherrapunji Meghalaya
However, what I didn't expect was dampness and the water trickle inside. It was well lit actually and there was a bridge too at one portion. But even then at places it was wet, cold and a little airless. Best was there were passages that looked practically impassable. And one of our colleagues was really tall! And what of him, at places I thought I would not be able to squeeze through. He went out much ahead of me. In fact, I was last person to get out as I kept clicking pictures. My other colleague who just went ahead of me in the end gave me a call, asking if I would ever get out!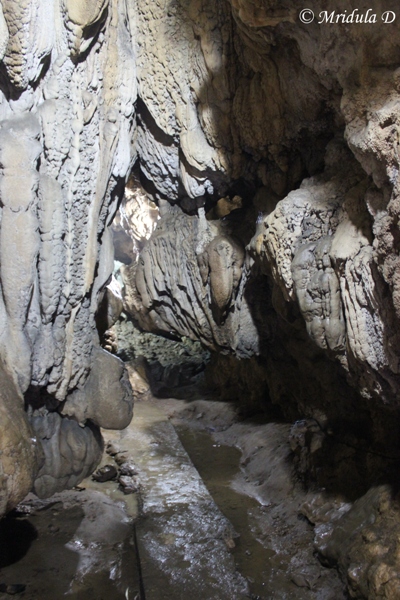 Mawsmai Caves, Meghalaya
This picture was taken quite close to the exit and all of us were happy to be out in the sunshine again. I asked my tall colleague how did he fare? He said was fine apart from thinking he might slip but he did not in the end.
There was another cave that was unlit but none of my colleagues showed any interest in it. So we walked away to our cab and I properly understood why the person at the counter advised us to duck our heads. The cave is quite big and full of Stalactites and Stalagmites sprouting everywhere. If you are in the region do go.