I called home before boarding my flight at Dehradoon. It was July 28, 2016. My husband said there has been a heavy shower in Gurgaon and the likelihood was strong that I would get stuck in a traffic jam. At least my flight was on time. Little did I know that the massive Gurgaon Traffic Jam would be waiting for me!
When the aircraft was about to land at T3, I clicked the picture of NH 8 and it didn't look good at all. After I got my baggage from the belt, I clicked the OLA App and to my surprise there was not a single taxi of any category available at T3. That was a first! Normally there is hardly a one minute wait and you get all kinds of taxis easily. When I came out the Meru and Mega taxi queues were going back into the terminal.
Now I had two options- to stand in the loooooooooooong Meru Cab line or to take the metro. However if I took the metro to Gurgaon, someone would have to pick me up from the metro station because it was getting late at night. Once again I called home and told them there were no taxis at T3.
Then the debate started- whether I should try to come to Gurgaon or should I go to my sister's place in Ghaziabad? I was confused for about a span of five minutes. When I called my sisters she happily said that she would pick me up from the metro station if I decided to head her way. The minute my nephew (also known as Brat 2) told me it took him 3 hours to come home from work, I decided I would go to my sister's place.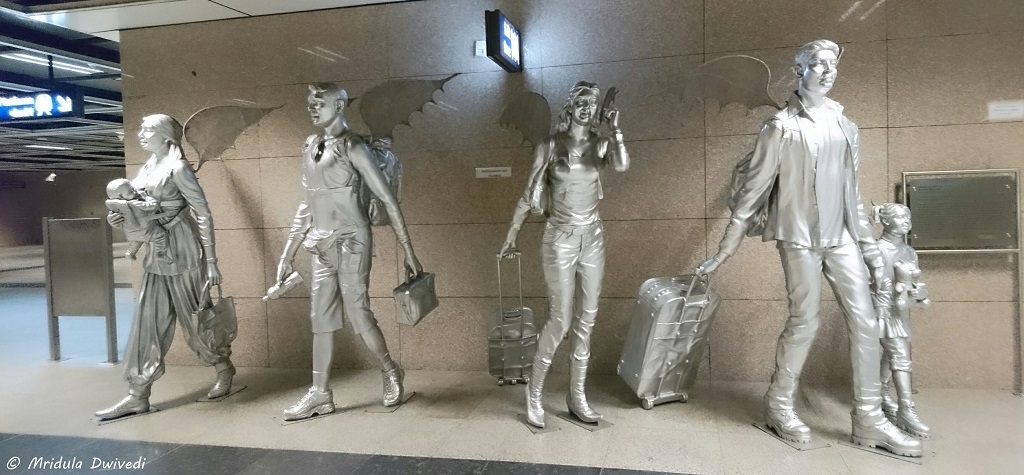 I took the airport metro line to Dwarka Sector 21 and then the blue line to my sister's place. The metro was not crowded at all. Only at Rajiv Chowk the ladies' coach got full. It emptied out again much before my stop.
I had started from Landour, and on top of that I have to take avomine because I have motion sickness on the mountain roads. After I sat beside my sister in her car, I was happy, I could finally relax and leave the thinking to her.
We reached home quickly and I was good to be at home. It was only after I started looking at the Facebook updates of friends who stay in Gurgaon, I realized what a massive traffic jam it was! I was lucky I escaped it by taking the metro and giving Gurgaon a miss altogether.
How I wish we would improve our infrastructure. How I wish we were not prone to such massive water logging. In fact while I was working I never enjoyed the rainy season, it is only after quitting my job I have started enjoying the rains. Earlier rains were synonymous with traffic jams. Now at least I have an option of giving them a miss!