Marina Beach at Chennai is for sure not the most beautiful beach I have ever seen but I have to say it is going to remain very special for me always. It was the first time when my daughter saw sea here. Initially she was a bit overwhelmed. But by the second day (at Besant Nagar Beach) she was already demanding to go further and to be left alone! We did neither but that is another matter as the sea was very choppy.
It is difficult to click pictures with my daughter around but I still managed to click some. The bright colored saris caught my eye and hence I took this one.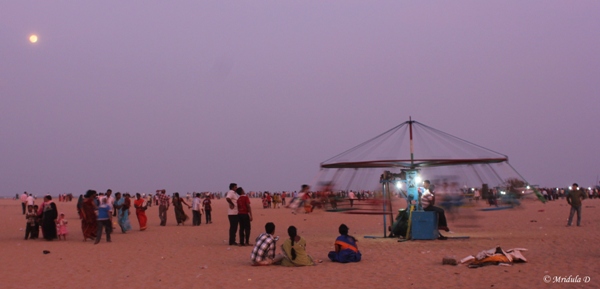 Merry Go Round at Marina Beach, Chennai
My daughter had a nice time at the merry go round and I had some time to try and capture the moon! She went on it twice, but the additional time I had, it still did not improve the quality of my pictures!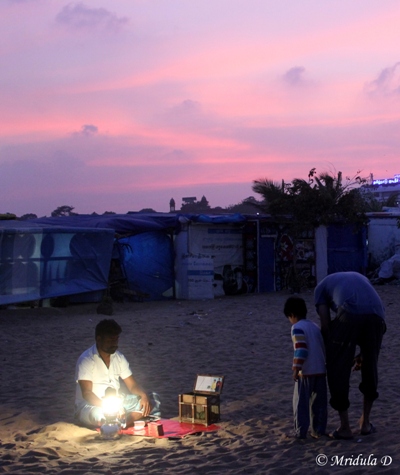 A Fortune Teller at Marina Beach, Chennai
My dauhter was attracted by the parrot that the fortune teller had in the cage! As I was walking behind them I got an opportunity to click the picture. But she soon got distracted and did not demand that we engage with the parrot or the fortune teller!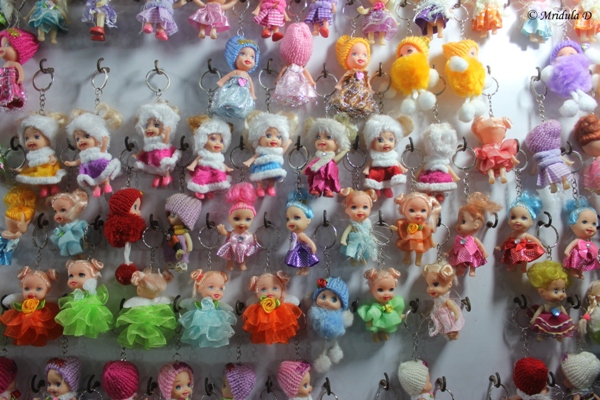 Souvenirs Sold Near Marina Beach, Chennai
And finally this was clicked at the underpass when we were walking back to get an auto to our hotel. I have to review that hotel but that is a tale (rant is more like it) for another day.