I have to admit I had not heard of SATTE before today. I was there on invitation of Malaysia Tourism. So initially I thought it was a Malaysia Tourism event. It was only after reaching Pragati Maidan I realized it was a big big exhibition!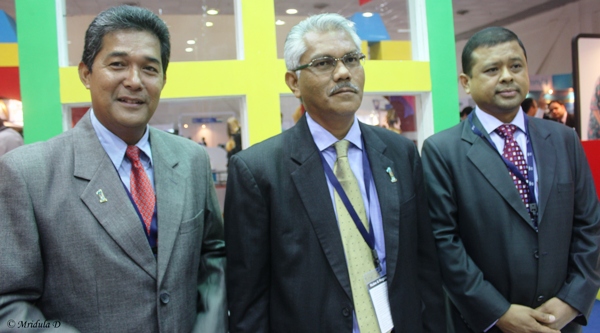 Malaysia Tourism officials at SATTE, New Delhi
It was a privilege to hear to the director of International Marketing Division (South Asia/West Asia/Africa) Mr. Julkifly Md Said (in the center of the picture above). It was also fun to discover the opinions of Mr. Azahar Hamid (on the right in the picture above) Regional Senior Vice President (South Asia and Middle East) of Malaysia Airlines.
It is very encouraging to hear the officials say that India is an important market for them and they are very upbeat about it! They also feel that Malaysia has a lot to offer to the entire family be it shopping, theme parks, food, culture or nature.
But what I particularly liked was when Mr. Said looked at of two us and said Malaysia invites single women travelers! I really liked that.
I am quite impressed with the fact that Malaysia is #9 in international tourists arrival in the world and only two Asian countries feature in the top ten, China at 3 and Malaysia at 9. I have not been to China but I can clearly see why Malaysia is so popular. It has the infrastructure and it has lot to offer be it nature, culture, shopping, night life, F1 and much more.
It was also a lot of fun catching up with Rohaiza Harris whom I met at Malaysia Tourism Hunt 2012. He told me it was his first visit to India and I said it was a pity it was spent in hotels and convention halls! I hope he gets to see some of my country too.
But the best surprise was given to me by Mr. Shiva Segaram of Bukit Gambang Resort City. But that is the tale for a separate blog.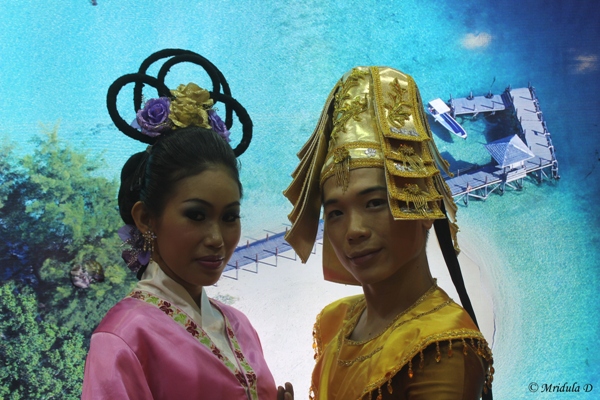 Malaysia Truly Asia
And before I sign off, a post about Malaysia cannot be complete without pictures of their colorful costumes. Or their hospitality.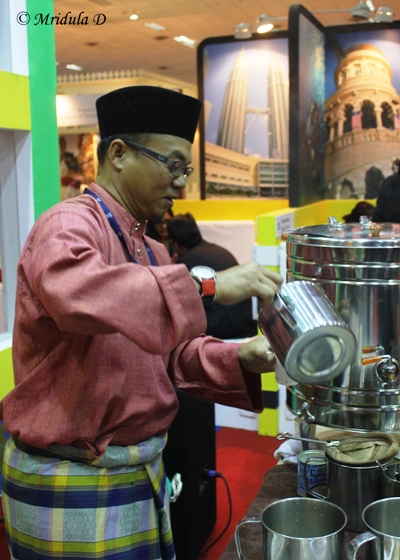 Malaysia Tourism Stall at SATTE, Pragati Maidan, New Delhi
It was also great meeting Nithya Manoj of Malaysia Tourism for the first time and compare food notes with her along with Siva. Overall a day very well spent.