We visited the Ban Dong Krathong Yam Village as part of our media trip with Tourism Authority of Thailand. This village is a Puan village which still keeps its local culture. It is quite off the tourist map. You can take a detour or make a stop here if you are going to the Aranyaprathet Border to Cambodia.
There are homestays available at the village. I just had a few hours stop but if you are looking for a time away from the big cities and usual destinations you could check out Ban Dong Krathang Yam. It is a sleepy little village with temples and hospitable people.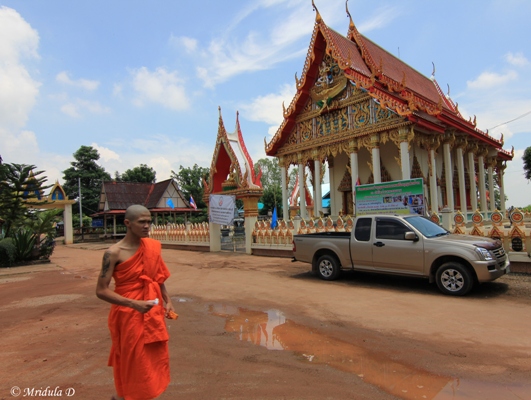 A Monk Passing by the Temple at Ban Dong Krathong Yam
The people in Thailand are predominantly Buddhist, I am told that up to 95% of them follow Buddhism. Being from India I am no stranger to Buddhism but the Thai Buddhist architecture and temples are so different from the ones I see in India. Thai temples are really beautiful and every village will have one, often more than one. The temples are at the center of the community activities, more so in the rural communities. The village has a huge community hall as well.
Tourists are welcome to Thai temples but there is a dress code in place. It is simple though. You need to cover your shoulders and knees. Which simply means a t-shirt with sleeves and a capri that goes below your knee would do. Wearing sleeveless and shorts is considered to be disrespectful to the local custom and no sensible tourist with like to do that!
I have now done a lot of trips this monsoon and I am now longing for some winter skies. This post is part of Sky Watch Friday. Do check them out.