I am having loads of fun at the Tourism Hunt Malaysia 2012. Today I am at Fraser Hill and for the hunt we had to do a lot nature related activity. I think my group did fine! With nature we can't go wrong!
There have been many firsts on this trip!  Here are some-
For the first time I am part of a 25 car (Proton) convoy and we are driving under police escort. So we get to jump red lights at times and all that. But believe me there is no other way to keep 25 cars together.
At yesterday's inaugural dinner I was seated at the head table  guest of honor! In Malaysia that means you will almost always get invited to dance at the towards the end of the function. But I forgot while having dinner! And when the ceremonial dancer asked me to open the dance my jaws dropped. I thought I could not dance to save my life but I have been as proven wrong. I can dance to avoid a scene at the head table. Don't ask how I survived but I did!
Also managed to sneak in next to the police bike to get a picture!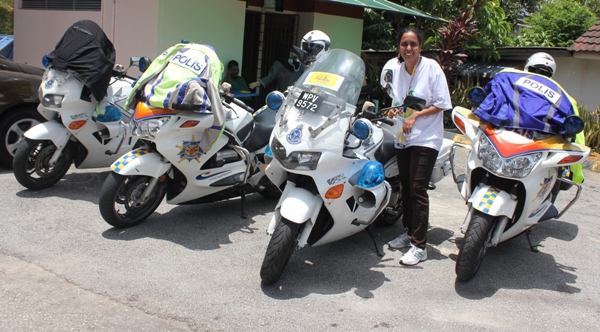 This picture was clicked by Halley (from Overdrive Mumbai and he drives the biggest Proton in this group!) and I was scared a police officer would come running after us! But they didn't. On that note hoping for a net connection from the next place too.