Wild asses in any other conversation might raise a few eyebrows but not when you are visiting the Little Rann of Kutch (LRK) in Gujarat. It is the sanctuary for the wild ass and as a bonus you get to see a lot of flamingos too!
I am curious why is the Great Rann of Kutch (GRK) great and the Little Rann little? After all the LRK sanctuary is spread in 4954 square kilometers and there is nothing little about it. I tried searching for the same but it still remains a mystery to me.
I did two safaris in LRK both in the evening and morning. We were staying at the Bhavana Farm Stay in LRK. Given that it took me 5 years to spot a tiger in the wild, I went to the safari with an open mind. I was not sure if the star attraction, the wild ass, would give a darshan at all.
The sanctuary is about 8 kilometers from the farm stay. On the way we stopped at a salt making unit. I was amazed at the speed they were working! From there we headed straight to the sanctuary. The landscape is arid and flat. It doesn't glisten white as GRK but this land has salt as well. And yet it has a dark brown/black hue.
Our first stop was for a group of Nilgais. In our college campus at IIT Kanpur there used to be Nilgais, I have seen them at many other places too. At LRK you are allowed to get off the vehicles.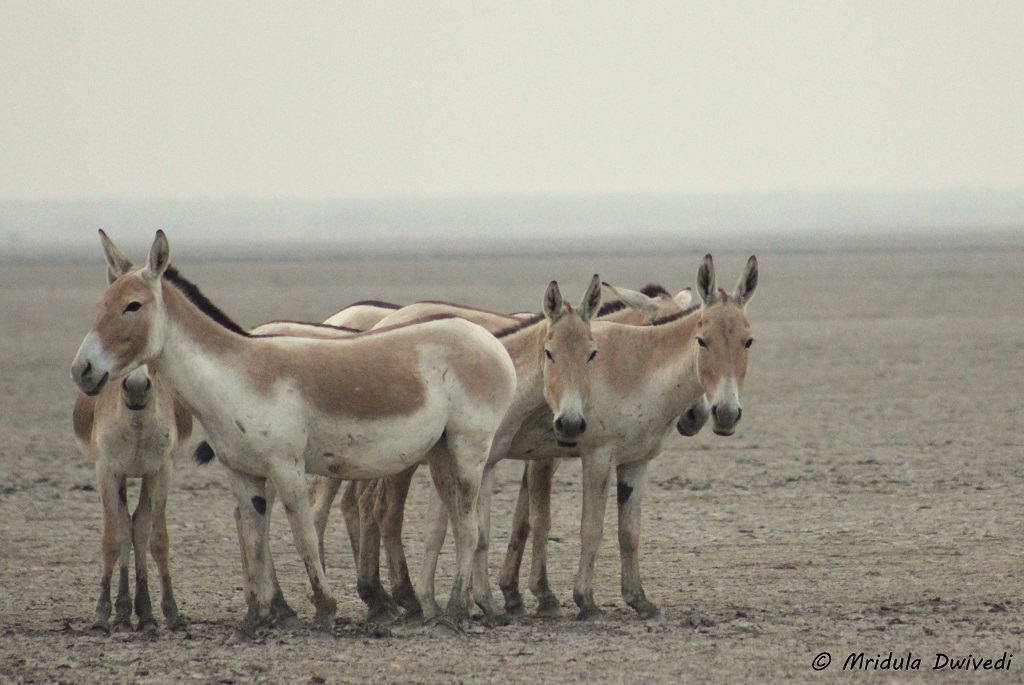 Within a few minutes of the drive, we saw our first herd of wild asses. It was a large group peacefully chewing something on the ground. It has to be grass, though where it was is again a mystery. Someone complained that we could not get closer to the herd and our driver promised more action on the morning safari.
But we got to see another herd a little later. To me it seemed that they were walking home at the sunset.
We then visited a salt pond. It was managed by a single family living in a small hut. The hut had a Tata Sky connection though. They took us to the salt ponds and explained how the standing water was used to harvest salt.
The family who managed the salt pond offered us tea in the true Kutch style! That is how you drink tea in Kutch!
I was thickly coated with dust after the safari. So a hot water shower was most welcome.
The next day we were up with the sun. It helped that the sun got out at 7.30 am. We were off for our morning safari at LRK.
We were almost immediately rewarded with a sighting of common cranes, they are migratory visitors from Siberia. In the morning, our patch was full of them, they could be sighted in almost every corner we cared to look at!
LRK is known for the sightings of raptors and we met this steppe eagle as well. All the while we were there, he stood motionless on the branch!
My last date of the day was with flamingos at LRK and they flock there in large numbers. It was my first tryst with flamingos in the wild. Before LRK I had only seen them at the bird park in Kuala Lumpur. It was in their august company that we had our packed breakfast. We did not leave behind any scrape of paper or food.
I loved the time I spent at LRK. I hardly saw two other safari jeeps other than ours. I say go there before it becomes completely mainstream.
PS. I was invited by Gujarat Tourism on this trip.