The 15th edition of #MSDesertStorm concluded its leg 4 at Jaisalmer with CS Santosh extending his lead by around 10 minutes ahead of R Nataraj. The participants completed a total distance of around 300 KM along the city's golden Sam dunes crossing Turkon ki Basti, Siambar and Mangaliyawas. Maruti Suzuki Desert Storm is now entering its final phase.
The seasoned as well as the budding motorsport lovers, have 4 categories to choose from, viz. XTreme, NDure, Moto and Xplore. And, the presence of veterans such as Suresh Rana, Sandeep Sharma, Bani Yadav and Amanpreet  has made this rally even more competitive.
The phase two was flagged off from Lakshmi Niwas Palace in Bikaner and the participants covered a grueling journey of 552 kilometers in 3 competitive stages and reached Jaisalmer. The route taken was Noosar, Kelan, Rajasar, Motigarh and Nokhra to finally arrive at Jaisalmer. The villages are otherwise an oasis of clam, suddenly found themselves in the middle of loud cars and a lot of frenzy.
The leaderboard positons at the end of leg2 for the X-Treme category: Sanjay Agarwal along with co-driver Shivprakash E was in the lead, followed by Harpreet Bawa and Virender Kashyap, Suresh Rana and his co-driver Ashwin Naik at the second and third place respectively.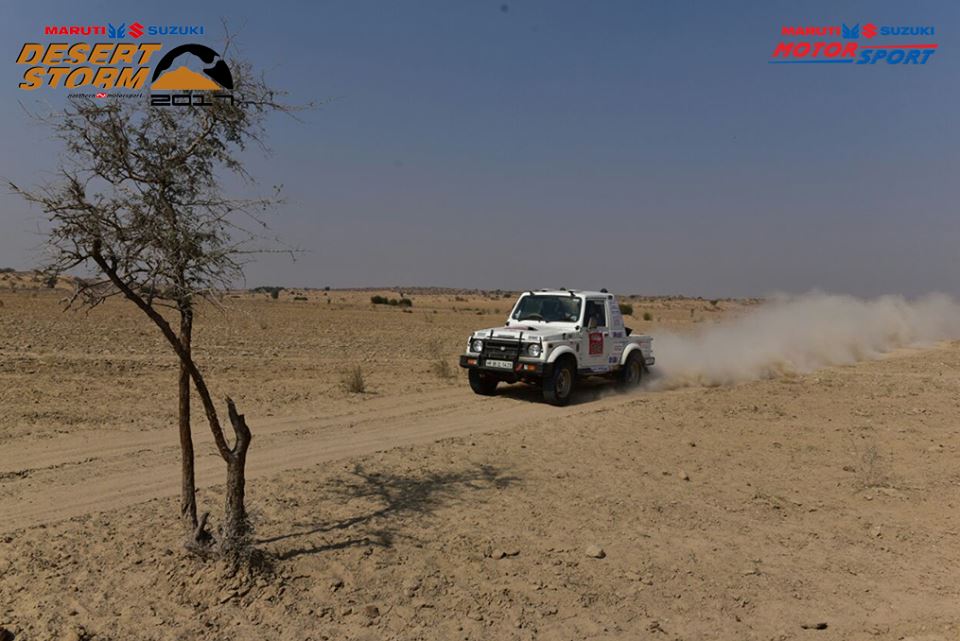 In the Ndure category Debajyoti and Arindam Ghosh were seen leading. In X-Treme Moto event, CS Santosh, the only Indian to take part in the Dakar Rally, was in the lead as expected. You can check out the daily positions from the Maruti Suzuki Motorsports page on Facebook or their Twitter feed.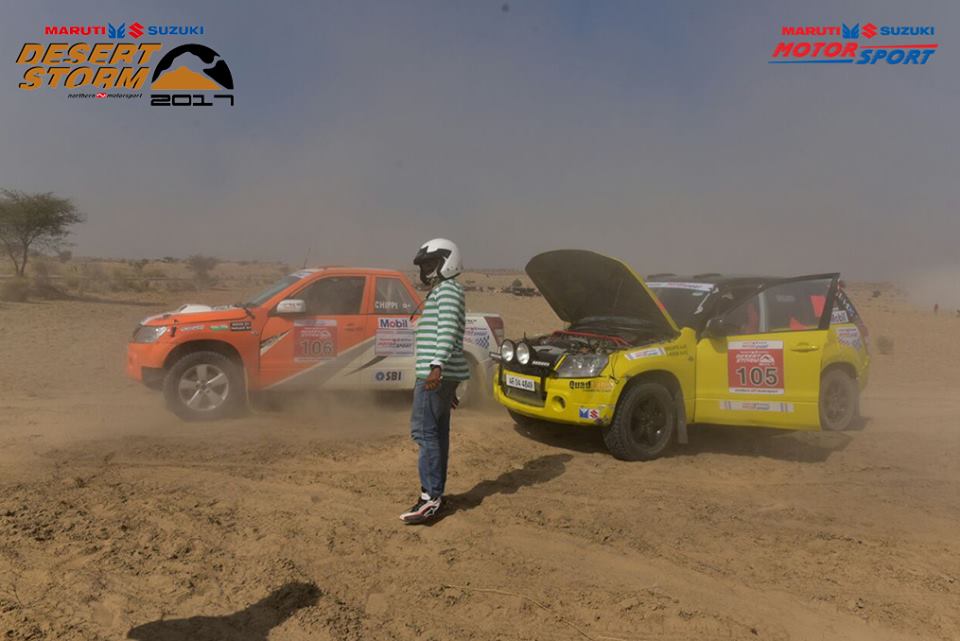 In the recently concluded leg 4 in Jaisalmer, CS Santosh of HeroMotosports maintained his lead, he was ahead of his nearest rival R. Natraj (TVS Racing) by 10 minutes in X-Treme Moto category. Team Maruti Suzuki's Suresh Rana and Ashwin Naik were in the lead in Xtreme category!  Nikunj Toshniwal and Suvrajit Dutta leaded the Ndure category.
There is plenty of action still to come in the final leg which takes the competitors around 500 KM towards Jodhpur for the finish. As the #MSDesertStorm 2017 is moving towards its close, excitement is mounting up. Stay tuned for the final updates on the blog.